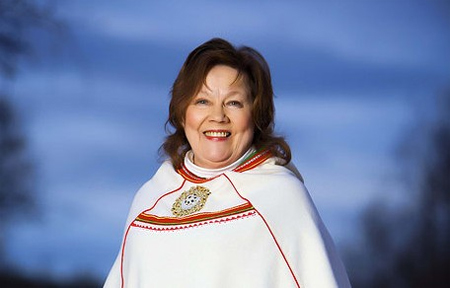 Inga Juuso was born October 5, 1945, in Mosjøen, Norway. She started performing as a singer in 1972, and was one of the most experienced widely acclaimed joik performers in Norway. She mastered the traditional classical joik technique as well as more modern experimental and innovative styles.
Traditional joik operates with a pentatonic (5-note) scale, and Juuso was skilled at varying improvising within this limited range. She toured all over the world and participated in various projects as a singer and actress in the movie The Kautokeino Rebellion.
Throughout her career Inga Juuso recorded with many musicians, including Steinar Raknes, Håkon Mjåset Johansen, and Jørn Øien.
Inga Juuso died on August 23, 2014.
Discography
* Ravddas Ravdii (DATCD 9, 1991)
* Orbina, with Orbina (Idut ICD 931, 1993)
* Earth songs, with Anders Hagberg (Xource XOUCD 120, 1998)
* Calbmeliiba (DATCD29, 1999)
* Vaimmo Ivnnit – Where the rivers meet (DAT, 2008)
* Patterns of the heart (DAT, 2008)
* Bálggis (2011)