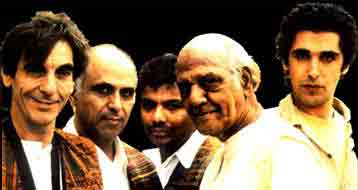 Habrera Hativeet, formed in 1977, played music that has evolved from Sephardic, African and Eastern roots. It was the first group to play Israeli world fusion.
Shlomo Bar, the founder of Habrera Hativeet drew much of his musical inspiration from Biblical as well as modern Israeli themes. "For me," says Shlomo Bar, "music is something internal without beginning or end. In my music there are elements of prayers, wonder, yearning and messianism."
Shlomo Bar was the group's leader, composer, and multi-instrumentalist. Bar was born in Rabat, Morocco, in 1943. He drew much of his musical inspiration from Biblical and modern Israeli themes. On stage, Bar captivated his audience first by a steady beat on the drums, and then by drawing the other musicians into instrumental and vocal harmony. He arranged and composed most of the group's songs and played drums and flute – all accompanied by vocals.
"With the oriental approach to art," said Bar, "there has to be continuity between past and present. In my music I try to create this bond to be a link in the chain connecting my parents to my children."
Menashe Sasson was born in Iran in 1945, where he studied classical Persian music with the famous Santur player Mr Kiu Hagigi. Later on, Menashe continued his studies in the Music Academy of Teheran and played with several orchestras. He plays the Santur, an ancient Persian classical instrument. Menashe emigrated to Israel in 1963 and since has been very active in the music field. He participated at various international festival across the world as a soloist or as member of musical ensemble. In 1980 he played the chant for Santur &Chamber Orchestra composed for Menashe by Tsvi Avni
Moshe Malienkar was born in India. He plays Dolki and Dholak.
Ilan Ben-Ami, the guitarist of Habreira Hativeet, was born in Israel in 1967. He plays the acoustic guitar and specializes in classical Spanish music. As a self taught musician, he has also a very wide theoretical knowledge in classical music. He is a graduate of "Rimon" school of Jazz and Modern Music in Israel. Ilan has been playing with Habreira Hativeet since 1990. Lately, dedicated to his individual musical search, and meeting with senior musicians, Ilan started using the ud and the Turkish Jumboosh.
Yael Offenbach was born in Israel in 1968. She studied tabla at the Indian music department in Dartington College of Arts, U.K. with Pandit Sharda Sahai, the head of the Benares gharana (style) of tabla playing. On her return to Israel in 1992, she joined Habreira Hativeet, adding a new rhythmic touch to the music of the group. Yael participated in the special multimedia program "Habria". She also accompanied several singers in Israel and participated in combinations of Indian classical music with local musicians of different styles.
Yaacob Segal was born in Jerusalem in 1963. His family has roots in Europe (Lita) and Asia (Urfu) on the Turkish border. He started to play piano and guitar at the age of 15. He graduated from the Rubin Music Academy, in the Jazz department on guitar and bass. In 1999 he started to get involved in Middle-Eastern music playing ud and tur. In 2000 he joined Habreira Hativeet.
Discography:
Origins (Isradisc, 1979)
Waiting For Samson (Hed-Arzi, 1980)
Woven Thread ‎(CBS, 1982)
Beyond The Walls ‎(Hed-Arzi, 1988)
Wandering ‎(Hed-Arzi, 1990)
Skyton (CDS, 1991)