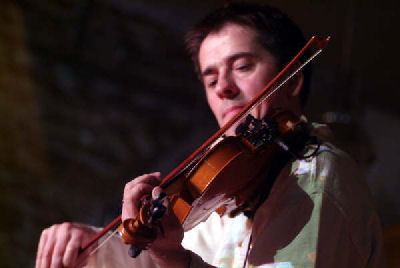 Gregor Borland has had the good fortune of being the only current performing fiddler to have been taught by both Hector MacAndrew of Cults, (whose grandfather was a pupil of James MacIntosh of Dunkeld, the last pupil of the famous Neil Gow) and Donald Riddell of Clunes, who was the leader of the Highland Strathspey and Reel Society, also a prolific teacher in the Inverness area. Both these fiddlers are now legendary in Scottish traditional fiddle
music.
Gregor has also had much success in competitions, winning the Daily record Junior Golden Fiddle Award in 1978 and then going on to win as many as eight Scottish Championships throughout Scotland over the next five years, including the "Henry Williams Trophy" at the Scottish Championship Contest, held in Inverness.
He has recorded and toured with many bands and artistes, including the Kathryn Tickell Band, Burach, Caledon, (With Davie Steele) and also Jim Malcolm to name but a few.
Gregor currently is living in Spain with his family where he has started a Traditional Scottish Fiddle School, in the beautiful town of Biar, north of Alicante. He is also a fully qualified piano tuner. Gregor has also recently started making fiddles, he now faithfully plays one of them on tour.
The CD Bowstroke demonstrates Gregor's versatility. He is a traditional fiddler, but also has a contemporary side, as he has played with some of the best British folk groups, Kathryn Tickell Band and Burach to name a couple and this contemporary element comes out on the new cd. He is accompanied by Julian Sutton on melodeon & Ian Stevenson on guitar and harmonium.
For the traditional portion, Greg has three pianists, James Gray, Morag MacAskill, and last but not least Bob Turner. They all add a different flavor with their wonderful playing and it all adds up to a very enjoyable mix of old and new.