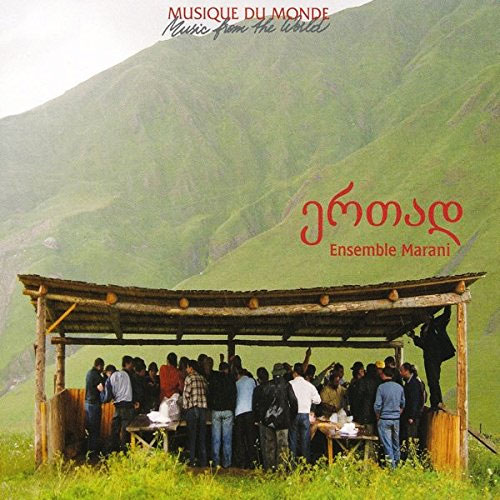 Ensemble Marani – Polyphonies de Géorgie (Buda Musique, 2016)
Polyphonies de Géorgie is the new album by the Franco-Georgian men's choir The Marani Ensemble. The choir, based in Paris is dedicated to Georgian polyphony, one of the most fascinating vocal traditions in the world.
Georgian music has fascinated travelers for centuries. The style features high, middle and bass voices with melodies that provide captivating interplay.
The Marani Ensemble includes vocalists from the nation of Georgia as well as French singers. The ensemble was founded in 1993 and the repertoire include traditional folk songs as well as sacred chants.
The ensemble's current artistic director is Tariel Vatchadzé, who plays panduri (three-string plucked lute) and chuniri (bowed instrument). The vocalists are: Boris Herzbojn, Davit Kveselava, Sergi Kveselava, Bertrand Lambolez, Nicolas Leguet, Bernard Odot, Craig Schaffer, Laurent Stephan, Irakli Sulukhia, and Pierluigi Tomasi. Giorgi Davitashvili plays doli (drum).
The CD booklet comes with liner notes in English, French and Georgian.
Buy the digital version of Polyphonies de Géorgie
Buy the Polyphonies de Géorgie CD.