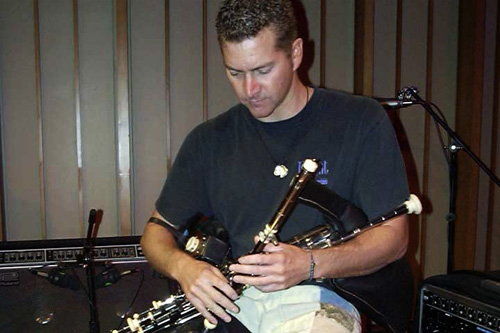 Eric Rigler is a well known piper who has performed for numerous Hollywood films and pop stars. He has been described as the most recorded piper of all time. Rigler is constantly in demand in studios, providing the sonorities of the uilleann pipes, the Great Highland bagpipe and the low whistle to film, television and recording audiences around the world.
Rigler is the son of a Scottish father and an Irish mother" although he was adopted by a California family. At age seven Rigler began to play the Highland bagpipe. In his early teens he won the California state amateur championship. He later moved to Scotland in 1984 to broaden his knowledge and lived there until 1986. He won the reputable Dunvegan Gold Medal on the Isle of Skye and the first Young Piper of the Year award from The Famous Grouse Whisky. While in Scotland Rigler studied the Irish uilleann pipes.
Eric Rigler is one of the founders of Bad Haggis. It is a band that plays a fusion of the most cutting-edge Celtic with influences of Alternative Rock African World Beat vocal and groove-based stylings.
Eric Riglers sounds can be hard on familiar movies such as Troy, Master and Commander: The Far Side of the World, The Road to Perdition, Titanic, Braveheart, and Austin Powers: The Spy Who Shagged Me. He has also recorded for CDs by Josh Groban, Phil Collins, Rod Stewart, Ruben Blades, Barbra Streisand, and Tracy Chapman.
Discography:
Celtic Spirit (1998)
Celtic Carols (1999)
A Highland Christmas (Brentwood 2001)
Celtic Aire Christmas (2010)
An Irish Christmas (2011)