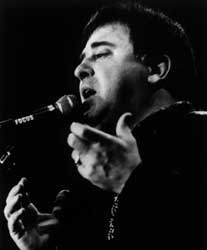 Emil Zrihan, cantor of the synagogue in Ashkelon kept the Judeo-Andalusian and folk traditions of his mother country Morocco alive in his heart. Following the immense success on stage here at last is the international debut album by the man nicknamed "the voice of the mocking bird".
The impressive vocal range and power of Zrihan's counter tenor express both the emotional intensity of North African religious songs and the vivacity of Andalusian music. His fascinating 'mawals' (improvisations) are subtly enhanced by the ud, violin, accordion and darbuka which repeat the themes with spirit and gusto. The upbeat rhythmic tempo with its Mediterranean flavor alternates with passages imbued with the languor of the Orient, a mix which evokes the family gatherings, the songs and the dances of the Sephardic culture.
The guest of honor on Zrihan's recent album, Baldi Olier, adds the sensitivity tempered with pride of his guitar playing style which stems from the purest of flamenco tradition. The producer Yossi Fine has managed to capture the strength of Emil Zrihan's extraordinary voice, adding bass and both African and Brazilian percussion to the traditional instruments, thereby conferring on this album a sound which is at once profound and elegant, light and playful and which invites the listeners to move and shake, to click their fingers, to clap their hands, and inevitably to dance.
Emil Zrihan, the Moroccan Nightingale, was acclaimed as the surprise of the World Music Expo, Womex 1997. A performer who captivates audiences with his exceptional contra-tenor voice and stage presence. The voice of Emil Zrihan, who stamped a note of deep satisfaction on everything that happened at the Womex Festival, with his holy songs from North Africa and tonal Arabic-Andalusian music.
Discography:
Ashkelon (Piranha, 1999)
L' Youm Dima (NMC, 2004)