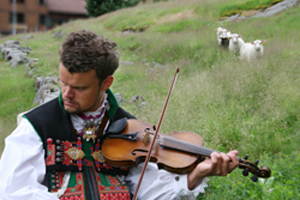 Daniel Sandén-Warg was born in 1977 in Østersund, Sweden. He grew up in Karlstad, where he started playing the guitar at an early age, Jimi Hendrix was his idol. Daniel was early discovered as a great talent, for example by Swedish television. Magnus Stinnerbom in the folk music group Harv was the first to make Daniel interested in folk music.
Leif Stinnerbom, the father of Magnus, introduced Daniel to the music of Torleiv H. and Hallvard T. Bjørgum, and he immediately became enthusiastic about the music from Setesdal (Norway). He first taught himself the tunes from cassette tapes, and then sent recordings of himself to Hallvard T. Bjørgum. Hallvard was so impressed that he immediately invited Daniel to Setesdal.
In 1998, Daniel moved to Setesdal. He has learned much from Hallvard T. Bjørgum, and also learned many tunes from archive recordings. In 2005, he got his craft certificate as silversmith. Today, he works as a silversmith and freelance musician.
Daniel shows a unique musicality and has a special ability to acquire various styles of folk music. More than most others, he has managed to master both the rich details, the special use of the scale and the playing technique, which is so special for much of the local folk music in Setesdal.
Daniel has also learned the Setesdal dialect so well that he speaks like a native.
At the national level, he has now become a class A (top) player in the Hardanger fiddle class. He has received first prize in the B category several times at competitions in Agder and Telemark.
There is hardly anybody else who is not originally from Setesdal who has managed to acquire the local folk music tradition so genuinely and convincingly as Daniel Sandén-Warg.
Discography:
Rammeslag, ordinary fiddle and jew's harp from Setesdal (Etnisk Musikklubb EM29, 2007)
Warg Buen, with with Per Anders Buen Garnås (ta:lik, 2008)
Rammeslag II (Etnisk Musikklubb EM49, 2009)