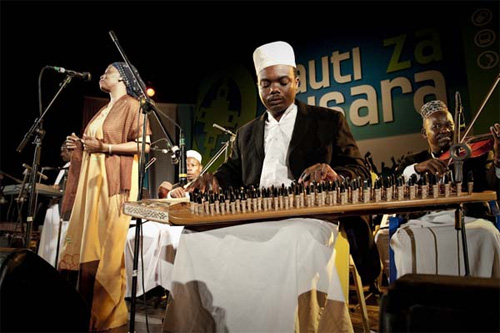 Culture Musical Club is not only the largest but also one of the most prolific and successful orchestras of Zanzibar and they present taarab music Swahili style at its best.
In addition to countless performances in Stonetown villages of Zanzibar and on the Tanzania mainland, this ensemble has toured internationally with outstanding success and has won over audiences in France, Belgium, Germany, Switzerland, the Arab Emirates and Reunion with their lush songs and instrumental solos.
They perform new compositions on a regular basis and have developed a distinct and uniquely Swahili style. Their CD-releases have made the name Culture Musical Club known to audiences throughout the world so that rehearsals in their club house have become  a tourist attraction.
Discography:
The Music of Zanzibar (Globestyle, 1988)
Spices of Zanzibar (Network Medie, 1996)
Bashraf (Dizim, 2000)
Waridi: Parfums de Zanzibar (Virgin, 2004)
Shime! (World Village, 2009)