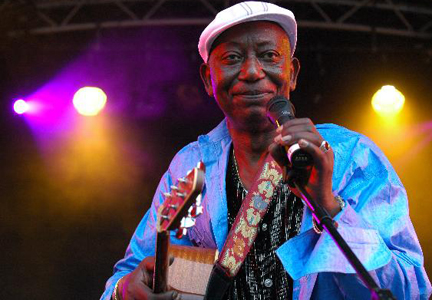 Papa 'Nono' Noël Nedule is probably the most influential guitarist from the heyday of Congolese rumba. His real name is Antoine Nedule Monstwet and he was born in the former Belgian Congo (the former Zaire and now the Democratic Republic of Congo). He is nicknamed Papa Noel because he was born on Christmas day, in Zaire (now DMR Congo) in 1940.
Noel listened from an early age to his mother's record collection, which featured Congolese rumba greats like Antoine Wendo, whose songs were believed by some fans to have magical powers.
Noel became an apprentice of sorts to the legendary musicians of this first generation of Congolese rumba players. After years of absorbing Cuban and Congolese sounds, Noel taught himself to play the guitar when his mother encouraged him to pursue his passion for music. Meanwhile, a tide of talented young musicians had gathered in 1950s Léopoldville (now Kinshasa), replacing the tres and piano parts found in their favorite Cuban songs with the guitar and infusing the new music with African jazz sensibilities. Noel began to hang around studios where musicians like Wendo recorded, learning the ropes and deepening his self-guided education in Congolese rumba.
Papa Noel made his first record in 1957 . In a career that's now well into its fifth decade, Papa Noel has played guitar with Congo's best and brightest, including Orchestre Bantou, Grand Kalle's African Jazz, Franco's legendary T.P.O.K. Jazz and Sam Mangwana. He has also made records of his own that are rightly regarded as classics of Congolese rumba. Though he was never really a star, he had many admirers, particularly other guitarists, who regarded him as the equal of Nico and Franco. But when Franco died in 1989, Noel found himself out of work for the first time in his long career. Seeking engagements, he moved between Kinshasa, Brussels and Paris, but there weren't many jobs anywhere for an artist like him. His classic style was out of fashion.
Things started to turn around for Noel three years ago when fellow Congolese singer Sam Mangwana recorded Galo Negro with him and made him his concert band leader. In 2000 he performed to high acclaim at the WOMAD Festival in England. That same year he formed a duo and recorded an album with Adán Pedroso, a young Cuban guitarist and singer. Together they formed an acoustic guitar-duo combining Cuban son (the foundation of Congolese rumba) and rumba in a truly magical fashion. Noel made his first visit to Cuba, where he recorded with Papi Oviedo.
Papa Noel turned 60 years old on Christmas Day 2000. To celebrate his career, Stern's African Classics released Bel Ami, Noel's own selection of his best work in decades past. Noel finally received some of the international recognition he had deserved for so long. The year 2001 began beautifully when Noel accepted an invitation to join Kékélé, a new group of Congolese music veterans who proudly acknowledged him as their chief. With Kékélé he recorded Rumba Congo for Stern's in the classic style he had helped to define in the 1950s and '60s. Then he embarked on a tour of Europe with Adán Pedroso. But by that time his health was failing, and he barely got through three shows before his manager insisted on taking him to a hospital. In May of 2001 he was rushed to a hospital in France and put under intensive care. He survived the emergency, but the doctors diagnosed acute tuberculosis.
Papa Noel returned in 2007 with another cross border collaboration, in which he brought African and Cuban rumba into the 21st Century, reuniting their creative energies and celebrating their common heritage in a set of songs spiced by the Cuban tres of Coto and the saxophone of Cameroonian maestro Manu Dibango. The rhythms of Papa Noel's album, Cafe Noir are an eclectic mix of rumba, son, merengue zoukous and soukous son.
Discography:
Bel Ami (Stern's Africa, 2000)
Mosala Makasi (Yard High, 2001)
Bana Congo (Tumi Music, 2002)
Cafe Noir (Tumi Music, 2007)
Color (Buda Musique, 2013)