Celtic Fiddle Festival was initially Kevin Burke, Johnny Cunningham, Christian LeMaître, and Soig Siberil, representing Ireland, Scotland and Brittany. Burke, Cunningham and LeMaître were three of the finest fiddlers in the Celtic world, together with Brittany's hottest guitarist, Soïg Sibéril, as accompanist .
In 1996 a completely new group was formed under the name Celtic Fiddle Festival II. The new group was formed by Martin Hayes (Ireland), Natalie MacMaster (Cape Breton, Canada) and Brian McNeill (Scotland), with guitarists Dennis Cahill and Tony McManus.
The original line-up of Kevin Burke, Johnny Cunningham, and Christian LeMaître came back in the year 2000. The onstage camaraderie of these three attracted and delighted leagues of new fans all over Europe and the USA, from Folk to Classical enthusiasts. Cunningham performed the most incredible feats of digital acrobatics on his fiddle whilst at the same time delighting audiences with his huge sense of fun. Burke's dryer sense of humor was nevertheless relentless as he feeds the audience a feast of Irish delicacies with his fluid finger work, and Le Maître's seductive Breton dance tunes, both rhythmic and beautiful were backed delightfully by Sibéril.
After the unexpected passing of founding member Scottish fiddler Johnny Cunningham, in December 2003, fiddlers Kevin Burke (Ireland) and Christian Lemaitre (Brittany) along with guitarist Ged Foley were left with an unimaginable hole to fill in their hearts and in their lineup. The band made the difficult decision to play on, and invited the young French-Canadian fiddler Andre Brunet (of La Bottine Souriante) to join them. "The news of Johnny's death was heartbreakingly sad and it did not seem possible that the Celtic Fiddle Festival could continue without him," said founding member Kevin Burke. "Yet once the initial pain and sadness subsided a little, we started to think that Johnny would have been horrified at the idea of us calling it quits! After much soul searching we decided to ask Andre if he would like to join us on the upcoming tour.
On tour, Brunet's lively Quebecois dance tunes and contagious enthusiasm lifted both tempos and spirits. At the end of a tour in March 2004, the group recorded three shows in Portland, Oregon. The result was a new CD, Play On (Green Linnet GLCD 1230), the fourth album by Celtic Fiddle Festival. It is dedicated to the memory of Johnny.
"Once the tour got under way," Burke continues. "It became quickly evident that inviting Andre along was an inspired decision. There was great excitement in the music, we enjoyed each others playing immensely and it was evident from the audience response that they too felt they were witnessing something special."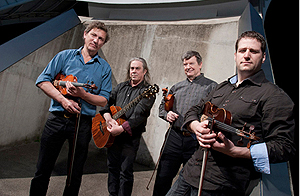 Discography:
Celtic Fiddle Festival (Green Linnet, 1993)
Celtic Fiddle Festival: Encore (Green Linnet, 1998)
Rendezvous (Green Linnet, 2001)
Play on (2005)
Équinoxe (2008)
Live in Brittany – 20th Anniversary Concert (2013)
Storm In A Teacup (Loftus Music, 2016)