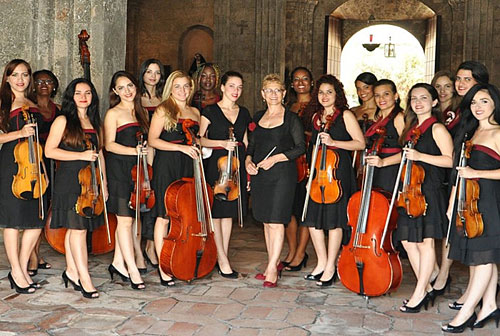 Camerata Romeu is a renowned all-female chamber music ensemble founded in 1993 by the Fundación Pablo Milanes. It's led by Zenaida Romeu, one of the world's few women conductors. Zenaida was born into a family of Cuban performers and composers spanning several generations.
They play everything from folk music and Mozart to fiery renditions of a new Cuban music using classical European form, yet drawing on the popular rhythms of the island taken from Africa, Spain, and indigenous cultures of Latin America.
Camerata Romeu has developed a unique sound that thills audiences in small Cuban towns, playing to packed houses in the United States and Europe.
Discography:
La Bella Cubana: New Classical Cuban Music (1996)
Cervantes (1999)
Cuba Mía (Bis Music, 2001)
Danza De Las Brujas (Bis Music, 2005)
Raigal (Colibrí, 2006)
Tampa Habana Oslo – En Vivo (Bis Music, 2007)
La Bella Cubana (Bis Music, 2007)
Non Divisi – Roberto Valera y Camerata Romeu (2008)
Saudações, with Egberto Gismonti (ECM, 2009)
Habanera, with Di Giusto (Naive, 2011)