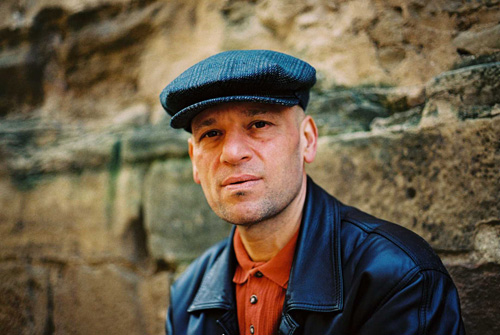 Arto Tuncboyaciyan was born in 1957, in Galataria, a town outside Constantinople. He is the youngest child of an Armenian family, with roots from Anatolia. Arto's family had financial problems that were solved when the elder brother Onno, became a musician.
At the age of 11, Arto started his professional music career playing and recording throughout Turkey and Europe. One of his main influences was his brother Onno, who helped him not only as a brother, but also as a friend and fellow musician.
In 1981, Arto moved to the United States to explore new musical directions. Since then he has recorded with Gerardo Núñez, Al DiMeola , Joe Zawinul, Bob Berg, Mike Manieri, Chet Baker, Marc Johnson, Dino Saluzzi, Omar Faruk Tekbilek, Eleftheria Arvanitaki and many others.
In 1985, Keytone released two solo CDs by Arto: "Virginland" and "Main Root. He then started a creative collaboration with the Armenian ud player Ara Dinkjian, with whom he recorded in duo Tears of Dignity and Onno for the Greek label Libra Music. Onno was in fact an homage to Arto's beloved brother, who was killed tragically in a plane crash in 1996.
With Ara Dinkjian, Arto was a member of the group Night Ark and recorded Picture, Moments, Wonderland and Petals On Your Path. In 1998 he participated in the Italian project Triboh, conceived and co-led with the vocalist Maria Pia De Vito and the piano player Rita Marcotulli, recording the CD Triboh for the Italian label Polosud.
He is a member of the group Walking Fish together with Matthew Garrison, Jim Beard, Gene Lake and Bob Malach. His album with Paul Winter, Every Day is a New Life, was released by the Living Music label.
Currently, Arto is working with Armenian musicians with whom he founded his group The Armenian Navy Band, a small orchestra rooted in Armenian and Anatolian traditional music inspired by contemporary life. The project was conceived in 1998 after a meeting in Yerevan with young Armenian musicians from different musical backgrounds including ethnic and contemporary Armenian music. Since then, the idea to create a group to represent the sound of Armenia today was realized.
The two albums that represent the current aspects of Arto's musical discovery are Aile Muhabbeti, a movie soundtrack composed by the artist, and Bzidik Zinvor.
Bzidik Zinvor was recorded in Armenia and is the result of the very first meeting with several musicians from Yerevan. Arto's original compositions express the sounds of generations past alongside those of modern life: this is what he calls "avant-garde folk". Of his music, Arto also says, "//Without losing your identity you extend your imagination//."
During 2000 and 2001 The Armenian Navy Band toured Europe to great acclaim from public and press alike. This experience is reflected in the CD "New Apricot" recorded in Istanbul for the Turkish label Imaj Müzik.
Arto can be heard on various recordings including those of Chet Baker The Best Thing For You, Arthur Blythe Hipmotism and Night Song, Jim Pepper The Path, Marc Johnson Right Brain Patrol and Magic Labyrinth, Dino Saluzzi Mojotor, Al Di Meola World Sinfonia, Heart of the Immigrants and Kiss Me Axe, Bob Berg Virtual Reality and Riddles, Hank Roberts Little Motor People, Mike Mainieri An American Diary, Joe Zawinul Stories of the Danube and My People, Oregon Oregon 97, Paul Winter & The Earth Band Journey With The Sun, flamenco guitar master Gerardo Núñez Calima and many other great recordings.
In 2002 he formed Serart, a collaboration with System of a Down's Serj Tankian. Serart released an album on Serjical Strike and Columbia Records on May 20, 2003.
"It's not a rock album, it's not a band, it's not a solo album for me," sayd Serj Tankian. "It's a collaboration that I was compelled to do with a very creative artist. It's a very special type of album."
It is important to note that Serart is not at all similar to a SOAD album – it's a departure away from SOAD's progressive-metal barrage. Serart finds these two, seemingly disparate, creative artists joining for a new vision. Serj describes the album best, "It's really crazy world, jazz and experimental with some rock and hip-hop beats, dance beats, and electronic beats. Arto plays the Coke bottle, water droplets, an ancient flute, percussion of all sorts, little toys and shakers."
The music on Serart is both "cross genre and cross cultural," an exotic and eclectic blend of electronica, poetry, Middle Eastern melodies, Pan-African rhythms, classical motifs melded with volleys of percussion. In addition to the 16 musical tracks on the album, Serart comes with a DVD component, the 14 minute experimental film, "Sun Angle Calculator," directed and edited by Matthew Amato. "The film is a visual collage," says Serj. "The name, 'Sun Angle Calculator,' is a funny way of saying 'let me help you see the light.'"
The Armenian Navy Band's 2004 album Sound of Our Life – Part One: Natural Seed is a nearly 50-minute-long composition in eleven parts, which is dedicated to nature. Natural Seeds takes the listener along part of the path of life that Arto Tuncboyaciyan and his musicians have traveled.
The recording equally represents the return to the origins of the musical 'seed' of The Armenian Navy Band; the tremendous joy and affection which the band?s musicians feel with and for each other in the here and now of their life together ? also outside the recording studios and stages; as well as the hopeful, self-confident view to the future. For Arto Tuncboyaciyan, the project Sound of Our Life is a never-ending musical documentation of the future.
When asked about the meaning of music, Arto replied: "Music is the sound of my life. I don't pretend to lead anyone. I leave it up to one's imagination. What I try to express is love, respect and the truth."
Two new albums by Arto Tun?boyaciyan came out in January of 2005, Love Is Not in Your Mind (Heaven and Earth CD HE 19) and Artostan (Heaven and Earth CD HE 19).
Love Is Not in Your Mind is a duo project with the dazzling pianist and keyboardist of the Armenian Navy Band (Arto's band) Vahagn Hayrapetyan. It features Tuncboyaciyan's engaging vocal style and fiery percussion along with Hayrapetyan's outstanding keyboard work. All songs on Love Is Not in Your Mind are never ending love stories. It is Tuncboyaciyan's very personal declaration of love, dedicated his mother. "Taking care and sacrificing. That is what I have seen at my home and that is my mama. I never see her sleep before me or wake up after me. A ways feeling her love being there for you, making balance at home gives you great confidence and positive power. I am proud to have mama like you, and also my wife and my sister for being great mothers. When I lost my mother on May 17th 2003,1 was 46 years old. At that moment I realized that there is no age difference between a mother's and a child's love."
Artostan is described as avant-garde folk and the description is pretty accurate. On Artostan, Tuncboyaciyan focuses on vocal experimentation, with his characteristic rhythmic vocal pieces as well as digitally manipulated vocals, accompanied by percussion solos and effects. He also plays a small lute called bular. The album is a trip to Arto Tuncboyaciyan's philosophical homeland: Artostan. "Because of what's going on in the world today with my human rights, dignity and power, I declare my own country in me. Artostan."
Discography
* Virginland (Keytone, 1989)
* Main Root (Keytone, 1994)
* Tears Of Dignity (Libra, 1996)
* Onno (Libra, 1998)
* AVC1 (Imaj Müzik, 1998)
* Triboh (Polosud, 1998)
* Armenian Navy Band (Svota Music, 1999)
Bzdik Zinvor (Svota Music, 1999)
* Every Day is a New Life (Living Music / Earth Music Production, 2000)
* New Apricot (Imaj Müzik, 2001)
* Picture (RCA / Novus)
* Moments (RCA / Novus)
* In Wonderland (Polygram)
* Petals On Your Path (Universal Music)
* Serart (Serjical Strike/Columbia, 2003)
* Sound of Our Life – Part One: Natural Seeds (Heaven and Earth HE 14, 2004)
* Love Is Not in Your Mind (Heaven and Earth CD HE 19, 2005)
* Artostan (Heaven and Earth CD HE 19, 2005)
* How Much Is Yours? (Svota Music, 2005)
* Under Your Thoughts (Svota Music, 2009)