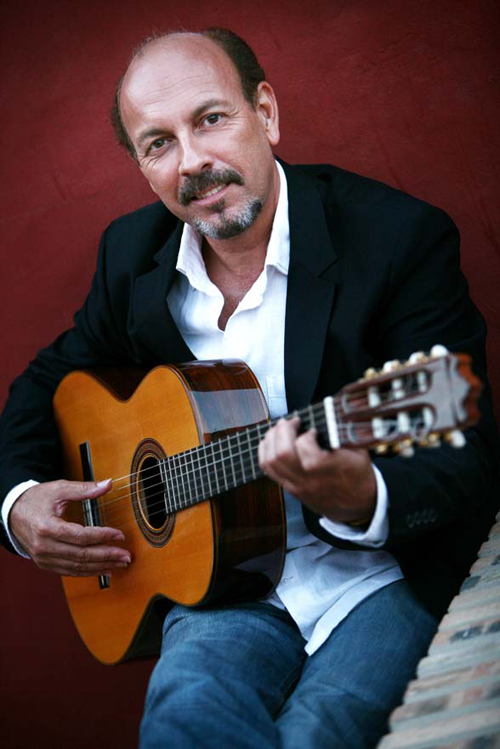 Francisco Javier Ruibal de Flores Calero was born in Puerto de Santa Maria (Cadiz) in 1955. He is a self-taught musician, professional since 1978, whose compositions echo a range of cultures from both nearby in the distant past and far away in the present day. The strong presence of flamenco gives them a rich rhythm and harmony base on top of which there is an array of music styles from places such as: Istanbul, Alexandria, Granada, Cadiz, and the Caribbean, all together creating a new music.
Javier Ruibal writes all the lyrics. They tell of places and characters both imagined and real. He draws his inspiration from his love of life and beautiful women, resulting in lyrics dripping with fantastic tales and evocative Spanish poems of love. He sings about exotic Arabic gardens, lost souls who are inspired and saved by lovers, outbreaks of rage, the strong and the magical, bellydancers in Paris, flamencos in Manhattan, trains and boats, women and ports, African queens, sailors on the town, blue roses, the water and moon in Tangiers, all included in the same wide, unending landscape.
Ruibal acknowledges that he is not a Flamenco singer, even though he uses Flamenco forms. He defines himself as a songwriter who loves to perform live. A good opportunity to watch him live is on his 2005 release Lo que me dice tu boca, a CD+DVD, which includes 17 previously unreleased songs recorded live at Madrid's venerable Galileo club, and a documentary, Lo que me dicen tus Ojos.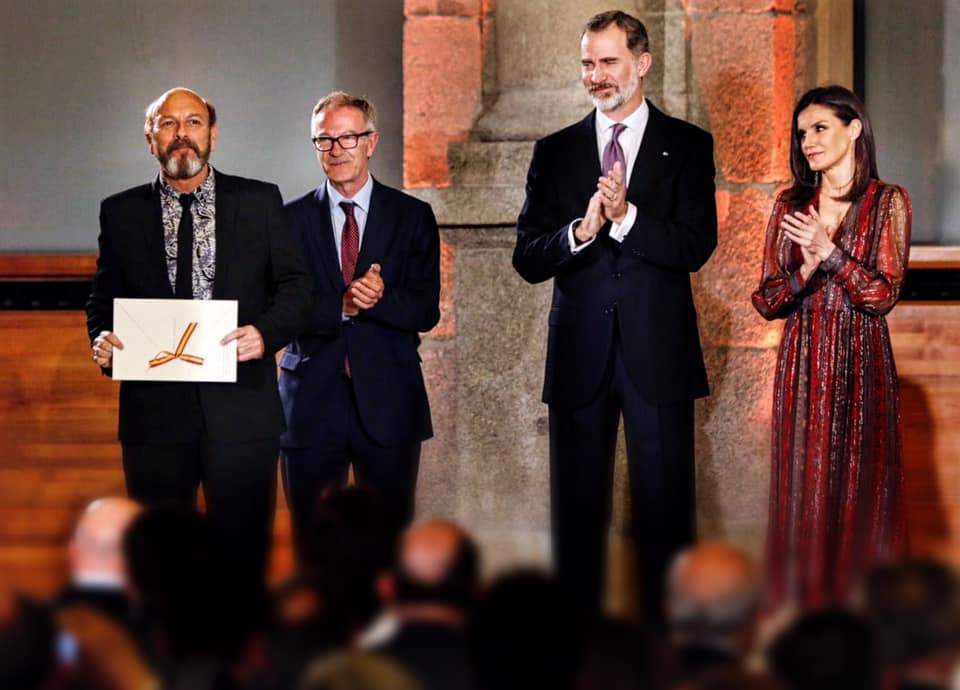 In 2017, Javier Ruibal received the Premio Nacional de Músicas Actuales (National Award for Current Music). The King and Queen of Spain presented the 2017 National Awards at the National Prado Museum. The awards bestowed by Spain's Ministry of Culture and Sports honor personalities from the world of Arts and Culture.
Discography:
Duna (Hispavox, 1983)
Cuerpo Celeste (Ariola, 1986)
La Piel De Sara (Ariola, 1989)
Pensión Triana (Lollipop, 1994)
Contrabando (PDI, 1997)
Las Damas Primero (18 Chulos, 2001)
Sáhara (World Music Network, 2003)
Lo Que Me Dice Tu Boca (18 Chulos, 2005)
Pensión Triana – Special Edition (18 Chulos, 2010)
Sueño (18 Chulos, 2011)
Quédate Conmigo (Lo Suyo, 2013)
Paraísos mejores (Nuba Records, 2018)