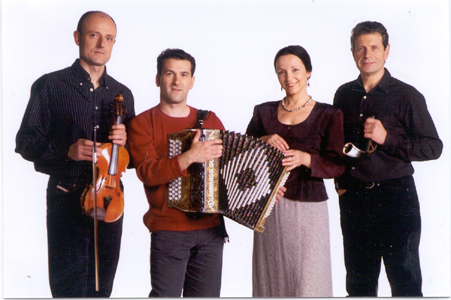 The year 1994 saw the founding of the group Alboka by three well-known Spanish Basque musicians and one Irishman. Aside from their personal musical projects, these four different personalities, Txomin Artola (guitar), Josean Martin Zarko (mandolin, bouzouki), Joxan Goikoetxea (accordion, synths) and Alan Griffin (alboka, bagpipes, flute), decided to set up a group that would compile and perform acoustic instrumental traditional music.
The combination of guitars, mandolins, bouzoukis, ttunttun, accordion, alboka, bagpipes, flutes and crumhorns, and a carefully chosen selection of dances and airs taken from the living tradition and from the great Basque music collectors gave rise to a first disc that was something new in a Basque folk music scene, more accustomed to vocal recordings.
As a result of having gained recognition abroad, Alboka played at many important international folk festivals including Dranouter (Belgium), Folkest (Italy), Euromusica (Hungary), Forde (Norway), Panceltic Music Festival (Italy), Folk Segovia (Spain), Músicas Vivas (Spain), Torrelavega Folk Festival (Spain), etc.
In 1997 they were joined by fiddler Juan Arriola. The group began to include in their repertoire both vocal material and newly composed tunes in the traditional style.
These developments are reflected in their second CD, "Bi Beso Lur", which also includes important guest musicians and confirms their distinct acoustic style in the treatment of instrumental Basque music.
On Lorius, Alboka featured one of the top folk music singers from Hungary, Marta Sebestyén.
Discography:
Alboka (1994)
Bi Beso Lur (Aztarna , 1998
Lorius (Resistencia, 2001)
Lau Anaiak (Elkar, 2004)