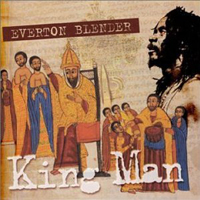 Everton Blender – King Man
(Heartbeat 11661-7758-2, 2003)
Iba – Jah Lion (Mt. Nebo Records NEBO03003, 2003)
Julian Marley – A Time & Place
(Tuff Gong International 54610-2, 2003)
Jamaica's Everton Blender has long been regarded as a link between roots reggae and the contemporary dancehall sound, but to me he's always come across as predominantly roots. Perhaps that perception is a shared one rife for affirmation, because no one will mistake King Man for anything but a roots album.
To say it's Blender's best to date is not to dismiss his previous work, which has ranged from good to great. But given this new disc's combination of full-band arrangements, conscious themes and humble, unpretentious vocals, Blender sounds right at home like never before.
With basic tracks recorded in Los Angeles and Boston and sweetened in Jamaica, the sound is at once classic and modern. The tempos pulsate righteously in tandem with lyrics inspired by spiritual
steadfastness, defiance in the face of evil and love on both a universal and personal level. There's 72 minute's of reggae here, with no lapses in quality or musical substance. Highlights include a whimsical cover of "Little Green Apples" and faith-affirming songs like "Tabernacle Tree" (particularly good in its extended mix featuring the smoky chatting of deejay Trinity), "Abbabajani" (which cops the drum accents from Burning Spear's "Slavery Days") and the scene-setting opener "Hail the King."
The up-and-coming Mt Nebo Records label has thus far been noteworthy for releasing quality reggae from outside of Jamaica, and let's hope they earn in respect what they may not get in monetary riches. One of Mt. Nebo's key artists is Iba, a Rasta from the island of St. Croix with an urgent, assertive vocal
style that serves him well on his Jah Lion album. He cuts sharply through songs of love, unity, history, prophecy and the accountability of wrongdoers, all expertly backed by Mt. Nebo's house band Bambu Station. This is reggae that strikes hard and deep, beating around no bushes and coming up a strong winner.
22 years after his death, Bob Marley remains reggae's most recognized and revered name in every corner of the world. Many of his offspring followed his footsteps into the music business, with results often good but sometimes mixed at best. You can put the latest by Julian Marley near the top of the "good"
column, since it's a disc of considerable variety, integrity and creativity.
Even when it veers away from the reggae beat, it retains the best aspects of reggae in spirit. The leadoff track, "Father's Place," is a folksy acoustic number that stresses faith in the Almighty, getting under your skin with an instantly singable chorus and subtle Jamaican drum beats. From there, Marley eases his way through straight-ahead reggae ("Build Together," "Systems"), sassy funk ("Summer Daisies"), meditations on romance ("Where She Lay," "I'll Never") and songs with understated but distinct jazz inflections ("One Way Train," "Time").
Even though a few other Marley siblings contribute to these tracks, A Time & Place is clearly the work of a single (and singular) artist blessed with inherent talent, range and rebel spirit. Highly recommended.