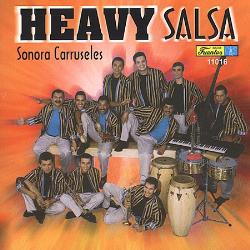 Los Angeles, USA – The popular Colombian salsa group Sonora Carruseles will be touring the United States again in June and July 2003. Tour dates will be posted online at SalsaArtists.com.
Carruseles is known for their hit songs "Micaela", "Lola", "Arranca En Fa" and their newest hit "De Una Vez Gozando".
This popular Colombian salsa group came into the tropical scene performing Afro-Caribbean rhythms, including a traditional style known as salsa brava, originated in the 1960s. Formed in 1995 by composer/producer/conguero Diego Galé and Mario Rincón, and backed by the record label Discos Fuentes, the group became a boogaloo and original salsa revival, taking over Latin America, the U.S., and Europe after releasing 1998's Heavy Salsa and 1999's Salsa Y Fuego.