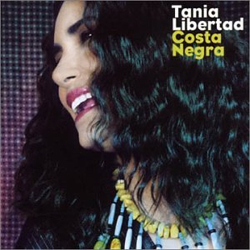 New York, USA – Tania Libertad, one of Latin America's most established singing stars, will be touring the United states later this year.
Libertad finally made her American debut on World Village with the release of Costa Negra.
Known for both her extensive catalog of boleros and for her abiding interest in the black music of Peru, Libertad's Costa Negra introduced American audiences to a unique singer already well-known in Latin music circles.
Tour dates:
Friday, Sept 19. Dallas, TX Latino Cultural Arts Center
Sunday, Oct 7. New York, NY Joe's Pub
Thursday, Oct 9. Houston, TX TBA
Friday, Oct 10. Austin, TX UT Austin, Hogg Auditorium
Saturday, Oct 11. Gainesville, FL U of Florida Gainesville, Philips
Center
Tu/Ws, Oct 14 or 15. Santa Cruz, CA TBA
Thursday. Oct 16. Saratoga, CA Villa Montalvo
Friday, Oct 17. Los Angeles, CA UCLA, Royce Hall
Sunday, Nov 23. Philadelphia, PA Kimmel Center – with Cesaria Evora