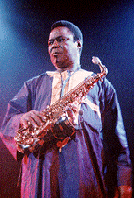 Guinea – Sunday, June 15, Momo "Wandel" Soumah, musical director of the troupe Circus Baobab, died. The Guinean singer, composer, and alto saxophonist was considered one of the greatest saxophonists in Africa.
Momo Wandel was very influenced by jazz luminaries such as Coltrane, Parker and Coleman. He mixed jazz and traditional music from the lower coast of Guinea (the Soussou and the Baga). Endowed with has superb voice Wandel surrounded himself with a highly talented group of traditional musicians. His band's line-up included bala player Khali Camara, the flutist Mamady Mansare, Sékou "Kora" Kouyaté (former director of Myriam Makeba's band), and master drummers Aboubacar Camara and Aly Sylla (soloists of the National Percussion of Guinea).
In 2002 Momo Wandel Soumah was nominated for the BBC World Music Listeners Award.