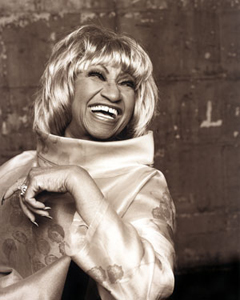 New Jersey, USA – Celia Cruz, the most popular salsa singer, died from cancer this afternoon at 5 p.m. EST at her home in New Jersey, with her husband, trumpet player Pedro Knight, and family friends, by her side.
Celia Cruz had been in a coma since Tuesday, July 15.
On December 5th of 2002, the 77 year old singer, was hospitalized in New York. She underwent surgery to alleviate a brain injury that affected her nervous system. Celia Cruz was released a week later. Her physician advised her to take 2-3 months to rest and limit all of her engagements during that time.
Celia Cruz was known as the Guarachera de Cuba. A native of Cuba, Cruz was the legendary queen of salsa. Her more than 50 CDs showcased her talent, intensity and determination. Cruz's fans reach over four generations breaking down racial and cultural barriers. She collaborated with an eclectic group of musicians, ranging from Puerto Rican salsa and Latin jazz celebrity Tito Puente to pop star David Byrne.
In a field so powerfully dominated by male singers and musicians alike, Celia Cruz won global recognition, numerous tributes, a Yale University doctorate, the admiration of her peers, a Hollywood star, a Grammy, a statue in the famous Hollywood wax museum, movie and theater appearances, the key to numerous cities, and the key to the hearts of music lovers everywhere.
Read more about Celia Cruz and her discography.