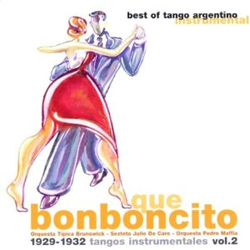 Hamburg, Germany – Que Bonboncito is a recording of beautifully-restored tracks from 1929 to 1932. The album, released by Germany's Danza y Movimento label, is a valuable asset to those who love the tango.
By the mid-1920s Buenos Aires was divided into two camps concerning the tango – traditionalists and the evolutionists.
Julio De Caro and Pedro Maffia defined the evolutionary style. In fact, the great classical composer Manual de Falla wrote at the time, "From what I have heard in Argentina, De Caro's music is the most precious and points the way ahead." These men enriched the tango, as it then existed, with exaggerated melodic phrasing, romantic treatment of the violins and the orchestrally-arranged individual parts.
De Caro's group was formed in 1924 and lasting, through personnel changes, all the way up to 1952. Pedro Maffia was the bandoneon player in De Caro's group until 1927 then founded his own orchestra around 1929. Today, the Orquesta Tipica Brunswick is relatively unknown. Like many other labels (RCA Victor, for example) Brunswick employed an in-house tango band. But Brunswick was done by 1932, so these recordings are rare indeed.