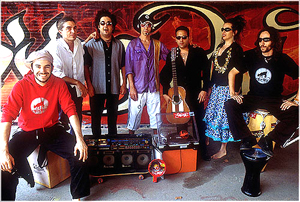 Spanish acts Ojos de Brujo and Depedro will be performing Friday April 15th at Barbican Hall in London. Ojos de Brujo, from Barcelona, fuse flamenco's driving rhythms with hip-hop, funk, punk and other stray sounds snatched from Spain's streets.
The group calls this musical mashup 'Jip Jop Flamenkillo', a sound that catapults flamenco into the 21st century without losing any of the power or passion of the music's roots.
Depedro, from Madrid, is the nom de music of Spanish guitarist-singer-songwriter Jairo Zavala, sideman for Calexico, as well as Andrew Bird. His second album for National Geographic Nubes De Papel (Paper Clouds) is just out and was produced (as was his debut "Depedro"), by Calexico's Joey Burns with other Calexico members sitting in on the sessions.
Friday April 15, at 7:30pm
Barbican Hall
Silk Street EC2Y 8DS
020 7638 8891
£22/£18/£12