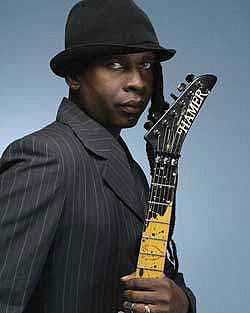 Seattle (Washington), USA – The Pacific Jazz Institute at Dimitriou's Jazz Alley presents guitarist Vernon Reid and his band Masque for one night only, June 26, 2006. Band members are Vernon Reid (guitar), Leon Gruenbaum (keyboard), Steve Jenkins (bass), and Don McKenzie (drums). Set times on Monday is at 7:30pm. Doors open at 6:00pm. Dimitriou's Jazz Alley is located at 2033 6th Avenue, Seattle, WA 98121. Cost: 22.50.
Touring in support of his second solo release entitled Other True Self (Favored Nations, 2006), Vernon Reid is best known for his work with the Grammy Award-winning rock band, Living Colour, and his blistering solo in the song "Cult of
Personality". However, there's another Vernon Reid – the one who hails from the dark alleys of the downtown New York music scene, and who seems to enjoy nothing more than smashing musical preconceptions and conventions. Reid is a student of jazz, a brainy avant-garde improv artist who started in the early '80s playing for the free jazz/funk unit Ronald Shannon Jackson & the Decoding Society, subsequently collaborating with other fringe jazz heavyweights like Bill Frisell and John Zorn.
Reid has collaborated with scores of greats like Public Enemy, Mick Jagger, Carlos Santana and the Roots, produced Grammy-nominated albums by Salif Keita and James "Blood" Ulmer, and composed soundtracks for film, theater, and dance. The chief architect behind an exhilarating sound Vernon Reid sometimes uses his guitar as a paintbrush, evoking small melodic nuances and sometimes uses it as a jackhammer, obliterating everything in its path. He is part guitar player and part visionary artist.
Author:
World Music Central News Department
World music news from the editors at World Music Central