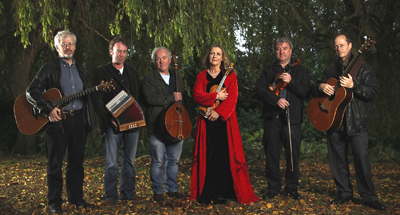 In the pantheon of Irish folk music, Lúnasa and Altan rank among the proverbial High Kings of Tara, adjacent to such immortal acts as The Chieftains, The Clancy Brothers, The Dubliners, the Bothy Band and Planxty.
They are the bands that have helped turn Eire's national art form into Europe's most commercially successful traditional genre. As Mairéad Ní Mhaonaigh, the fiddler-singer at the heart of Altan, pronounces: "We find it hard to believe that we're playing as a band over thirty years after we formed, yet here we are performing the traditional music of Donegal all over the world as a living, the music and songs of our people.
Over the years most of our touring has been to the US, where there's a huge following for Irish traditional music," says Ní Mhaonaigh. "We've also been concentrating more on mainline Europe in recent years and we also tour Japan every few years."
Lúnasa have performed over 1500 shows across the globe since their formation in 1997, appearing at such august venues as the The White House, the Hollywood Bowl and the Sydney Opera House. Trevor Hutchinson, the band's co-founder and double bass ace, says Australia was fundamental in establishing Lúnasa: "The band was originally put together as a one-off just to come to Australia. The gig went so well that we repeated it the following year and after that we decided to make it full-time and we left our respective other groups. I don't think the band would have happened without Australia; it sort of catalysed the whole thing."
Inventive symphonic-styled arrangements, underpinned by Hutchinson's jazz and rock-influenced bass grooves and intricate interplay between fiddler Seán Smyth, flautist/whistle player Kevin Crawford, uillean piper Cillian Vallely and guitarist Donagh Hennessy (more recently Ed Boyd), helped establish Lúnasa as Ireland's finest traditional instrumental act since the aforementioned Bothy Band. "The Bothy Band is by far our biggest influence," reveals the lanky bassman, who also played an integral part in Mike Scott's band The Waterboys, with whom he recently reunited for a 25th anniversary tour. "The Bothies chose quite an active path of arrangements and we kind of take a sort of similar approach. It makes the musical journey easier to understand for people who maybe don't appreciate the finer points of the melodies. My background's more about improvising rock music than anything else," he adds pointedly.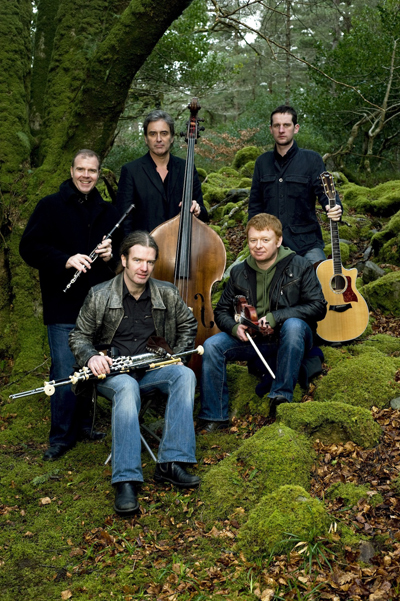 Mairéad Ní Mhaonaigh (pronounced Mah-RADE nee VEE-nee) also cites the short-lived Bothy Band, who came and went with indecent haste back in the '70s, as a major influence. "I adored the Bothy Band … they made traditional music young and trendy without losing the integrity of the music itself." She also credits Clannad as being inspirational. "They took Donegal traditional songs and gave them beautiful arrangements and brought them to life for the younger generation. I always feel privileged that I was part of this wonderful renaissance which Donegal musicians had a big part in during the '80s and 90s and continues today through ourselves and new bands like Fidil and the Henry Girls."
Altan's reputation has been forged on playing predominantly authentic traditional music from their home county. "We get all our music from family, friends or by listening to archival material," reports Ní Mhaonaigh, explaining: "Focusing on what we knew best was one of our main aims when we started the band." She expands further: "Donegal has a distinctive style of music, very different to the rest of the country. Its position on the northwest coast of Ireland lends itself to being cut off in a way from the rest of the Republic and by the Northern Ireland borders, which straddle most of the county. Donegal people went to Scotland to look for work and the link with Scotland is still very strong. For example, we play strathspeys."
Contrastingly, a fair amount of Lúnasa's music is self-composed and the band has also made a habit in recent years of mixing traditional Irish tunes with pieces from other Celtic regions such as Brittany, Galicia and Asturias in their lively medleys. Although they come from different counties and backgrounds, the members all have a "vague sense" of what an Lúnasa tune might be, says Trevor Hutchinson. "My idea would be something that I feel we can get our teeth into … tunes where you can see possibilities to create bigger soundscapes." He enlarges: "There's quite a few different aspects to our sound. One is rhythm and counter rhythm, and the role that the backing can play. Another is the chordal structure and how to make that more interesting. The third one would be the arrangements themselves, in terms of the melody instruments. There's a lot of use of low whistle in our harmony work with that and counter point. It's really sort of all these things combined that makes Lúnasa's sound a bit more musical."
Though they've collaborated with some well-known singers, including Natalie Merchant, Lúnasa has never employed a vocalist. "If you have a singer, it's difficult for them to be an integral part of the band unless they really play an instrument and their playing fits in as well," says Hutchinson. "It makes it musically more of a challenge to do shows without vocals." Mairéad Ní Mhaonaigh's crystalline vocals have been a feature of Altan since their inception. She's also released a limited edition solo album (Imeall, in 2009). With band members, she's worked with a wide variety of American singers, including Dolly Parton, Bonnie Raitt, Alison Krauss, Ricky Skaggs and John Prine. "It's always complimentary to get a call to sing with a hero or collaborate in anyway."
Altan and Lúnasa's careers have, inevitably, criss-crossed over the years. Suffice to say, the bands hold each other in high esteem. "Altan have a huge history and have a very big place in the scheme of things … they've done some really beautiful albums over the years," says Trevor Hutchinson. Mairéad Ní Mhaonaigh adds that the two acts have been friends for years: "We've shared the stage with Lúnasa several times, as our guests at the famous Hollywood Bowl in Los Angeles and more recently at a gig in Chicago. I wouldn't rule out a collaboration with them anytime."
Emphasising the bond between them, both bands have made albums with Dublin's celebrated RTÉ Concert Orchestra in recent years. "We are hoping at some stage over the next couple of years to do some more orchestral shows around the world," Hutchinson reveals, adding: "When it's done right, it can work really well." Altan are similarly proud of their 2010 25th anniversary album with the RTÉ Orchestra. They're also happy with their latest album, 2012's The Poison Glen. "It encapsulates where we get our inspiration from — the land, the valleys and mountains and the natural beauty of our beautiful county. We also recorded it in Donegal which was important for the band as well," says Ní Mhaonaigh.
Asked to nominate her favourite Altan recording, Ní Mhaonaigh mentions 1993's Island Angel as special, not only because it was "a beautiful album to make" but also because it was the last one she recorded with her late husband, band co-founder Frankie Kennedy. "It was the end of an era and the beginning of a new chapter in my personal life and in the history of the band." Although Altan has experienced relatively few personnel changes over the years, she describes the band as currently being in a transitional stage. "Dermot Byrne was the last person to join in '94, but we have invited guests such as Martin Tourish, an amazing young accordion player, to take Dermot's place on tour and we have also have invited Harry Bradley, an accomplished flute player from Belfast." The core of the band, including bouzouki player Ciarán Curran and guitarists Mark Kelly and Dáithí Sproule, has remained intact.
Trevor Hutchinson selects one of Lúnasa's early albums, 1999's Otherworld, as a personal favourite, "because it was one of our most experimental phases when we were exploring what the band was going to be." He opines that both Altan and Lúnasa have thought hard about their direction and what they're trying to say. "It's easy just to rattle out a bunch of tunes, but I think we both tend to see it as something that needs to work on a biggish stage, and that requires a different way of thinking. It's not just the tune; it's what surrounds it. It's more dimensional than just the melodies themselves."
• The above interview first appeared in Rhythms, Australia's only dedicated roots music magazine, for which the author is World/Folk correspondent.