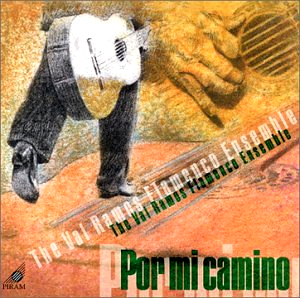 Val Ramos Flamenco Ensemble
Por Mi Camino (Piram)
The sounds of nuevo flamenco in Europe and Latin America have created roots in the American Latin community. The Connecticut-based Val Ramos Flamenco Ensemble has played hot flamenco guitar in cold New York and New England for many years, developing a dedicated following.
After a trip to Spain in 2001, his popularity soared with big sales in Spain where American Flamenco artists are encouraged and followed closely. The ten original songs plus a bonus cut of the title track on this third album of his are full of life. They skirt the flamenco borders of jazz, Latin and American music with precision and wit.
The guitars of brothers Val and Jose Ramon Ramos support a closely knit ensemble of a percussion section including Carlos Hernández Chávez (bass), Jose Berrios (bongos), David Calderon (congas), Carlos Revollar (cajon), and the thrilling flamenco singer Jose de Santos. Highly recommended on either side of the ocean.
– Brian Grosjean