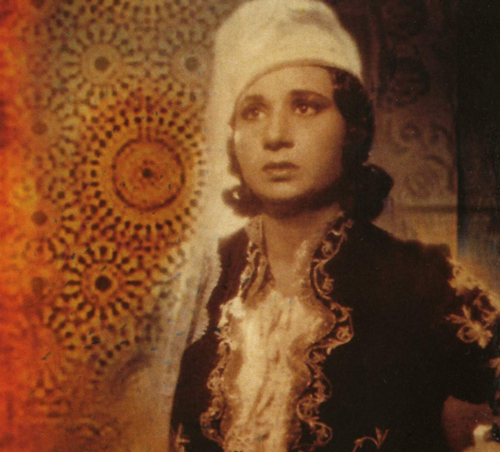 Um Kulthum [also written Umm Kulthum, Oum Kolthoum, Oum Kalsoum, Omme Kolsoum, and Oum Kulthoom] was one of the greatest vocalists in Arabic music during the 20th century. She was born in 1904, in a small village in the south of Egypt.
In her singing, the highly influential Um Kulthum offered an authentic art, relevant and rooted in the life of her people. She created a new genre of Arabic singing, which was adopted by many artists. She emphasized the sacredness of the sung lyrics, as though the words were from the Koran or from Arab classic poetry.
In 1975 she died, endowing the world a rich repertoire and one of the greatest human voices.
Partial discography:
Ya Karawan – O plover (1926)
Othkorene – Remember me (1939)
Kull al-ahabbah – All the friends (1941)
Raq il Habeeb – My beloved tendered back (1941)
Ana Fi Entezarak – I am waiting for you (1943)
Ghulubt asalih – Tired of forgiving (1946)
Yali Kan Yashqiq Anini – You who enjoyed my cries (1949)
Rubaiyat Al-Khayyam – Quatrains of Omar Khayyám maqam rast (1950)
Ya Zalemny – You who were unjust to me (1954)
Dalili Ehtar – I am lost (1955)
Dhikrayatun Qessat Hobbi or the story of my love – memories (1955)
Gharib' Ala Bab erraja – Stranger at the door of hope (1955)
'Awwidt 'ayni – I accustomed my eyes (1957)
Arouh li Meen or Arook Lemeen – Whom should I go to (1958)
Hagartek or Hajartak – I left you EMI (1959)
Hobb Eih – Which love maqam bayyati (1960)
Howwa Sahih El-Hawa Ghallab – Is love really stronger? (1960)
Lessa Faker – You still remember (1960)
Ansak Ya Salam – Forget you? Come on! (1961)
Hayart Albi Ma'ak – You confused my heart maqam nahwand (1961)
Hasibak lil-zaman – I will leave you to time (1962)
Zalamna El Hob – We have sinned against love (1962)
Betfaker fi Meen – Who are you thinking of? (1963)
Toof we Shoof – Wander and wonder (1963)
Araka asiya al-dam – I see you refusing to cry (1964)
Enta Omri – Sono – You are the love of my life (1964)
Lel Sabr Hedod – Patience has limits (1964)
Sirat el Houb – Tale of love (1964)
Amal Hayati"; Sono – Hope of my life (1965)
Baeed Anak – Away From You maqam bayyati (1965)
Enta El Hobb – You are the love (1965)
Al Atlal – The Ruins (1966)
Fakarouni – They reminded me (1966)
Fit al-ma' ad – It is too late" or "The rendez-vous is over (1967)
Hadeeth el Rouh – The talk of the soul (1967)
Hathehe Laylati – This is my night maqam bayyati (1968)
Alf Leila wa Leila – One thousand and one nights (1969)
Aqbal al-layl – Night has arrived (1969)
Es'al Rouhak – Ask yourself (1970)
Wi-darit il-ayyam – And time passed by (1970)
Aghadan alqak – Shall I see you tomorrow? (1971)
El Hobb Kolloh – All the love (1971)
Men Agl Aynayk – For your eyes (1972)
Rihab al-huda al-Thulathiyah al-Muqaddisah – The paths to repentance or the holy trinity (1972)
Ya Msaharny – You that keeps me awake at night (1972)
Hakam 'alayna al-haw'a – Love has ordered me (1973)
Leilet Hobb – A night of love (1973)
La Diva (EMI Arabia, 1998)
La Diva II (EMI Arabia, 1998)
La Diva III (EMI Arabia, 1998)
La Diva IV (EMI Arabia, 1998)
La Diva V (EMI Arabia, 1998)
The Classics (EMI Arabia, 2001)
Author:
Angel Romero
Angel Romero y Ruiz has been writing about world music music for many years. He founded the websites worldmusiccentral.org and
musicasdelmundo.com
. Angel is also co-founder of the
Transglobal World Music Chart
. Angel has also produced and remastered world music studio albums and compilations for labels such as Alula Records, Ellipsis Arts, and Music of the World.