Otava Yo is one of the rising acts in contemporary Russian folk music. The Saint Petersburg Russian-based band has an excellent new album available internationally titled "Do You Love"
The lineup includes Alexey Belkin on vocals, bagpipes, gusli, zhaleika; Alexey Skosyrev on vocals, acoustic guitar; Dmitry Shikhardin on vocals, fiddle; Yulia Usova on vocals, violin; Petr Sergeev on bass drum and darbuka; and Timur Sigidin on bass.
Otava Yo's leader Alexey Belkin talked to World Music Central about the band's background and the new recording.
Q: How and when was Otava Yo formed?
On the streets of St. Petersburg in 2003, where we decided to busk for fun. The feedback from audience was so great, so we started to busk in St. Pete on regular basis. That time we were playing instrumental Celtic music. Only after 3 years of occasional street performing we made a first record and perceived our selves as a band.
Q: What do you consider as the essential elements of your music?
We try to keep music live, in terms that we do not like to copy somebody's ideas, we prefer to invent our own bicycle. If we see some great idea created by somebody else – it inspires us to make something too. Also we try to keep the main idea of folk songs and do not complicate them. If it is funny cheerful dance song we would not make from it jazzy lounge R&B.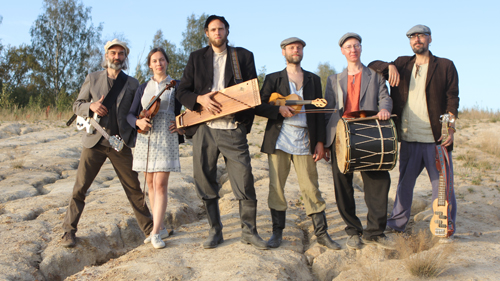 Q: Who can you cite as your main musical influences?
I can talk only for myself. I used to listen to lots of Celtic artists – Chieftains, Carlos Nuñez, Silly Wizard, etc. and also Scandinavian bands like Hedningarna, Garmarna. I love Latvian band Iļģi. Penguin Cafe Orchestra, Michael Nyman. All of them could make influence on my musical taste.
Q: Tell us about your first recordings and your musical evolution.
The first recording with Otava Yo we made in 2006. After all those sessions on the streets we decide to make live album with everything we played for that time. So, it was instrumental album with just 1 song. Raw and live. No bass guitar and no even bass drum. Exactly how we played on the streets.
Three years later we made a new album full of Russian traditional songs, the most popular ones. And it was recorded with using all studio possibilities. We made nice arrangements and used more instruments then we can play live, invited some friends. So, it was fun to make that record and to see how good this music could be recorded.
The new album "Do you love" in 2018 took us a 6 months of work in studio. And I believe it is our most matured work for now.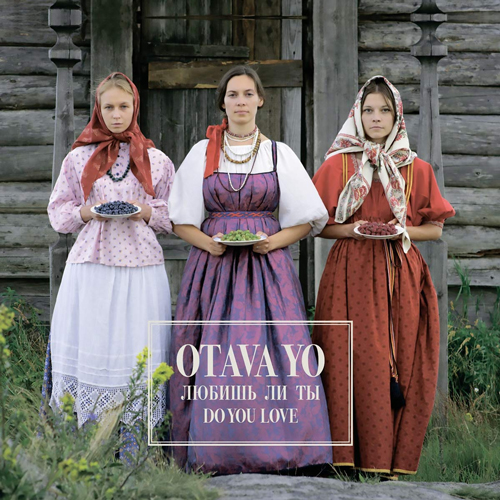 Q: Even though you live in a city, your music contains elements of Russian village music. How do you find traditional rural folk songs?
Well, we live in cities, but some of us used to stay in country side. I myself till 15 years old stayed in very small town in private house in suburb of St. Petersburg. I was able to go for a walk without seeing a single car, if I wanted I could make a campfire with my friends in my yard, so it was a happy childhood of small town boy. But there was no folklore in my life. It was USSR and communists did everything they could to steal folklore from Russian population and to replace it with fake academic folklore. But in spite of this the folk songs are all over, all you need just to wish to listen to them. The most of the song we sing we just know. Some of them we found in ethnographic recordings or books. But we never went to ethnographic expeditions.
Q: Otava Yo uses various traditional Russian instruments. Tell us about them and how common are they now?
The most common – electric guitar and bass, the rest are quite rare. Well, to be serious, it is a problem now with getting Russian traditional instruments. You are not able to buy them in store, the only way to get such instrument is only to order it directly from the maker and then wait for a few months. I ordered my new Russian village bagpipe in May and it is ready only now. But it is worth to wait. How common?… Well, not really.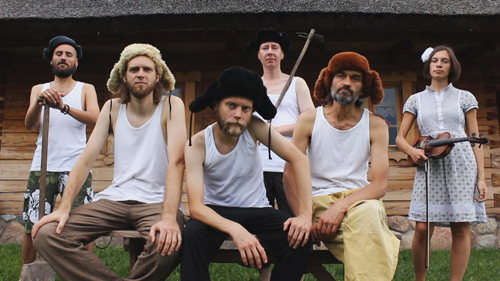 Q: Who makes your traditional musical instruments?
Different makers. Some of them are from St. Petersburg, some from other cities. My zhaleikas mostly made by Anton Platonov and Dmitry Dyomin. Gusli by Alexander Teplov. The new Russian bagpipe by Vasiliy Ivanov. Also I am waiting for the new gaita chanter with keys from Moscow's maker Alexander Anistratov. All of them you may find in Facebook.
Q: Otava Yo is also known for making captivating music videos. Tell us about the process of making videos and who is involved.
We make them in picaresque way. I have directed all the videos we made. As far as I didn't study how to shoot video so I was not afraid to start to make them and just started to do it without understanding the details of the whole video production process. First two videos we even shot by ourselves, only starting from "Street cleaner" we have invited professional camera man.
The process – usually I start to think about the song for which I would like to shoot video. I listen to it more than hundred times. Then I come up with the main idea and start to work on script. Then with my partner Vsevolod together we write final script and plan all the shootings details including what kind of equipment we will use and where will rent it. Then we shoot 🙂
After shooting we edit it and make post-production.
Nothing special or unusual. The only important thing – I suppose if we would invite the professional director from the side the result would not be like what we have now, just because it is impossible to find so folklore involved and oriented director in Russia or outside of it. So, I had to invent everything especially for Otava Yo. I suppose it is a unique product we made in a single copy, it is very difficult to duplicate. So that's the whole secret.
Q: How's the current traditional and contemporary folk and world music scene in Saint Petersburg and other parts of Russia?
To be honest quite bad. The amount of folk groups which on regular basis can play the concerts is very little. The ones which could attract more than 100 listeners even less. We do not have infrastructure for world music. The quantity of world music festivals also is quite low. But I think it is changing a little bit and also with our help too.
Q: If you could gather any musicians or musical groups to collaborate with whom would that be?
Well, I like Hedningarna and Penguin cafe, I think we could make something interesting together. And Rammstein of course 🙂
Q: Do you have any upcoming projects to share with us?
We are getting ready for Christmas tour, which will happen in January 2020. Now we are in the middle of "Once upon a time" tour which is dedicated to 10 year anniversary of our second album "Once upon a time". Ten more concerts to go.
We need to finish the new video clip, which we shot in August. I wanted to create an adventurous comedy video and I hope it will work out as I planned. We have some ideas for our youtube show "Zelyonka", where we invite other musicians and play together. The last month we had a great guests from Sweden – Garmarna. We plan several other interesting acts within this show. And of course we are planning to work on new songs, and this is the most important thing for us now. The recent live video with new song "Zalivochka" which we just uploaded gathered more than 100K views just for 2 days; that means people look forward for new songs from us.
headline photo: Otava Yo by Maxim Drozdov
Author:
Angel Romero
Angel Romero y Ruiz has been writing about world music music for many years. He founded the websites worldmusiccentral.org and
musicasdelmundo.com
. Angel is also co-founder of the
Transglobal World Music Chart
. Angel has also produced and remastered world music studio albums and compilations for labels such as Alula Records, Ellipsis Arts, and Music of the World.