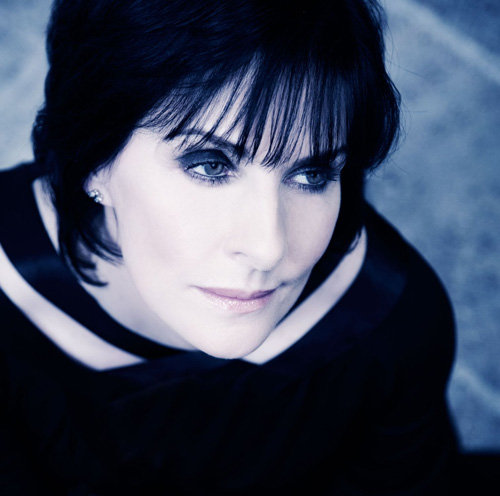 Eithne Patricia Ní Bhraonáin, better known as Enya, was born on May 17, 1961 in County Donegal, Ireland. She was brought up speaking Gaeilge (Irish). Her name, Enya is a transliteration of the Gaeilge pronunciation of Eithne. "Because of that, my alphabet pronunciation is different to that of someone who speaks English as a first language," she explains. "I enjoy the sounds of language, it's great to be able to sing in a very old language like Gaeilge but still be able to get the message across through the melody and performance."
Enya studied classical music at Milford College. Her intention was to be involved in music but she didn't know what direction she would take. After she left college, she was invited by sound engineer and producer Nicky Ryan and his partner, visual artist and lyricist Roma Ryan, who were then managing the group Clannad, to join the group on a temporary basis.
"I had come from studying classical music at boarding school and was fiercely independent," remembers Enya. "I wasn't really involved as a member of the group. Nicky wanted me as keyboard player and as another vocal texture in the band which I agreed to. I talked a lot about music with Nicky and this is when he had the idea of the choir of one (multi-tracked vocals by the same singer that sounds like a celestial choir). He was so into experimenting with all types of music."
This all led to the creative partnership of Nicky, Enya and Roma in 1982. The first project the trio worked on was a soundtrack for David Puttnam's 1984 film The Frog Prince. Two years later, Enya provided the entire soundtrack to the BBC television documentary series The Celts. "Initially they wanted one composer for each episode but then we put forward March Of The Celts – they came back saying we want to you to write all of them," says Enya. "It was a big risk factor on their side, because I was just someone who had studied music – there was no guarantee what kind of music I was going to write."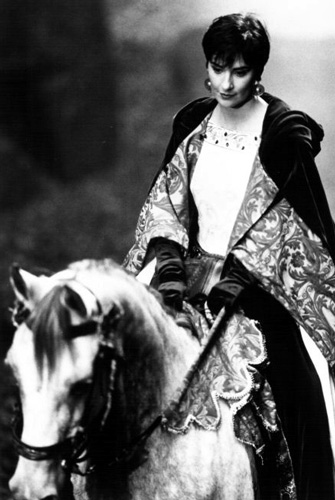 With songs performed both in English and Gaeilge, Enya produced a set of enchanting, ethereal pieces that would later be collected on her eponymous debut album, released in 1987.
While her debut album failed to hit the popularity charts, it attracted Warner Brothers' chairman, Rob Dickins, who quickly signed Enya, much to the surprise of his colleagues who had little faith that Enya's ethereal music would sell in a marketplace dominated by pop acts such as Kylie Minogue and Rick Astley. But Dickins said "Sometimes the company is there to make money, and sometimes it's there to make music."
Enya made her WEA (Warner/Elektra/Atlantic) debut in 1988 with the acclaimed album Watermark. "We and the record company were completely taken aback by the reaction to Watermark," admits Enya. "How could you tell? There wasn't any music like that out there in the late-Eighties." Watermark would go on to sell in excess of 11 million copies, earn Enya two Brit Award nominations and delivered a UK number one single with Orinoco Flow. "Orinoco Flow" was a hit in every country in which it was released.
Treating Enya as very much a personal project, Dickins respected Enya's desire for creative independence. "It was a condition of the signing that we would be creatively independent and for that reason we have never felt that we couldn't do something and be different for the right reasons; because the music dictated it," says Enya. "The only real pressure we get is when [Warner] ask if there will be an album out this year or not.".
In 1991, Enya released the 12 million selling album Shepherd Moons which made its debut at the peak of the UK album chart and stayed on the US charts for 199 consecutive weeks. Shepherd Moons won Enya her first Grammy for Best New Age Album.
Four years later, in 1995, The Memory Of Trees earned another Grammy and had 9 million sales and her first No.1 record in Australia, Spain and Sweden.
A highly successful 'Best Of' collection titled "Paint The Sky With Stars" followed in 1997, featuring Top 20 hits such as 'Orinoco Flow,' 'Caribbean Blue,' 'Book Of Days' and 'Anywhere Is'.
A Day Without Rain came out in 2000. Enya said, "The title refers to the mood on a particularly peaceful day on which there was no rain. We do get a lot of rain in Ireland in all seasons! We had had a run of days where it had done nothing but rain. Then one day the sun came out. It was then that I wrote the title track, so what else could I call it?"
It took Enya and her colleagues 5 years to make A Day Without Rain. "As I do all the vocals and harmonies, and we do not sample, this obviously takes up a considerable amount of time," she explained. "Also, as everything you hear on the album is played by me, that too becomes a very long process. Therefore, we are inclined to take much longer in the studio than other people."
In 2001, film director Peter Jackson requested that Enya contribute two songs to the soundtrack of Lord Of The Rings – The Fellowship Of The Ring. The result was 'May It Be" and "Aniron … (I Desire)." Enya, Nicky and Roma were all nominated for an Oscar and a Golden Globe for 'May It Be'.
Enya's sixth album was "Amarantine" (2005), recorded in Ireland. In addition to one song in Japanese, Enya sings three songs written in a customised language invented by Roma. Amarantine, released in 2005, was more classically shaded and less obviously pop influenced in its textures than its predecessors. It contained a number of songs with lyrics in Loxian, a language created by Roma Ryan, which she has written about in the book Water Shows The Hidden Heart.
And Winter Came was released in 2008. The album's twelve songs are an atmospheric and enchanting evocation of the changing landscape of winter and the cheer that Christmas brings. Once again the album was recorded in their own studio and is the result of the longstanding creative triade that was formed back in 1982 with producer/arranger Nicky Ryan and lyricist Roma Ryan. Although "And Winter Came" was planned as a Christmas project, the album began to take shape a wider seasonal theme soon became evident. "I always wanted to do a Christmas album, but as we began recording I didn't feel it was right to impose a Christmas theme on certain songs," explains Enya.
Enya's seventh studio album also contains two traditional Christmas songs, 'O Come, O Come, Emmanuel' and a new version of 'Silent Night' (Oíche Chiuín), a song Enya sang in Gaeilge that proved hugely popular over the years. "It was exciting to re-live Silent Night because I sung that twenty years ago," enthused Enya. "It is re-released every year in America and it was so nice to go back and do something different with it." The new version of Oíche Chiuín (Chorale) incorporates the "choir of one."
"Dark Sky Island' was released in 2015. "This album has a theme of journeys," stated Enya. "Journeys to the island; through the length of a lifetime; through history, through emotions; and journeys across great oceans. So although it's not a 'themed' album, as such, we nevertheless have an underlying connection between songs."
"Dark Sky Island refers to the island of Sark, one of the Channel Islands," explained Roma. "It was the first island to be designated as a dark sky area. The community decided collectively to adjust their way of living in order to accommodate clear, unspoiled night-views of the heavens. There are no cars on the island and all of the lighting is designed so that it doesn't interfere with the observation of the stars. So many stars can be seen that it can be difficult to pick out familiar constellations."
Discography:
Enya (BBC, 1987), re-released as The Celts (WEA/Reprise, 1992)
Watermark (WEA/Geffen, 1988)
Shepherd Moons (WEA/Reprise, 19921
The Memory of Trees (WEA/Reprise, 1995)
A Day Without Rain (WEA/Reprise, 2000)
Amarantine (Warner Bros./Reprise, 2005)
And Winter Came… (Warner Bros./Reprise, 2008)
Dark Sky Island (Warner Bros./Reprise, 2015)
Author:
Angel Romero
Angel Romero y Ruiz has been writing about world music music for many years. He founded the websites worldmusiccentral.org and
musicasdelmundo.com
. Angel is also co-founder of the
Transglobal World Music Chart
. Angel has also produced and remastered world music studio albums and compilations for labels such as Alula Records, Ellipsis Arts, and Music of the World.