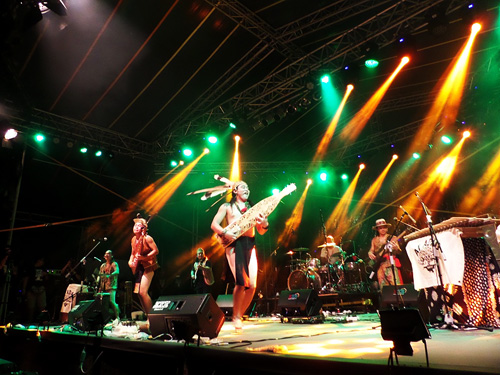 When you think of Scotland, does the drone of bagpipes start playing in your mind? Does Hawaii spark strains of a ukulele-laced 'Over The Rainbow'? Or perhaps Bugs Bunny singing 'Aloha Oe'? At the mere mention of Sarawak, I hear the soothing lilt of the sapé. Just a decade ago, the sound of Borneo was in danger of being lost to history. As aging masters passed on, young musicians showed little interest in the instrument. The long carved 'lute' and other traditional instruments were considered 'boring and un-cool'.
Meldrick Bob from Kuching band At Adau recalls, "When we were younger, we thought the same thing. When I went to middle school, my father said, 'You must learn sapé. Who else will play?' The sapé [made from a single bole of wood] featured at the first Rainforest World Music Festival I attended. I was then also inspired by rhythms from Africa and Latin America. That's why I play drum with a mix. There's influence of salsa, cha-cha and songo on our new album Oba."
Bob represents the Iban and Bidayuh tribes of the 20+ across Sarawak. Others in the group descend from the Orang Ulu and Kenyah. "We also play instruments from the Melanau beat, the Penan… We plant it into modern elements. The old people say, 'It's OK, but you should know your roots first'. Back in the day, if we followed the taboo, it's not good. But for now we really want to keep it alive – to create our own sapé scale and tune which attracts more youngsters. They're surprised that modern music can be played with traditional instruments."
At Adau create a unique style of what they call 'experimental world music.' They accompany 4 or 6 stringed sapé with perutong (a traditional bamboo zither), Bidayuh bass drum, jatong utang (wooden xylophone), Kededek (mouth harp), and nose flute. They incorporate the sound of the rainforest and rivers with frame and Hang drum, Cajon, guitars and dance. Their compositions range from the hypnotic to rock fusion. Predominantly instrumental, their opening track on Oba features majestic vocals inspired by traditional ceremonial chants.
Bob's fellow band members are Ezra Tekola (4 and 6 string sapé), Jackson Lian Ngau (Zither and Bidayuh bass drum), Alfonso McKenzie (bass guitar) Cedric Riseng (guitar)
and Luke Wrender David on 4 String and 3 String Sapé and guitar. "Ezra is very, very good at sapé. Lian in traditional dancing (Ngajat). The percussion is from Sarawak. I'm from a rock band. This idea came from Lian's father (sapé master Mathew Ngau Jau). So we collected all the ideas from out of the box then put them in a blender. Then accidentally, magically, it's very good. We realised we have something – not only traditional, strong to our roots, but something very fresh. In these times, we want to say, 'Even the instruments unite so why don't the people?' We are from different races and backgrounds but come together to form a band. Boom.' When we play, we see different races in front of us but they have the same feeling and follow the songs. We love to see that."
In recent years, the sapé in particular has become more prominent across the local music scene in its many shapes and forms. Women players like Alena Murang are now accepted with large ensembles keeping the song of Sarawak and neighboring regions alive.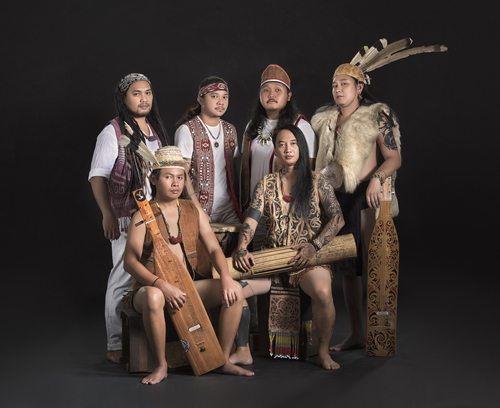 An independent band, At Adau formed in 2014. Their profile rose steadily with 2015 debut album Journey. Gigs on RWMF's small stages progressed to thunderous ovations for their main stage performance in 2018. Their album features on Malaysia Airline's inflight music selection. International touring, industry awards and their own studio in Kuching see them now a mainstay of Sarawak's cultural profile. They're on the bill again for the global gathering this July. "Our costumes and necklaces, feathers, traditional tattoos… includes us as indigenous people. On stage we teach how the Iban or Bidayuh make a toast." They did so on a teaching trip to South Korea. "If you go to Korea you might meet people doing the Borneo toast 'OooohHaaa!' because it's fun and loud."
Ezra Tekola makes his own sapé and nose flute. He learnt from an elder who he met at the Rainforest World Music Festival. Tekola explains, "Uncle Loyuh was the only one left to play and make the local nose flute. Another instrument showcased by the band is the very rare kededeh made of bamboo and gourd. It's modified to sound more bass, so it sounds like a goose!" he laughs. "We were quite surprised to see in the Kuching museum that the Iban tribe has its own two-stringed violin. We wondered how it sounds and how to make it alive again."
The musicians say some traditional stories tell strange, 'very creepy' tales about the spirits. A lullaby piece on Oba Story depicts a scene following a good hunting trip. "The people gather in the longhouse, have a feast, go all lazy then play." Tuak (rice wine) flows freely as the toast rings out across the forests. OooohHaaa!
More about the band and discography: At Adau