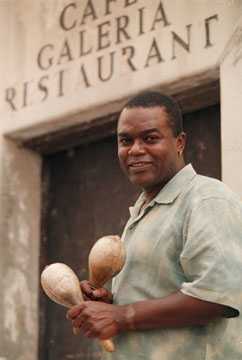 Ricardo Lemvo was born in the Democratic Republic of the Congo, formerly known as Zaire. His roots reach all the way to Sao Salvador in northern Angola where his grandfathers, Don João Matantu N'lemvo and Andrada Andrè, were born.
Lemvo was eight years old when he first realized that he wanted to pursue a musical career. In Kinshasa, the capital of the Congo, he lived next to a bar. Bombarded day and night with Congolese rumbas and Cuban music from the bar's loudspeakers, Lemvo memorized all of the songs and their melodies, imagining himself singing in front of an orchestra. He didn't tell his mother about his dreams because music was not a "real" profession.
At the age of 12, Lemvo was sent to a Catholic boarding school in Gombe Matadi, 120 miles south of Kinshasa. Gombe Matadi was a "college town" with four schools run by Congolese and Belgian priests. It was a place where parents sent their children to keep them away from the temptations of the big city.
Although exposed to Cuban music since childhood, Lemvo's formal introduction took place during one of the school breaks. His cousin, Hetman Ne-Kongo, had a huge record collection. Lemvo spent hours listening to Orquesta Aragón, Arsenio Rodríguez, Sonora Matancera and Abelardo Barroso.
At the time, Lemvo did not understand the lyrics, but the rhythms, the melody, and the spirit of the music touched him deeply. Whenever he heard Barroso and Ignacio Piñeiro, he felt a strong connection. In their songs Lemvo heard the drums and the voices of Africa. He was overcome by emotion when he realized that this was the music that his enslaved ancestors took with them to the Americas.
Lemvo landed his first job as a singer during another one of the breaks from boarding school. Another cousin, Josè Bipock, helped him get it because he was a board member of a band called Mira Mira. Mira Mira was a garage band of 13 and 14 year old kids trying to be hip. The oldest was the 17 year old bandleader, who went by the name of Laghos El Dorado Le Sentimental. Laghos was a guitarist who walked with a limp and played dazzling solo licks.
Mira Mira hired Lemvo as a rock and rhythm and blues singer. His cousin told Laghos that Lemvo was perfect for the job because he spoke fluent English. Nothing could have been further from the truth. Lemvo spoke some English but was certainly not fluent. "I was assigned two songs: James Brown's "Papa's Got a Brand New Bag," and Otis Redding's "Direct Me," which I sang in phonetic English, but what I really wanted to sing was Afro-Cuban music". Mira Mira performed only Congolese rumba and American soul music, and Lemvo's brief career ended when he went back to school. He joined his father in the United States in the summer of 1972. He moved to the United States at age 15
In college, Lemvo began collecting Cuban records and met many French-speaking Africans who shared his passion for Cuban music. Most were "purists" who did not like salsa from New York, unless it was Johnny Pacheco. To many African aficionados of Cuban music, Pacheco was a god because he played the son montuno and charanga style that is revered throughout the continent. The influence of Cuban music in Africa is immeasurable. When Cuban music traveled back to Africa it was instantly recognized and embraced.
Lemvo's musical career began in the late 1980s as a backup vocalist for various bands. It was during this time that he discovered, and fell in love with Mexican rancheras. He even participated in singing contests backed by mariachi bands. In the beginning Lemvo encountered many obstacles. He had a nine-to-five job while pursuing a degree in political science and dreaming of becoming an international lawyer. Music was still a hobby. However, the closer he got to graduation, the more disillusioned he became about law school.
The Los Angeles salsa scene of the 1980's was vibrant. There were many local bands performing at venues such as Candilejas Night Club and Riviera. The most prominent group was Orquesta Versailles featuring two excellent Cuban musicians: Rodolfo "Fito" Foster and Jesús Alejandro Pérez "Niño Jesús." Fito played the piano with great intensity. He often wore dark glasses on stage and swayed his head from side to side, like Stevie Wonder. "I was awestruck by Niño Jesús' versatility. He was a true virtuoso! He not only sang, but played the flute, tres guitar and he was also an accomplished arranger. We soon became friends and he has played an important role in my musical development".
When Lemvo decided to record his first album, Tata Masamba, Niño Jesús was instrumental with the musical arrangements. He also participated by writing a song for the CD, playing keyboards, bass, flute, tres, and singing background vocals.
In 1990, Lemvo formed Makina Loca (crazy machine in Spanish) in order to combine the two schools of music he adores: Congolese rumba and Cuban son montuno. This idea was not new. The foundation had been laid by the founding fathers of Congolese rumba-Grand Kallè &African Jazz, Tabu Ley, Dr Nico Kasanda, and Franco's T.P. OK Jazz. In the 1950s and 1960s, Congolese bands were performing Cuban songs in phonetic Spanish as well as adapting the arrangements to fit Congolese languages. This is how Congolese rumba and soukous came to be.
With Makina Loca Lemvo's goal has been to expand Kallè and Franco's ideas by Africanizing the soul of Cuban music-son montuno. "The introduction of Congolese guitar, and singing in Kikongo, Lingala, and Spanish has enabled me to create a mosaic of sounds".
Through his songs, Lemvo hopes to share his Congolese heritage with others. With Mambo Yo Yo he has continued to develop the idea of synchronizing the sounds of his Congolese roots with those of Cuba's African diaspora.
Isabela, (2007) Ricardo Lemvo's self-released fifth album, is the product of much hard work and knowledge. Its cosmopolitan bouquet of musical styles is sung in six languages (including Portuguese, Spanish, Swahili, Lingala and Kikongo), each with its own distinct musicality.
Isabela's, repertoire ranges from "Kasongo Boogaloo," a fiery upbeat boogaloo, to 1950s Congo classic Lollobrigida (written by the late Congolese guitarist Tino Baroza in honor of Italian movie star Gina Lollobrigida), to Serenata Angolana, a duet with Cape Verdean songstress Maria de Barros that Lemvo dedicated to his beloved Angola.
Invited guest musicians include Congolese guitar legend Papa Noel , singers Wuta Mayi and Nyboma, and Cuban Alfredo de la Fe on violin and cello.
Isabela is also the name of Ricardo Lemvo's new daughter, born as the album was nearing completion.
Discography
Tata Masamba (Mopiato Music, 1996)
Mambo Yo Yo (Putumayo World Music, 1998)
São Salvador (Putumayo World Music, 1999)
Ay Valeria! (Mopiato Music, 2003)
Isabela (Mopiato Music, 2007)
Retrospectiva (Mopiato Music, 2009)
La Rumba SoYo (Cumbancha, 2015)
Author:
Angel Romero
Angel Romero y Ruiz has been writing about world music music for many years. He founded the websites worldmusiccentral.org and musicasdelmundo.com. Angel produced several TV specials for Metropolis (TVE) and co-produced "Musica NA", a music show for Televisión Española (TVE) in Spain that featured an eclectic mix of world music, fusion, electronica, new age and contemporary classical music. Angel also produced and remastered world music albums, compilations and boxed sets for Alula Records, Ellipsis Arts, Music of the World.