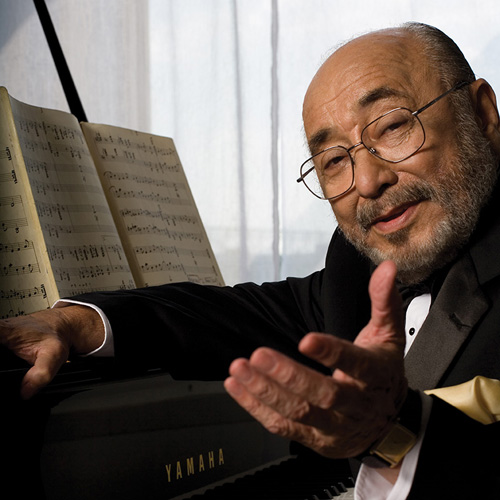 Eddie Palmieri's musical career spans several decades as a bandleader of salsa and Latin jazz orchestras. His discography includes over 30 albums and various Grammy Awards.
Born in Spanish Harlem (New York city)  in 1936, Palmieri began piano studies at an early age, as did his celebrated older brother, the late salsa legend and pianist Charlie Palmieri. For Hispanic New Yorkers of Eddie's generation, music was a vehicle out of the barrio. At age 11, he made his classical debut at Carnegie Hall, a venue as far from the Bronx as he could imagine. Possessed by a desire to play the drums, Palmieri joined his uncle's orchestra at age 13, where he played the timbales. Says Palmieri, "By 15, it was good-bye timbales' and back to the piano until this day. I'm a frustrated percussionist, so I take it out on the piano."
He began his professional career as a pianist in the early 1950s with Eddie Forrester's Orchestra. In 1955 he joined Johnny Segui's band. He spent a year with the Tito Rodriguez Orchestra before forming his own band, the legendary Conjunto La Perfecta in 1961. La Perfecta featured a trombone section (led by the late Barry Rogers) in place of trumpets, something that had been rarely done in Latin music, and which demonstrated the early stages of Palmieri's unconventional means of orchestration. They were known as "the band with the crazy roaring elephants" for the configuration of two trombones, flute, percussion, bass and vocalist. With an infectious and soaring sound, Palmieri's band soon joined the ranks of Machito, Tito Rodriguez, and the other major Latin orchestras of the day.
Palmieri's influences include not only his older brother Charlie but Jesus Lopez, Chapotin, Lili Martinez and other Cuban players of the 1940s and jazz legends Art Tatum, Bobby Timmons, Bill Evans, Horace Silver, Bud Powell, McCoy Tyner, Herbie Hancock and Miles Davis. Equally important were influences derived from Palmieri's curiosity and incessant search to unearth his family's roots and seek out the origins of the music that profoundly inspired him.
"In Cuba, there was a development and crystallization of rhythmical patterns that have excited people for years," said Palmieri. "Cuban music provides the fundamental from which I never move. Whatever has to be built must be built from there. It's that cross-cultural effect that makes magnificent music." His solid interpretation of Afro-Caribbean music and its confluence with jazz is evident in Eddie Palmieri's astute arranging skills, which assemble those components in dramatic and compelling compositions.
His accomplishments have taken him through Europe, Japan and Latin America, showcasing his assemblage of seasoned musicians and kaleidoscope of musical styles. He served as a consultant to Paul Simon on his 1990 release Rhythm of the Saints and in 1993 was appointed to the board of governors of the New York chapter of the National Academy of Recording Arts and Science. As a member of the New York chapter, Palmieri was instrumental in creating a new category for Latin Jazz in 1995.
On his first salsa album in eleven years, El Rumbero del Piano, Palmieri returned to his roots as leader of one of Latin music's most phenomenal dance bands. Accompanied by the finest musicians of New York and Puerto Rico, Palmieri presented a sensational combination of salsa, bomba, plena, son montuno and jazz. El Rumbero del Piano is a spectrum of memorable and danceable music in nine outstanding tracks, featuring vocals by Wichy Camacho and Herman Olivera, two of Latin music's most inspiring singers.
In his modern version of Arsenio Rodriguez's classic "Oigan mi Guaguanco " Palmieri pays tribute to Rodriguez, the great Cuban tres player, one of the founding fathers of today's tropical music. Puerto Rican customs and culture are the centerpiece of the bomba tune "El Dueño Monte" in which the vocalists pay tribute to other legendary figures of Puerto Rico's folk music, including singer Ismael Rivera and the musicians of the Cepeda family.
In "Donde Esta mi Negra" Palmieri gives new life to a genre known as "the people's newspaper"—the plena. This is the first plena Palmieri has composed and arranged. Another treat is a salsa version of "La Malagueña Salerosa" composed by Pedro Galindo and Elpidio Ramírez. The final track, "Para que Escuchen" is pure Palmieri, urging listeners to hear the talking drum.
On his exuberant Concord Picante debut, La Perfecta II, Eddie Palmieri took a salsified, mambo-rific trip down memory lane and bought an updated twist of his famed 1960s ensemble to a whole new generation of Latin music lovers.
Now that Tito Puente is gone, Palmieri accepts the passing of the Latin music leader baton and is happy to consider himself a Latin jazz ambassador to the world.
"Tito helped extend this music to all parts of the world, and as long as I am still healthy and energetic, I will continue to record and tour to keep this wonderful legacy alive," says Palmieri. "The rhythms continue to excite because they keep evolving, just as they did when the African captives who started them were taken to the Caribbean. It's a matter of finding new ways to utilize these complicated patterns and then create exciting new arrangements for my ensemble."
"We've been together for many years and work like a good baseball team," adds Palmieri of his band. "What matters is how we take care of specific synchronizations, and a lot of that takes place first in my head. The structure is there, and I look at it sometimes as a mathematical equation. But then, it must translate to emotion, and that's where the reaction of the audience comes in." He jokes about choosing the title of his 2003 album, "I like the sound of Ritmo Caliente on Concord Picante. It is hot and spicy, like the music." On the CD, Palmieri combines hard core salsa and hard Latin jazz with his classical and chamber string influences. "Concord has been wonderful in offering me this ability to keep taking musical risks," he said.
In 2005, Palmieri received a series of prestigious awards: he received the Alice Tully African Heritage Award from City College, received the Harlem Renaissance Award and was inducted into both the Bronx Walk of Fame and the Chicago Walk of Fame. He also received the Lifetime Achievement Award from Urban Latino Magazine. He acted as Godfather of the Puerto Rican Day Parade in New York City and received the EL Award from El Diario Newspaper. Yet another outstanding achievement that year was the debut of "Caliente " a radio show hosted by Mr. Palmieri on National Public Radio, making him the first Latino ever to do so. The show has been a tremendous success, being picked up by more than 16 radio stations nationwide.
In 2006, Palmieri's Listen Here! won the Grammy Award for Best Latin Jazz Album. Simpático, released in 2007, a collaborative effort with trumpet master Brian Lynch, won the 2007 Grammy for Best Latin Jazz Album. Simpático was also recognized by the Jazz Journalist Association as Best Latin Jazz Album that same year.
Awards and accolades
Eddie Palmieri received his first Grammy Award in 1975 for his release The Sun of Latin Music, which is often considered the most historic, as it was the first time Latin Music was recognized by the National Academy of Recording Arts & Sciences (NARAS).
He would win again the following year for Unfinished Masterpiece, Palo Pa Rumba, Bajo Con Tumbao in 1984, Solito in 1985 and La Verdad in 1987. He received a Latin Grammy and a traditional Grammy for his 2000 release with Tito Puente entitled Obra Maestra, Listen Here! in 2006 and Simpatico in 2007, a collaborative effort with trumpet master Brian Lynch, for Best Latin Jazz Album.
Palmieri was awarded the Eubie Blake Award by Dr. Billy Taylor in 1991 and is among the few Hispanic musicians recognized by the Legislative Assembly of Puerto Rico and the New York State Assembly. In 1988, the Smithsonian Institution recorded two of Palmieri's performances for their catalog of the National Museum of American History in Washington, D.C., a rare public honor.
The 1998 Heineken Jazz Festival in San Juan, Puerto Rico, paid tribute to his contributions as a bandleader, bestowing him an honorary doctorate degree from the Berklee College of Music.
Palmieri remains a powerhouse of brilliance and sound that has stirred audiences for more than 3 decades years, continually and successfully seeking to captivate and elevate the senses, and taking them down paths of intensity to a place where there are no musical boundaries.
Discography:
La Perfecta (Alegre, 1962)
El Molestoso (Alegre, 1963)
Lo Que Traigo Es Sabroso (Alegre, 1964)
Mambo Con Conga Is Mozambique (Tico, 1965)
Palmieri & Tjader: El Sonido Nuevo (Tico, 1966)
Palmieri & Tjader: Bamboleate (Tico, 1967)
Champagne (Tico, 1968)
Justicia (Tico, 1969)
Superimposition (Tico, 197)
Harlem River Drive (Roulette, 1971)
Live At Sing Sing – Vol 1 (Tico, 1972)
Live At Sing Sing – Vol 2 (Tico, 1972)
Sentido (Coco, 1973)
The Sun of Latin Music (Coco, 1974)
Unfinished Masterpiece (Coco, 1974)
Lucumi Macumba Voodoo (Epic, 1978)
Eddie Palmieri (Barbaro, 1982)
Bajo Con Tumbao (1984)
Solito (Musica Latina, 1985)
La Verdad (Sonido, 1987)
Sueño (Intuition, 1992)
Llegó La India Via Eddie Palmieri (Soho Sounds Palmas – Elektra/Nonesuch, 1992)
Arete (Tropijazz, 1995)
Vortex (Tropijazz, 1996)
El Rumbero Del Piano (Tropijazz, 1998)
Obra Maestra (2000)
La Perfecta II (Concord, 2002)
Ritmo Caliente (Concord Records CCD-218-2, 2003)
Listen Here! (Concord Records, 2005)
Simpático (The Brian Lynch/Eddie Palmieri Project) (2006)
Eddie Palmieri is Doin' it in the Park (2013)
Sabiduría (Ropeadope, 2017)
Author:
Angel Romero
Angel Romero y Ruiz has been writing about world music music for many years. He founded the websites worldmusiccentral.org and musicasdelmundo.com. Angel is also co-founder of the Transglobal World Music Chart.
Angel has also produced and remastered world music studio albums and compilations for labels such as Alula Records, Ellipsis Arts, and Music of the World.