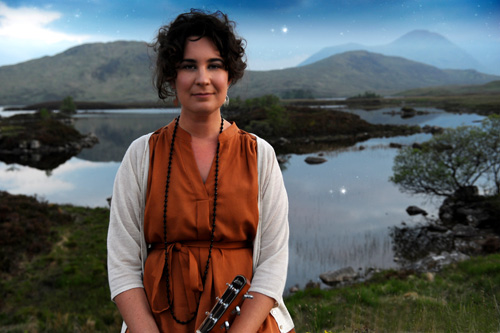 American singer-songwriter Kyle Carey has a new album titled North Star where she delivers an exciting mix of American folk music and the traditional sounds of Cape Breton (Canada), Ireland and Scotland.
North Star features Kyle's meaningful vocals along with an impressive cast of musical guests from both sides of the Atlantic, including such as Ben Walker on guitars; Josienne Clarke on on harmony vocals; Dirk Powell on banjo, mandolin and piano; Chris Stout on fiddle and viola; Pauline Scanlon on vocals; Katie McNally on fiddle; Chico Huff on bass; Catriona McKay on harmonium; Craig Werth on Appalachian mountain dulcimer; Natalie Haas on cello; James MacKintosh on percussion; Eamon McElholm on harmony vocals; and Gillebride MacIlleMhaoill on harmony vocals.
North Star is an excellent example of trans-Atlantic music, featuring a talented vocalist and songwriter as well as stellar instrumentalist from the bluegrass, American folk and Celtic music scenes.
Kyle Carey spent her initial years in the Alaskan countryside, where her parents were teachers. As a young woman, Kyle traveled to Cape Breton on a Fulbright Fellowship to study traditional Gaelic and Cape Breton fiddle. Subsequently, she spent a year on the Isle of Skye in Scotland, improving her skills in the Gaelic language and studying singing techniques with Lewis-born singer Christine Primrose. After that, she traveled to Ireland, where she recorded her debut album Monongah.
Kyle discusses North Star with World Music Central's Angel Romero.
Can you give our readers a brief history on how you started singing and composing music?
I can't remember when I started singing to be honest, I seem to remember always doing it. I don't remember learning, but I did grow up with a lot of music around the house, so I imagine it was osmosis. I wrote my first song that I liked when I was about nineteen, and it was like something clicked inside. I knew I wanted to be a songwriter from there on out.

What do you consider as the essential elements of your music?
I think what sets my music apart is the mix of Appalachian and Celtic influences, what I like to call 'Gaelic Americana'. I've always been interested in the Gaelic language, and Celtic music in general, but I knew I couldn't sing authentically in Gaelic unless I learned the language. When I sing a song in Gaelic, it's my goal to infuse it on some way with an American or Appalachian element, which encompasses the Americana aspect of what I do. I want my music to represent the intermarriage of these two traditions.

Who can you cite as your main musical influences?
I have so many! But here are some of my first and foremost–Gillian Welch, Nanci Griffith, Bill Miller, Kathleen MacInnes, David Francey, Kate Rusby and Iris Dement.
Tell us about your first recordings and your musical evolution.
I don't have too many albums under my belt yet, but I do feel as though my new album, 'North Star' is more realized than my debut 'Monongah'. 'North Star' was a lot more planned, and I had more guidance both from my promoter and producer in the development of the album. What's more, by the time I was ready to record 'North Star' I had three years of touring under my belt, with various new collaborators I wanted to bring in on the project. The synthesis of Celtic and Americana was accomplished on both albums I think, but more effectively on 'North Star'.

What led you to record your latest album North Star in Scotland?
My producer Seamus Egan first suggested we record the album in Scotland. He lives in Glasgow part-time and we both thought that recording in the city during Celtic Connections would be an asset. By recording overseas I was also able to invite my friends Josienne Clarke and Ben Walker, a London-based duo, in on the project.
You sing two songs two songs in Scottish Gàidhlig. Is this the same as Gaelic?
Gàidhlig is the way Gaelic is spelled in the language itself. Gaelic refers to the native language of Scotland, while Irish is the native language of Ireland, which is sometimes called Irish Gaelic.
How did you learn Gàidhlig?
I learned Gàidhlig by living for a year on the Isle of Skye in Scotland. I attended a school called Sabhal Mòr Ostaig and took a full-year of immersion. I was also fortunate enough to study Gàidhlig singing with Christine Primrose, a lovely singer from the Isle of Lewis.
What musical instruments do you use?
In performance I use guitar, ukulele, and shruti box–for some of the Gàidhlig songs.
If you could gather any musicians or musical groups to collaborate with, whom would that be?
Oh the possibilities are endless! I think it would be amazing to make a dual album either with Gillian Welch, or Kate Rusby–or both on the same!

What would the ideal Sunday look like?
A day just to do the things I love–reading, writing, playing guitar, walking and lunch or dinner with a dear friend.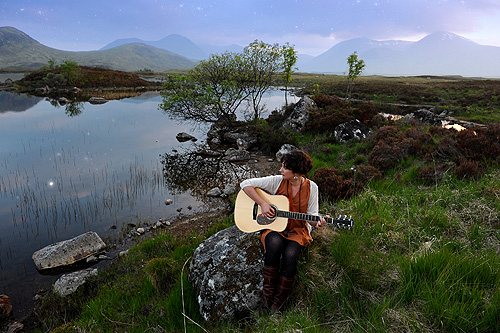 What would you like to learn?
I would love to learn how to harmonize better. I can learned harmonies and hold them, but I'm not great at making them up myself. It's a skill I'd love to possess. I think it would be great fun to do backing vocals on other people's albums.
What's your favorite food?
I think avocados go great with just about everything.
Favorite movie or movie genre?
I generally tend to gravitate towards dramas. My current to favorite movies going are Stanley Kubrick's 'Lolita' and 'Almost Famous'. I love the cinematography in 'Lolita' and the smart humor in 'Almost Famous'.
If you weren't a musician what would you have become?

I think I would have enjoyed teaching literature. Probably not at the college level, but at an independent or private high school where I'd have freedom with the students.
Your greatest triumph?
I think it's a toss-up between winning a Fulbright and learning Gàidhlig. One led to another though!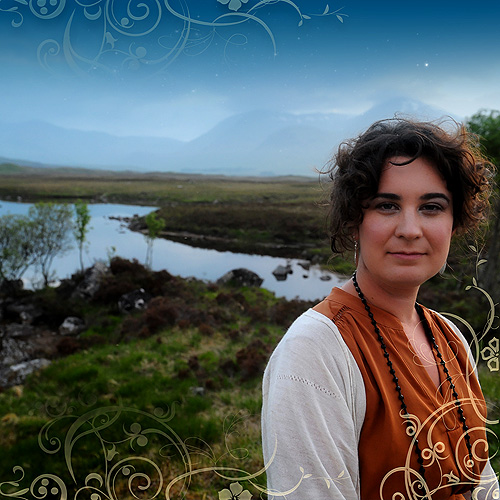 What do you like to do during your free time?
I'm so busy these days with all the things going on in my career, I feel as though I have little free time. When I have it though I usually read or watch a movie, take a walk or my favorite recreational activity–sleep.

What country would you like to visit?
I would love to visit Vietnam. I'm not sure why. I read a lot of Vietnam war literature when I was in high school and developed a kind of morbid fascination with the country. The history, as well as the alleged beauty of the land I find very compelling.

Do you have any upcoming projects to share with us?
I'll be releasing another album sure enough in a couple of years, though I haven't made any plans for it yet. I have a couple of producers/locations in mind, as well as the first songs formed–stay tuned!
Discography
Monongah (2011)
One Morning in May (2014)
North Star (Americelta Records 102, 2014)
Official website: www.kyleannecarey.com
Author:
Angel Romero
Angel Romero y Ruiz has been writing about world music music for many years. He founded the websites worldmusiccentral.org and musicasdelmundo.com. Angel is also co-founder of the Transglobal World Music Chart.
Angel has also produced and remastered world music studio albums and compilations for labels such as Alula Records, Ellipsis Arts, and Music of the World.