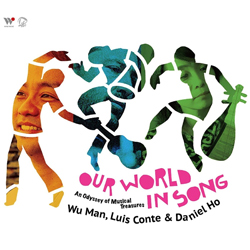 Wu Man, Luis Conte & Daniel Ho
Our World in Song – An Odyssey of Musical Treasures (Wind Music, 2014)
So, a Chinese pipa player, a Cuban percussionist and a Hawaiian guitarist go into a studio…sounds like the beginning to a really great joke, but the reality is that three musical powerhouses Wu Man, Luis Conte and Daniel Ho have indeed teamed up to lend their considerable talents to Our World in Song: An Odyssey of Musical Treasures, out on the Wind Music label. Cross pollinating instruments and traditions in a series of musical selections from around the world, Wu Man, Luis Conte and Daniel Ho have traversed genres with such delicious delight that audiences will find the combo hard to resist.
Wu Man explains, "I often imagine … What would it be like if the pipa were to be mixed with instruments such as the ukulele or the charango? What would it sound like if I played folk songs from around the world such as "Frere-Jacques" or "Cielito Lindo" on my pipa?"
With Wu Man on pipa, Luis Conte on a variety of instrument like congas, pandeiro, ibo drum, djembe, bodhran and darbuka and Daniel Ho on everything from an array of ukuleles to a bouzouki to a charango to a Hawaiian slack key guitar to a mandolin, this trio take Our World in Song around the globe with sweet little numbers like "Frere Jacques" to a upbeat version of the Chinese song "Three and Six" to a lush version of "Romance." The Zimbabwean and South African tune "Shosholoza" impresses with addition of the Taiwu Ancient Ballads Troupe on vocals. Equally delightful is the fabulously rich workings of Japanese tune "Sakura, Sakura" with the addition of Jhou Yi-cian on erhu and Wu Chen-chun on ton.
While much of the music might be recognizable like "Aloha 'Oe," "Cielito Lindo" and "Waltzing Matilda," each track comes across as unique and fresh. The Taiwanese tune "Grasshopper Teasing Rooster" is downright entertaining as is the lush ride of the Welsh/United Kingdom tune "The Ash Grove."
In addition to the extraordinary musicianship, Our World in Song boasts some clever packaging with cutouts on the cover art, as well as fabulous booklet with info about the musicians, a detailed section about the instruments and a translation in Chinese.
Our World in Song is captivating in its scope and its sheer joyfulness that is the very lure of folk tunes from all over the globe.
Author:
TJ Nelson
TJ Nelson is a regular CD reviewer and editor at World Music Central. She is also a fiction writer. Check out her latest book, Chasing Athena's Shadow.
Set in Pineboro, North Carolina, Chasing Athena's Shadow follows the adventures of Grace, an adult literacy teacher, as she seeks to solve a long forgotten family mystery. Her charmingly dysfunctional family is of little help in her quest. Along with her best friends, an attractive Mexican teacher and an amiable gay chef, Grace must find the one fading memory that holds the key to why Grace's great-grandmother, Athena, shot her husband on the courthouse steps in 1931.
Traversing the line between the Old South and New South, Grace will have to dig into the past to uncover Athena's true crime.