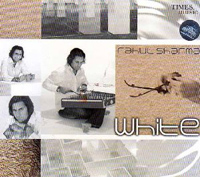 Rahul Sharma
White (Times Music)
Santoor virtuoso Rahul Sharma is back with another excellent fusion lounge album, White (you must also check out his other fusion classics, Antariksh and Mountain Trail). The 8 tracks provide over 50 minutes of fine fusion, featuring Prasad Shashte on keyboards and Klara Brazil on Portuguese vocals. Rahul Sharma plays both Indian and Iranian santoor.
Each track is great, and the album is themed on the color white as in clouds, flowers, snow, bridal wear, and the silver moon. Our picks include the tracks Moon, the pretty piece Faith, and January, with fluid blending of Klara's dusky vocals and Rahul's skilful play on Persian santoor.
Buy White
Author:
Madanmohan Rao
Madanmohan Rao is an author and media consultant from Bangalore, and global correspondent for world music and jazz for World Music Central and Jazzuality. He has written over 15 books on media, management and culture, and is research director for YourStory Media. Madan was formerly World Music Editor at Rave magazine and RJ at WorldSpace, and can be followed on Twitter at @MadanRao.