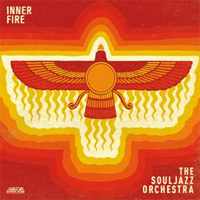 The Souljazz Orchestra
Inner Fire (Strut, 2014)
Slipping into a wonderland mix of soul, jazz, Latin, Caribbean and Afrobeat sheer yumminess, Canada's The Souljazz Orchestra is back with their latest Inner Fire, set for release on February 25th on the Strut label. With previous recordings Solidarity, Rising Sun, Manifesto and Freedom No Go Die to their credit, The Souljazz Orchestra once again inundates the listener in a rich, warm sound hybridized from Egyptian jazz, Latin influences, African rhythms and sinuous Eastern musical traditions.
The members of The Souljazz Orchestra, keyboardist, percussionist and vocalist Pierre Chretien; percussionist and vocalist Marielle Rivard; baritone saxophonist, percussionist and vocalist Ray Murray; drummer, percussionist and vocalist Philippe Lafreniere; tenor saxophonist, percussionist and vocalist Steve Patterson and also saxophonist, flutist, percussionist and vocalist Zakari Frantz pull out all the stops for Inner Fire, conjuring up ten delicious tracks that prowl about the room like some sleek cat. The Souljazz Orchestra sound is a wholly hypnotic enchantment waiting to snare another listener.
Mr. Chretien explains, "We all have very wide tastes, we're always digging for new sounds, and we've had the chance to work with master musicians from all over, from Nigeria to Rwanda, from Cuba to Haiti, so each band member ends up bringing different vibes and ideas to each of our albums."
Seamlessly marrying one genre element to another, Inner Fire unfolds with dazzling sparkly bits as in the plump sound of an African big band on "Kingdom Come," the Latin flashy "One Life to Live" and the bossa nova underpinned "As the Crow Flies." Tracks like Cuban inspired "Black Orchid" and the darkly hip "East Flow the River" are sure to hook new fans, as well satisfy groove hungry older fans. The heady brass filled and Latin rhythms of "Agoya" and revolving rhythms of "Sommet En Sommet" are just as rich and rewarding as the sassy vocals by Marielle Rivard on "Celestial Blues" and the lushly neat closing track "Completion."
Threaded through with voluptuous brass lines and potent percussion, Inner Fire wows with a sound that comes across as an expertly worked, sophisticated cross pollination of café jazz coolness and meaty roots, salsa playground.
Buy Inner Fire
Author:
TJ Nelson
TJ Nelson is a regular CD reviewer and editor at World Music Central. She is also a fiction writer. Check out her latest book, Chasing Athena's Shadow.
Set in Pineboro, North Carolina, Chasing Athena's Shadow follows the adventures of Grace, an adult literacy teacher, as she seeks to solve a long forgotten family mystery. Her charmingly dysfunctional family is of little help in her quest. Along with her best friends, an attractive Mexican teacher and an amiable gay chef, Grace must find the one fading memory that holds the key to why Grace's great-grandmother, Athena, shot her husband on the courthouse steps in 1931.
Traversing the line between the Old South and New South, Grace will have to dig into the past to uncover Athena's true crime.