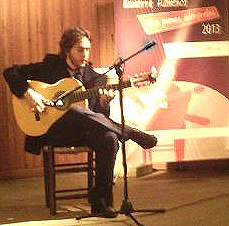 The 15th edition of the Concurso Nacional de Guitarra Flamenca para jóvenes (National Flamenco Guitar Contest for Young performers) announced the names of the finalists. The contest, organized by the Diputación Provincial de Jaén (Jaen's provincial government), the Peña Flamenca de Jaén and Canal Sur. The jury, headed by Rafael Valera determined that six guitarists will participate in the final: Luis Medina (Córdoba), Juan Luis Campos "El Poti" (Granada), Pablo Vega (Madrid), Álvaro Mora (Huelva), Pedro Jesús Montesinos (Guarromán, Jaén) and Ángel Romero (Jaén).
Over ten performers, younger than 25 years old participated this year, representing the Spanish provinces of Jaén, Sevilla, Granada, Córdoba, Huelva, Cádiz and the Madrid autonomous region.
The jury includes experienced guitar players and music critics, such as José Rojo, Antonio Anguita, Manuel Villarejo, Antonio Gómez, presided by Rafael Valera, president of Peña Flamenca Jaén.
The Peña Flamenca de Jaén will host the contest's final on Friday, November 22. The contest is held annually by the provincial administration to promote flamenco and young talent. Guitarist Pedro Sierra will be the special guest featured that evening.
The finalists will need to perform one flamenco style (toque), chosen from the following: soleá, bulerías, alegrías, tangos, seguirilla, soleá por bulería, guajira, farruca and zapateado; and will also have to perform a second flamenco style, chosen from malagueña, granaína, tarantas, minera and rondeñas.
The contest grants 3.000 euros in prizes. First prize winner gets 1.500 euros; the second prize winner will get 1.000 euros and the third place winner will get 500 euros. Members of the jury will consider the performing ability, the rhythm, tuning, delivery, the flamenco essence, and personal creativity.
For more information visit www.dipujaen.es
Author:
World Music Central News Department
World music news from the editors at World Music Central