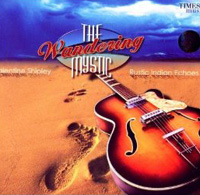 Valentine Shipley
The Wandering Mystic: Rustic Indian Echoes (Times Music)
From rock and ballads to spiritual journeys and fusion, Delhi veteran Valentine Shipley has another superb album in "The Wandering Mystic." All eight tracks on this album are great (though No. 7, Gujarat, doesn't quite come across convincingly).
The CD begins with the track The Mystic Arrives and ends with The Mystic Departs, with fine acoustic work that set the tone for much of the album. Val Shipley is featured on guitar and vocals, along with Anurag Shanker and P. Sangeeth.
The tracks Call of the Peacock and Kabir's Musings are particularly haunting, and The Love Sick Maiden is another great composition.
Buy The Wandering Mystic: Rustic Indian Echoes
Author:
Madanmohan Rao
Madanmohan Rao is an author and media consultant from Bangalore, and global correspondent for world music and jazz for World Music Central and Jazzuality. He has written over 15 books on media, management and culture, and is research director for YourStory Media. Madan was formerly World Music Editor at Rave magazine and RJ at WorldSpace, and can be followed on Twitter at @MadanRao.