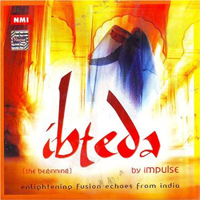 Impulse
Ibteda (NMI, 2006)
This outstanding Indian fusion group from Kolkata features Arunangshu Shaudhury on percussion, Dipanker on vocals, Shankar on keyboards, Hari on violin and Partho on santoor. The 8 tracks reveal a strong influence of Indian classical music, with Western and even Chinese blends thrown in.
Our picks include the absolutely high-energy Mountain Odyssey and the superb instrumental piece Different Strokes. Check out also the tracks Dusk and Elation. In sum, superbly enlightening fusion from India, as promised on the CD cover.
Buy Ibteda
Author:
Madanmohan Rao
Madanmohan Rao is an author and media consultant from Bangalore, and global correspondent for world music and jazz for World Music Central and Jazzuality. He has written over 15 books on media, management and culture, and is research director for YourStory Media. Madan was formerly World Music Editor at Rave magazine and RJ at WorldSpace, and can be followed on Twitter at @MadanRao.