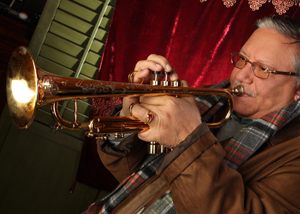 American President Barack Obama will award renowned Latin Jazz musician Arturo Sandoval with the esteemed Presidential Medal of Freedom, the highest civilian award in the United States.
President Obama will present the award to 16 honorees in a ceremony at the White House later this year. In announcing the medal winners, Obama declared, "The Presidential Medal of Freedom goes to men and women who have dedicated their own lives to enriching ours. This year's honorees have been blessed with extraordinary talent, but what sets them apart is their gift for sharing that talent with the world."
"Receiving the Presidential Medal of Freedom is an immense honor for me, and I feel blessed to live in this wonderful nation that I love," said Sandoval in a statement. "I would like to pay my deepest respect and gratitude to the President of the United States for such a distinct and incredible honor. Once again, I'll fill my lungs, and scream from the bottom of my heart louder than ever, God Bless America!"
GRAMMY Award winner Arturo Sandoval was a disciple of the legendary jazz master Dizzy Gillespie. He was born in Artemisa, a small town in the outskirts of Havana, Cuba, on November 6, 1949, just two years after Gillespie became the first musician to bring Latin influences into American Jazz.
Sandoval began studying classical trumpet at the age of twelve and soon caught the excitement of the jazz world. He has since evolved into one of the world's most acknowledged guardians of jazz trumpet and flugelhorn, as well as a renowned classical artist, pianist and composer. Sandoval's latest album, Dear Diz: Every Day I Think of You, won the GRAMMY for Best Large Jazz Ensemble Album in February and is available now on Concord Jazz.
Other honorees include President Bill Clinton, writer and activist Gloria Steinem, Sally Ride, the first American to fly in space; and talk show celebrity Oprah Winfrey, among others.
To see the complete list of honorees please visit whitehouse.gov
Author:
World Music Central News Department
World music news from the editors at World Music Central