MIMO, Brazil's impressive itinerant cultural festival, will present an international program of music, ranging from world music to classical and jazz. The free event takes place in some of the oldest and most beautiful locations in Brazil.
Paraty in Rio de Janeiro State (south Brazil), Ouro Preto in Minas Gerais (Central Brazil) and Olinda in Pernambuco (northeast Brazil) are the hosts of MIMO 2013. These are towns well-known for their Baroque architecture and historic significance. MIMO's series of free concerts take place in churches, town squares and courtyards around the cities. The music concerts run concurrently with the Film Festival, with outdoor screenings, and MIMO's Etapa Educativa, the educational program for children from local schools.
MIMO Music Festival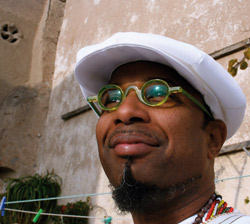 2013 MIMO artists include top names from jazz, classical and contemporary world music: Herbie Hancock (USA), Omar Sosa (Cuba), Stefano Bollani & Hamilton de Holanda (Italy/Brazil), Gilberto Gil & Orquestra de Sopros da Pro Arte (Brazil), Rum Tareq Al Nasser (Jordan), Nouvelle Vague (France), Madredeus (Portugal), Ibrahim Maalouf (Lebanon/France), Nelson Freire (Brazil), BNegão e os Seletores de Frequência (Brazil), and more to be announced soon.
Past editions have featured artists such as Phillip Glass, McCoy Tyner, Chucho Valdés, Gotan Project, Maria João Pires, Buena Vista Social Club, Antonio Meneses, Eliane Coelho, Richard Bona, Naná Vasconcelos, Gonzalo Rubalcaba, and many more.
MIMO Film Festival
The MIMO Film Festival combines feature films, animation and documentaries, shorts and feature-length movies – many of which are debut screenings. The films all have links to music and are projected onto open-air screens, in church patios, market squares and museums. The Film Festival does not have a competition strand. All screenings are free and enhanced by the beautiful contexts of the historical cities of Paraty, Ouro Preto and Olinda. The MIMO Film Festival was launched in 2004, as an integral part of MIMO in Olinda, providing a unique environment for encounters between musicians, film-makers and the public. The full program will be announced shortly.

Educational Program
The Etapa Educativa, or Educational Program, is central to MIMO's program. It is an opportunity for music students and the general public to have direct contact with the artists during free master classes. Registration for the classes is open until 28/07/13 via www.mimo.art.br. MIMO has hosted over 15,000 students at master classes, talks, conducting courses, orchestra training workshops and MIMO for Kids, aimed at school-children. A regular highlight of the Educational Program is the participation of Brazilian maestro Isaac Karabtchevsky, who runs the Conducting Courses, one of the most in-demand courses offered by MIMO, with 150 applications per year.
The Polish violinist Jerzy Milewski and Brazilian pianist Aleida Schweitzer will run the MIMO for Kids course, and welcome violinist and puppeteer Bruno Descaves for the classes for younger children. Together they will present to the young public a panorama of music which includes the world's principal composers, represented by Bruno's hand-made puppets.
2003 Schedule
August 23 – 25
Paraty (Rio De Janeiro State)
MIMO begins this year's travels in the beautiful coastal town of Paraty
August 29 – September 1
Ouro Preto (Minas Gerais)
For the second year running MIMO returns to the Ouro Preto, a UNESCO World Heritage Site
September 2-8
Olinda (Pernambuco)
In 2013, marking ten years since its birth there, MIMO returns to Olinda, a UNESCO World Heritage Site
More at: www.mimo.art.br
Author:
World Music Central News Department
World music news from the editors at World Music Central