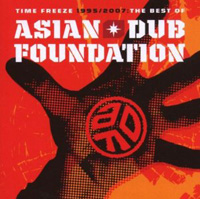 Asian Dub Foundation
Time Freeze – Best of: 1995-2007 (EMI, 2007)
Full of bite and pulse, adventure and polemic, this compilation is a fine showcase of UK-based Asian Dub Foundation (ADF). ADF is a British alternative electronica band, that play a mix of breakbeat, dub, dancehall and ragga, also using rock instruments, acknowledging a punk influence. Fight against the power, rage against the machine – but go with the beat and the guitar licks.
The 17 tracks pack 70 minutes of raw musical energy, and our picks include the tracks Rebel Warrior, Collective Mode and Target Practice.
Buy Time Freeze – Best of: 1995-2007
Author:
Madanmohan Rao
Madanmohan Rao is an author and media consultant from Bangalore, and global correspondent for world music and jazz for World Music Central and Jazzuality. He has written over 15 books on media, management and culture, and is research director for YourStory Media. Madan was formerly World Music Editor at Rave magazine and RJ at WorldSpace, and can be followed on Twitter at @MadanRao.