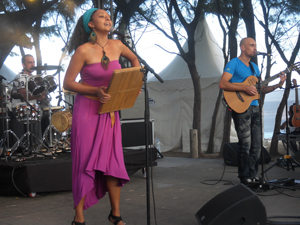 This is my first time in the amazing tropical island of Reunion, a French territory in the Indian Ocean, close to Seychelles, Mauritius and Madagascar – and what a way to celebrate my first visit, with the Sakifo Music Festival!
The Festival kicked off in fine style with evening performances by Nathalie Natiembe (maloya fusion) and Manu Chao. The beachside venue was packed with fans charged up with Manu Chao's high intensity act blending reggae with rock, and messages of political freedom and democracy. Visuals from his earlier albums filled screens on the side, and the guitar licks and tight percussion kept the audience on their feet. Some in the audience were looking for a change in theme and form as compared to his earlier albums (especially in the post-Bush era), but the energy was unmatched by other acts at the festival.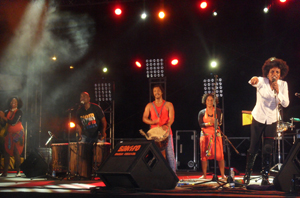 The next three days featured over 60 acts spread across 6 stages, for almost 12 hours each day – and were packed with maloya, sega, reggae, folk, chanson, soul, funk, rumba, afrobeat and dub!
A range of artistes showed that traditional maloya music from Reunion is alive and well and growing despite cultural discrimination just a couple of decades ago. Tiloun, Gren Seme, Ziskakan, and Yaelle Trules showcased a wide range of traditional and fusion maloya, in intimate settings as well as on the large stage. They blended local instruments with not just Western instruments but also some from India and Morocco. Waki Band rendered folkloric versions of maloya, and Tapok added a melodic range of ballads.
A spectacular set of maloya was delivered by singer-percussionist Christine Salem, along with two male percussionists and two female dancers. The group performed on two parallel setups on stage, showcasing a wide range of percussion instruments. In a backstage chat later, Christine said she was planning a tour of India as well, which I really look forward to.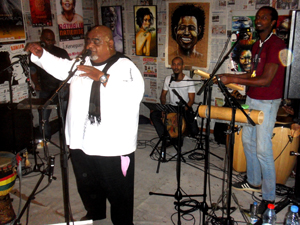 Electro music was showcased on a breathtaking stage right on the beach, and featured local DJ Karl Hungus with rare groove, Teddy Boy Kill (from India) with a hypnotic electro set, Psychorigid with electro fused with regional influences (which even included sitar samples), Hugo Mendez (from London) and Black Ben (from Paris). The constellations Centaurus and the Southern Cross served as terrific backdrops in the sky above, along with the sound of crashing waves.
New turf was carved by Winston McAnuff & Fixi (reggae and Western folk; with a percussionist performing entirely acapella) and Lelou Menwar (Mauritius sega and blues). Menwar started off with a trio and then invited other musicians to join him; he himself would be invited on stage later for a rousing set by French world music band Lo'Jo, which featured a range of percussion and string instruments from around the planet.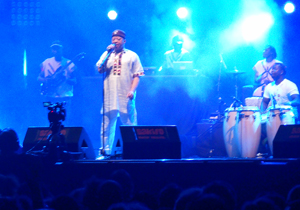 Sega El drew huge rounds of applause from the Mauritians in the crowd, and DJ La later showcased sega blended with electro sounds. South Africa made a well-received appearance with the electro-folk band Bongeziwe.
Australian reggae band Kingfisha managed to hold their own during their performance in parallel with a headliner, Mali's legendary Salif Keita (I first heard him during the Montreal Jazz Festival in the early 1990s). His set was trancelike in the waves of percussion and stellar solos on the kora, along with his soaring vocals. Salif Keita also sang a beautiful solo vocal number about peace in his troubled country, and the band joined him for two more rousing tracks.
Across from soul star Selah Sue on the main stage, South African psychedelic rock band The Brother Moves On kept the crowd on their feet for a high-energy one-hour set at the other end of the venue. Rap and French pop rock featured on a number of stages. A burst of fireworks around midnight on Saturday right on the beach added a festive air to the concerts.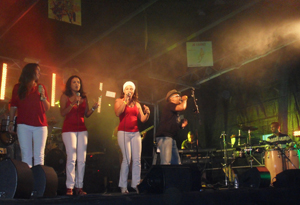 Californian roots reggae band Groundation delivered a terrific set, with heavy influences of jazz and dub. Harrison Stafford's strident lyrics were backed solidly by bassist Ryan Newman; Marcus Urani delivered sizzling solos on the organ, and Mingo Lewis Jr. added high-energy rolls on congas and timbales. Stafford drew loud rounds of applause from the local audience when he urged them to overcome discrimination against their music.
Infectious dance music came from Ben Jam, with a swinging swaying set blending sega with Caribbean rhythms. Other high-energy live acts featured were Mounawar (Comorean islands), Jaojoby (Madagascar) and Black Bazar (Congo). Mounawar played tracks from his brand new album Sawa, in a scorching set of afro-rock. Another great dance band was Jaojoby, featuring a family of talented musicians headed by singer-composer Eusèbe Jaojoby. The nine-piece band included a brass section and also two young female dancers who raised the energy levels with their superbly sensuous moves, sometimes bordering on the tastefully scandalous.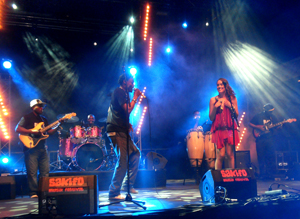 The climax of the last day was the showcase of a range of Congolese rumba by the 9-piece band Black Bazar. Based in Paris, they feature the outstanding guitarist Popolipo Beniko and vocals by Modogo Abarambwa and Sam Tshintu; the charming Cuban singer Niuver added a Caribbean touch to the lyrics and rhythm. They kept the audience on their feet for the entire hour, directing them in all manner of dance moves.
I already look forward to the next edition of the festival, more releases by established and emerging bands, and more cultural exchanges between the countries of the region. My detailed interviews with some of the artistes are coming up next, along with my reviews of their albums. I must also thank all the translators who kept up with my broadband Indian speech!
Merci La Réunion!
Author:
Madanmohan Rao
Madanmohan Rao is an author and media consultant from Bangalore, and global correspondent for world music and jazz for World Music Central and Jazzuality. He has written over 15 books on media, management and culture, and is research director for YourStory Media. Madan was formerly World Music Editor at Rave magazine and RJ at WorldSpace, and can be followed on Twitter at @MadanRao.