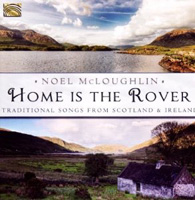 Noel McLoughlin
Home Is the Rover – Traditional Songs from Scotland & Ireland (ARC Music, 2013)
ARC Music's offering Home Is the Rover – Traditional Songs from Scotland & Ireland by musician and singer Noel McLoughlin is sure to be a tempting treat for Irish folk fans. The Limerick-born singer and multi-instrumentalist started earning his chops playing guitar at the age of fifteen.
Drawing influence from the popular 1960's group The Johnstons and groups like Planxty, Sweeney's Men and The Dubliners, Mr. McLoughlin perfected his craft playing with various folk groups and working the concert and festival circuit. He would earn a spot with the group Cromlach that would later become Celtic Tradition before recording his first album in 1984. Sticking to the solo musician track, Mr. McLoughlin has continued to record Irish and Scottish folk songs by way of such offerings as 20 Best of Scotland, 20 Best of Ireland and Music & Ballads from Ireland.
For Home Is the Rover, Mr. McLoughlin lures the listener with fourteen tracks that flows as easily as a path through an Irish wood. There are no gimmicks here. There's no weeping or wailing or any frothy musical mist to wade through on the Home Is the Rover.
Making his way through such tracks like "Twa Bonnie Maidens," love songs like "The Old Dungarvan Oak and "Roseville Fair" or work songs like "Song of the Fishgutters," Mr. McLoughlin's sound is played out with guitar, tin whistle, mandolin, bouzouki, banjo, keyboards and bodhran with the occasional assistance of Dennis Carey on accordion. The effect is light and airy – keeping the focus on the music and Mr. McLoughlin's charmed vocals.
Irish folk fans get a good dose of dance tunes with instrumental tracks like "Hornepipes: The Stack of Barley/Love, Will You Marry Me" and "Jigs: Tatter Jack Walsh, Tom Wards, Out on the Ocean," as well as story songs such as "Highland Harry" and "Twa Bonnie Maidens." Mr. McLoughlin's sound and vocals turn particularly lovely tunes like "Little Brigid Flynn," "The Flower of France and England O" and "John of Dreams" into real gems. Equally wonderful is closing track "I'll Go No More A-roving With You, Fair Maid."
Home Is the Rover is the pleasant journey of a true balladeer of Irish folk. Filled with delightfully arranged tracks and Mr. McLoughlin's even keel vocals keeps the sound fresh and organic and sure to be a pleasure for Irish and Scottish folk fans.
Buy Home Is the Rover – Traditional Songs from Scotland & Ireland in North America
Buy Home Is The Rover in Europe
Author:
TJ Nelson
TJ Nelson is a regular CD reviewer and editor at World Music Central. She is also a fiction writer. Check out her latest book, Chasing Athena's Shadow.
Set in Pineboro, North Carolina, Chasing Athena's Shadow follows the adventures of Grace, an adult literacy teacher, as she seeks to solve a long forgotten family mystery. Her charmingly dysfunctional family is of little help in her quest. Along with her best friends, an attractive Mexican teacher and an amiable gay chef, Grace must find the one fading memory that holds the key to why Grace's great-grandmother, Athena, shot her husband on the courthouse steps in 1931.
Traversing the line between the Old South and New South, Grace will have to dig into the past to uncover Athena's true crime.