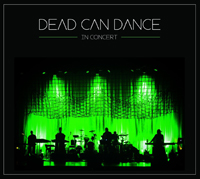 Dead Can Dance
In Concert Dead Can Dance (Pias, 2013)
Imagine soaring crystalline vocals that make mere mortals go gooey against rich, exotically layered musical compositions that leave listeners boneless. Yes, Dead Can Dance is back and just in time because blood levels of this sumptuous music were getting pretty low. With recordings like the self-titled Dead Can Dance, Spiritchaser, Into the Labyrinth and Within the Realm of a Dying Sun to their credit, Dead Can Dance has lured a deeply devoted fan base with their fiercely potent brand of music that is almost impossible to classify.
Bent on a wholly world music blend, Dead Can Dance tugs at the threads of Indian and Middle Eastern traditions with bone deep rhythms and instrumentation, while managing a medieval sense of structure and vocals that simply hover about the rafters. Releasing Anastasis, the group's first studio recording in some 16 years, Dead Can Dance is back with In Concert, a collection of tracks from their 2012 US tour.
Dead Can Dance's co-founder (along with Lisa Gerrard) and band member Brendan Perry comments on this past tour experience, "I would say without hesitation that this has been the most rewarding tour that we have ever undertaken. On one level it has been an absolute pleasure to perform in such beautiful locations with such a wonderful band and crew, but also to be able to connect on a personal level with the many devoted admirers of our art both old and new. It would seem in our case absence has certainly made the heart grow fonder and it has been an absolute joy to be given the opportunity to be able to share our music in the ultimate setting of the living work."
Savagely soulful and deeply satisfying, In Concert proves that time has only ripened Dead Can Dance's striking sound. Opening with the sweeping electronica of "Children of the Sun" listeners come up against the full force of Dead Can Dance's layered sound and Mr. Perry's plumy vocals. Slipping into the darkly percussion of "Anabasis," Dead Can Dance lightens the mood with delicately worked instrumentation and some fantastic vocals by Ms. Gerrard. "Rakim" proves to be an old favorite, one where you want to dive in and wallow around in for a while.
Tracks like the hypnotic "Kiko,"or the dizzyingly lovely "Sanvean" or exotically worked "Ubiquitous Mr. Lovegrove" prove to be just as gasp worthy. In Concert closes with the English folksy and fanciful "Return of the She King" that will have shivers running up the back of your neck, the hallmark of any good piece of music.
Dead Can Dance's In Concert proves just as expansively delicious, just as splendidly dazzling as their first recording. Cinematic in feel and richly worked In Concert charms with its musical bravado and utterly fearless vocals. Indeed a treat for the ear and soaring soul.
Author:
TJ Nelson
TJ Nelson is a regular CD reviewer and editor at World Music Central. She is also a fiction writer. Check out her latest book, Chasing Athena's Shadow.
Set in Pineboro, North Carolina, Chasing Athena's Shadow follows the adventures of Grace, an adult literacy teacher, as she seeks to solve a long forgotten family mystery. Her charmingly dysfunctional family is of little help in her quest. Along with her best friends, an attractive Mexican teacher and an amiable gay chef, Grace must find the one fading memory that holds the key to why Grace's great-grandmother, Athena, shot her husband on the courthouse steps in 1931.
Traversing the line between the Old South and New South, Grace will have to dig into the past to uncover Athena's true crime.