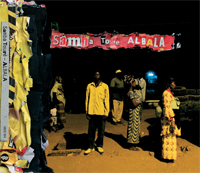 Malian musician Samba Touré has a new album titled Albala (Glitterbeat Records GBCD 004/ GBLP 004) that is now available in Europe. 'Albala' means "danger" or "risk" in the Songhai language.
Samba Touré's third recording was deeply affected by the conflicts in Mali. Trouble. On the song "Fondora (Leave Our Road)." Samba sings with indignation: "I say, leave our road/ All killers leave our road/ Thieves leave our road Looters, leave our road/ Rapists, leave our road/ Betrayers, leave our road." And on the haunting "Ago Djamba (Life Betrays Us)" he warns: "We do not all have the same opportunities/ Here, nobody is born rich but we all have the same value/ Life betrays us."
As a band member and valued collaborator of the late Malian legend Ali Farka Touré, Samba established a significant reputation, and through his first two solo albums, 'Songhaï Blues' and 'Crocodile Blues' (World Music Network), his confidence and musical prowess grew proportionately. On 'Albala', Samba takes more musical risks.
Recorded at Studio Mali in Bamako in the fall of 2012, Samba is joined by his regular band members Djimé Sissoko (ngoni) and Madou Sanogo (congas, jembe) and guests such as Zoumana Tereta, the legendary master of the soku (a one-stringed violin) and the fast-rising Malian neo-traditional singer Aminata Wassidje Traore. Additionally, Hugo Race (The Bad Seeds, Dirtmusic, Fatalists) contributes atmospherics on guitar and keyboards. Chris Eckman (The Walkabouts, Dirtmusic etc.) and Philippe Sammiguel produced the album.
On the opening song, "Be Ki Don", Samba sings: "Everybody welcomes Samba Touré." Watch the video to "Bi Ki Don":
Buy Albala MP3s
Buy Albala CD
Author:
World Music Central News Department
World music news from the editors at World Music Central