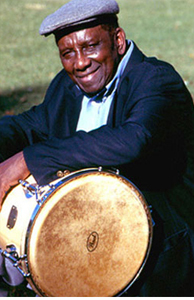 When I was a young Latin music percussionist, I would strive to find the best musicians to look at on stage and study their techniques. There were no lessons in those days and the great artists had most of the knowledge, so by standing in front of the stage watching Puente or Mongo was a lesson in itself. A lot of us learned that way in those days and actually got to meet the artist. I always endeavor to listen to the best Latin percussionist that was into the drumming style that I preferred. I did not look for fast styles; I looked for conversation in drumming. I looked for historic backgrounds in musicians; I looked for quality, endurance and showmanship.
Francisco Aguabella, born in Matanzas (Cuba) enjoyed drumming as a young boy and pursued his interest, by learning to play the batá drums, a set of 3 hourglass drums, played by 3 drummers. Cha Cha Vega, one of the founding members of the Muñequitos de Matanzas, a Cuban Folkloric Rumba group, "was the first person to lay the okonkolo on my lap and teach me batá," Francisco shared with me.
Francisco learned many types of Cuban folkloric drumming and told me that on certain ceremonies in those days, there were two shifts of drummers playing for 3 days. Some slept while the others played and alternated with each other day and night. Endurance was a must in those days.
Francisco Aguabella left Cuba with Katherine Dunham Dance Troupe to tour the world and the rest is Latin music history. Francisco is from the Pablo Roche "Okilakpa" branch of batá drumming. His fellow batá drum comrades are the famous Trinidad Terregosa, Raul Diaz and Giraldo Rodriguez along with Merceditas Valdés a young singer and dancer. Merceditas later became a legend for her Afro-Cuban folkloric singing. There was no other conga or batá drummer that came to the USA that had that background that Aguabella had, with the exception of one of Francisco's best friends, drummer Julito Collazo.
Francisco Aguabella came to the USA having more knowledge on Cuban drumming than any other drummer in the USA, aside from Collazo, Aguabella knew different styles/sects of drumming. "I do not play the drum, like some drummers, I have lived the drum"," Francisco told me one day, when he was visiting my home for a rehearsal.
Francisco's bandstand knowledge began to increase, performing and recording with Tito Puente, Eddie Palmieri and hanging out with musical friends that he enjoyed so much. Francisco always talked about his musician friends that meant so much to him, including Tommy López, Eddie Palmieri, Armano Peraza, Shiela E., Latin jazz pianist Patricia Thumas, Poncho Sánchez, Many Oquendo, Nerio de Gracia and Carlos Santana plus many more. Francisco shared with me his New York days and his love for the music and drumming playing with Tito Puente and Eddie Palmieri. Aguabella gave the youngsters and young drummers a chance to play his drums to get the feel of it.
Francisco loved what he did, drumming, and put more than his heart in it, through good times and bad, performing in front of audiences with his charisma, strength and endurance. Francisco had a few personal students. Most of his students have soared to popularity with their knowledge and showmanship as musicians, conga and batá drummers, instructors and as orchestra or folkloric group leaders, whereas Francisco enjoyed being a part of their drumming and musical interest.
i have asked a few musicians to contribute their thoughts of Francisco. Some of the musicians are former members of Francisco Aguabella's band, band mates and a few musician fans of Francisco. I thank the musicians that took the time out of their busy schedule for this 2013 Tribute to Aguabella and for sharing their warm stories with us, preserving Latin Music History with this Tribute. I thank some of the musicians that shared the bandstand with Francisco and thank them for being part of Francisco's musical life.
Francisco spoke to me a lot, about the musicians he admired. He enjoyed performing on stage with his fellow band mates. He held them close to his heart.

Gary Eisenberg – trumpet player, arranger, music director, and former musician with Francisco Aguabella, Los Angeles, California.
"I first met Francisco Aguabella in the mid-seventies, when he came aboard Johnny Nelson's band as a sideman. I was already well aware of his importance, and felt lucky to be on the same band with him. Our piano player at that time was Vladamir, another legendary figure in the music.
To the best of my recollection, Francisco was on that band for no more than a year. I would see him from time to time at the Local 47 Musician's Union. At some point in time during the 1980's, he called me to join his band. I was thrilled to do so, and had the pleasure of being on that band for around a year, before a busier opportunity with another band pulled me away. I returned to his band around a decade later, and this time around became his musical director. That was a challenging experience, in part because of my limited Spanish language skills, and also because Francisco sometimes had difficulty explaining his musical objectives as a result of his inability to read music. In spite of the challenge, I felt very lucky – and honored – to have that opportunity.
One of the high points of my experience with Francisco took place during the course of a regular gig that we had a long-defunct club called "Miami Spice," located in the Venice Beach area here in Los Angeles. During one of our tunes, he waved the band out and took a conga solo without any accompaniment. That solo lasted for a good twenty minutes! I wish that somebody had recorded it. The entire band – and audience – were spellbound. I'll never forget that experience. I also had the opportunity to help Francisco transcribe some comparsa melodies, which we utilized during a comparsa in Santa Barbara. I still have that manuscript somewhere around here.
Finally, I would like to point out that in addition to being a master conguero, Francisco was also a master batá player, and had a encyclopedic knowledge of the rituals and rhythmic foundations of Santería. I was fortunate enough to hear him play at a number of toques over the years. When he played the Iyá (the largest of the three drums that are utilized in batá), one could FEEL the entire room move with his every stroke – along with the intensity of the sound waves pounding against one's chest and ear drums. A truly remarkable experience. I was very fortunate to know him, and even more fortunate to have had the opportunity to share the stage with him over the years
."
Patricia Thumas – First female Latin jazz pianist in the San Francisco Bay Area, former pianist for Francisco Aguabella; Charanga Cienfiegos with leader John Santos; Orquesta Sinigual with leader Maria Medina Serafin; Les Moncada Latin Jazz Band/Orquesta Les Moncada; and many more.
"When I met Francisco Aguabella, I was a very young woman. I was playing at Club Reunion in San Francisco. It was a hot spot in the 70's for Salsa, on Thursdays and Fridays. John Santos was the leader of Tipica Cienfuegos, a great band. We were all young kids, and totally enthusiastic to the Latin scene. We would play at the park and jam and some musician would get arrested. I lived on Hancock St. I grew up in that neighborhood for some part of my life. At the park they played conga drums. Raúl Rico from Santana would play and others, we were all 17, 18 and 19 years of age. Tito Garcia, John Santos and a lot of musician were getting involved in Santeria and the music. I knew a lot of musicians and some percussionist decided to learn batá drums. The Mission Dolores rumba jams would transfer to Precita Park with the drums, because if was disturbing the neighbors.
John Santos, the famous musician and musicologist today, would showcase the only local Charanga band. Rene Del Mar would also play similar to us, although we were the "A" type band, with great musicians. I was playing with John before I traveled to Europe on tour in 1979, so this was in 1978.
John Santos and Tipica Cienfuegos got a gig with Los Papines, the famous Afro-Cuban drum group from Cuba. This was the 1st time they would play in the USA from Cuba; this was a big thing for us. We played at the Zellerbach Auditorium in Berkeley and we opened the show. Los Papines, had played in Russia, Poland, Italy, but were banned in the USA due to Castro.
During this time, some famous legendary drummer was in town, I think it was Tata Guines and John Santos brought him as a guest to the par in 1978. Well these young musicians pulled out the batá drums, Rumberos (drummers, dancer and singers) full fledged.
So it appeared that Tata Guines, informed Francisco Aguabella about me, and mentioned that I had some gift of a Orisha saint ("santo") due to my playing ability as he observed."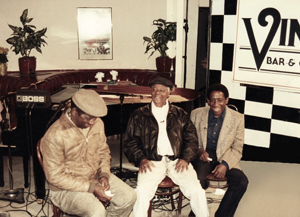 I knew Armando Peraza. He started to play with Carlos Santana. They were older men. Francisco and Armando would pull up to my house in a large Chevy Impala to pick me up for rehearsal.
Aguabella and Peraza would tell me at rehearsal, , "Tu Sabes Tocar Chica" (You know how to play gal), Tu tienes un santo metida (you have an [Orisha] saint in you)."
My father was friendly and smoked cigars with those Cubans, Francisco and Armando Peraza, and invited them inside for a drink at my home.
Timbales player Benny (Bayardo) Velarde of Cal Tjader fame and Benny Velarde Orchestra S.F Bay Area would pickup his girlfriend next door to my house and would see Aguabella's huge car and recognized it of course, and would come over and smoke cigars with all of them.
My father told me once that Francisco asked for my hand in marriage, but Francisco was always a gentleman and very respectable to me at all times.
I cracked up laughing when I heard that so my father told me he had to take me to rehearsals. So my father would drive me to rehearsals, with my mom telling me I could not be alone with those men. So my father would take me to rehearsals and pick me up, but meanwhile go on his rendezvous, while I was at rehearsal, and was told, not to tell my mom. Ha! Ha!
Playing with Armando and Francisco, they would develop such energy and it felt like it was something else. Hija de Chango (Shango, Sango), Daughter of the Nigerian/Cuban Orisha of the Drum, they would call me.
I appreciated this experience and it was my great experience in Afro-Cuban music to perform with them. I have to credit Francisco for being the most outrageous drum master.
Aguabella had a strong influence from Santeria. Francisco and Armando Peraza were both master drummers. I understand now how prestigious that was to perform with them, and now looking back, I was only 18 and playing with these older masters, and a definite opportunity to experience this music better and also the Nigerian/Afro-Cuban religion was the influence of the concept of the music.
Francisco was an integral musician in Afro-Cuban music and to accompany him was out of this universe. Looking back the influence of John Santos and Francisco was a wonderful musical relationship."
Maria Medina Serafin – Maria Medina Serafin is a sonera/poeta/percussionist, Latin Orchestra leader of El Grupo Singual in San Francisco, California.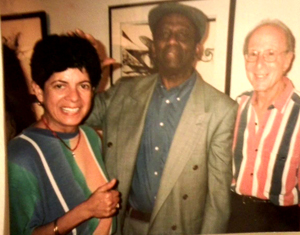 She plays Salsa and Latin Jazz and is former producer of "The Latin Jazz Quarter" and "Fusion Latina" for WDNA FM in Miami. She lives and performs spoken word as "MM The Word-Weave Rumbera" and is a member in good standing of the "TroubleMakers Union" ensemble making international music for human rights.
"One of the true rumbero icons was the hard hitting and spiritually passionate, Francisco Aguabella. We were blessed to have had him in the Bay Area. I grew up listening to him, Julito Collazo and Mongo Santamaria. I danced to his drumming on many occasions especially at 'Cesars Latin Palace' back in the days. He was a man who spoke his mind frankly and to the point, in other words, he didn't mince his words.
When a layoff from PG&E forced me to move to Miami, I was honored to have promoted his music on WDNA FM radio. It was great to see him play the Latin Jazz Festivals and events in Miami. I promoted and played his "H2O" recording on both "The Latin Jazz Quarter" and "Fusion Latina". Thankfully we can listen to him via recordings. He was awesome on Eddie Palimieri's "Macumba, Lucumi" and Mongo's "Afro Roots" to name a few. He's jammin big time with all the great rumberos in 'Rumba heaven'. May his spirit rest in peace and illumination."
Wayne Wallace – Trombone player and arranger with Wayne Wallace Latin Jazz, formerly of Cesar's Latin Band, San Francisco, California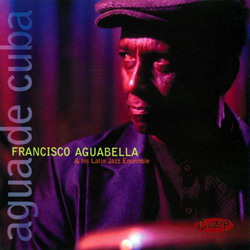 "My first experience working with Francisco was with Cesar Ascarrunz and his Latin All-Stars on Mission Street in San Francisco in 1982. The gig was 6 sets a night on Friday and Saturday. Even though it was Cesar's band, Francisco counted off every song by hitting the side of his conga drums with a drumstick so that there was never a mistake in knowing that the song was starting. The members of the group at that time included Karl Perazzo on timbales and Jorge Pomar on bass. From playing with Francisco in Cesar's band he invited me to play in a group he put together for a one time concert of his music. This was one of my most important introductions to pure Afro-Cuban music from one of its living masters. I am grateful for the experience."
Giovanni Ramos – Latin percussionist from Puerto Rico
"When I was a rookie percussionist years ago, one of my first researches fundamentally about basic "rumba" and other Afro-Cuban rhythms, the main name that came in my list was Francisco Aguabella.
Not all musicians in these days know who he was and what contributions he made in Cuba to its folklore and to the Latin music in the present; many of his contributions to "rumba" and the different styles of drumming such as abakua, arará, batá, etc. etc.
Self-proclaimed "rumberos" of the 21st century (in my opinion) are from the Muñequitos de Matanzas and Los Papines era, but the question is: Did they know who Francisco Aguabella was, first? Of U.S. musicians, for most of the musicans, the answer of most of them is "no".
I ask that question a lot of these days and the conclusion is that most musicians lack that type of knowledge and stay in just one type of genre. A great example of one of Aguabella's drumming is in Eddie Palmieri's "Justice" album (Tico 1969) on the track "Justicia", the "quinto" solo was Francisco Aguabella. Therefore, to me he is and always will be influential in my drumming skills repertoire. R.I.P."
Susie Hansen – Latin Jazz/Salsa Bandleader from Los Angeles, California. Former violinist with the Aguabella Band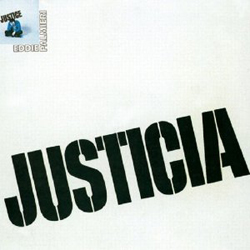 "Francisco Aquabella was one of the most influential and powerful Cuban percussionists that I have ever known. I regarded him with the highest respect and honor, and I loved Francisco dearly. He gave me my first opportunity to play with a great Latin jazz band back in 1988 when I had just moved to LA, from Chicago and was first getting started playing Cuban music.
He hired me to play the trombone book in his band — yes, the trombone book! — on my five-string electric violin. You see, the low string of my instrument is C, same as the viola, so it comes close to being able to play as low as the trombone.
I played with him that full year, and really dug it! He gave me my start in Latin music here in LA, and I will always be grateful to him for that
."
Jerry Gonzalez – Renowned conga drummer and trumpeter who performed with Eddie Palmieri, Conjunto Folklórico Nuevorriqueño, Tito Puente Latin Jazz Band and Tito Puente Orchestra, and Manny Oquendo and Conjunto Libre. From New York City; currently based in Madrid (Spain).
"Don Francisco Aguabella was one of my heroes. We played together in Eddie Palmieri band in the 70s and I watched and listened to him many times. He was one of the pioneers of Cuban music in America, along with Mongo Santamaria, Julito Collazo, Armando Peraza, Patato Valdez. They all were my heroes. I would not be around if it was not for them, they inspired me to play as a kid and I am very grateful to them, they are like fathers to me."
Carolyn Brandy – Afro-Cuban master conguera and batá player based in the San Francisco Bay Area
"I did not have the privilege of knowing Maestro Francisco Aguabella personally, but certainly did know him through his music, which as a student of Cuban folkloric music, I studied prodigiously. Maestro Aguabella was an inspiration to my generation and will be to all generations to come. He was an innovator with his work with Kathryn Dunham and with his years playing Latin Jazz. He was a dedicated practitioner of his faith, Regla de Ocha. AND we all know that his physical strength was nothing short of other worldly. Maestro Aguabella inspired the world with his music and with his life. Even death cannot cast a shadow on this man. He will live forever!"
Nerio De Gracia – piano, vibraphone, bongo. Composer with Francisco Aguabella and current Latin Jazz bandleader, with his recent album The Mambo Jazz Connection (NRD Records 2012), San Francisco.
"Francisco was a great Latin bandleader, and I am glad that I was part of Francisco's S.F. band and that Francisco one of my compositions on his album. Francisco was a strict bandleader, but you gained a lot knowledge form his style of leader ship and I am thankful for his friendship and master musicianship and able to part of Francisco's musical history."
Randy Petit – Latin percussionist, Latin Music and Afro-Cuban Folklore Historian from Caracas (Venezuela) via Los Angeles (California)
"I started playing folkloric percussion when I was 5 in Venezuela and felt in love with Afro Cuban Percussion early on my teenage years. I've always been an active amateur but with an excellent taste for good music and their performers. By the way, I've been living in Caracas, Venezuela since I left LA in 1991. Wow!!!
I think it's too much for me, but here's a little story. Back in the 80´s, I was hanging out at Juanito´s (Cuban friend of mine) Percussion Shop in LA, testing some new LP when the late Aguabella stepped in and saw me playing. He told me he didn't know I played and asked me if I would sit in with him some time. The fact is that I never did but just the fact that he asked was a great honor !!!"
Michael Pluznick – Drum maker and Afro-Cuban Percussionist from the San Francisco Bay Area
"He played for my first Bembe (Orisa) celebration 27 years ago at the western addition cultural center in San Francisco. It was an amazing honor for me to have him their especially to end my first year in white. Mickey Hart from the Grateful Dead was there and was so moved by Francisco that he mentioned it in his book, Drumming at the edge."
Tony Rosas – Conga drummer, Batá Drummer, Master Drummer, formerly a member of Aguabella's Folkloric Group in Los Angeles, currently residing in New York City, performing with Manny Oquendo & Conjunto Libre and more.
"Aguabella was a master, idol, an icon for me. He was very serious when it came to playing batás in Matanza rhythms. He was a serious man. He would only laugh and joke with you if he knew you well. I learned a lot from Francisco Aguabella, I played 7yrs with him in Los Angeles. RIP."
I personally thank all the great musicians that assisted me with this article, some are great, great friends. Jerry Gonzalez, thank you for your great input, you are always on our mind with your great musicianship and music, and a special thanks to Patricia Thumas for her great first hand article, her fun times with Francisco and Armando and especially Maria Medina-Serafin with her vast knowledge and to assist me in fine tuning certain items. Most of all thanks to our great Editor, Angel Romero for his editing and for making all this possible for Francisco Aguabella and World Music Central and the world that views these articles!
Author:
Les Moncada
Les Moncada is a Latin Jazz orchestra leader and conguero for over 40 years. He was born in Oakland, California and currently resides in Sacramento, California.
Les Moncada is a student of conga and batá master Francisco Aguabella, a friend of the late promoter Bill Graham, vibraphonist Cal Tjader, Latin Jazz band leader Pete Escovedo, conguero Mongo Santamaria and many, many more.
He has been writing for many years for World Music Central.
Les has several Facebook sites: Timbales and Congas Bongo Bata & bells; Conguero, Professional Conguero & their Instrument; Bongocero, Professional Bongocero their Instrument; Alambres Dulces, Tres, Cuatro & Laud