Re-Capping the Buzzwords: Innovation, Entrepreneurship, Collaboration, Diversity, Activism, Exchange, Inspiration
Part I: Conference Framework:
In his opening message for APAP's 56th annual 2013 conference edition magazine Inside Arts, President and CEO Mario Garcia Durham, set forth the framework for this year's catchy Lennon-inspired theme, "Imagine," with the key concepts: "Innovation, entrepreneurship, and collaboration."
To these he added "diversity and activism." All were continuously reflected and given focus in the conference selection of keynote speakers, honored guests, and throughout scores of timely conference tracks including climate change and sustainability, fund-raising and capitalization, taxation, visa policies and procedures, and grants for artists and presenters. All took place at the New York Hilton and Sheraton, January 11-15.
"Diversity," Mr. Durham wrote, "is not the easiest word to define – and we each tend to have a unique understanding of what it means. Implementing it can be even more challenging because it's time-consuming and requires a sincere commitment and a strong will. But first and foremost is the decision to take action and engage. I challenge each of you to consider the role of diversity in your work and the centrality of its place in creating the richest world we can create."
"At the heart of activism is a belief in the empowerment of a community to have impact and influence. We can look to the communities of sports and religion for models of "fans" and "congregations" that stand up for their passionate beliefs. How can we generate that same energy and strategy for the arts?"
Judging from the high levels of energy generated by the conference and over 1000 dazzling performing arts showcases around town (myriad diverse genres including classical, rock, pop, jazz, world music, dance, and theater), attended by 3,800 presenters, artists, managers, agents, emerging arts leaders, and media from 28 countries, APAP's 2013 theme was a resounding success.
Exchange:
Alicia Anstead, APAP Media Liaison and Editor of Inside Arts, summed up a major aspect of the conference in her magazine editorial: "I can assure you that no matter what business deals you make, sessions you attend professional development you experience or industry insight you acquire, it is the exchanges that will stay with you. Who is here and what might happen to make your conference meaningful, to make it your best first time or your most exciting 20th time, to make it worth the wintry travel?"
Ms. Anstead is spot on. It's more than rewarding to meet up with colleagues with whom you have fleeting exchanges on Facebook or email all year long. Those coffee breaks and shared meals mean the world to attendees. We exchanged and we learned.
Inspiration:
Appointed last year as the NEA's new Director of Presenting and Artist Communities, Michael Orlove, a dynamic cultural leader and former initiator and presenter of cultural events from Chicago, has attended the conference multiple times. He spoke to us about the impact of the APAP conference for him this year.
"This was my first time attending APAP as a 'non-presenter' so I approached the conference with a completely different lens. While I barely stepped on the infamous conference room 'floor' I spent a majority of my time meeting new colleagues and reconnecting with so many others. I participated in a number of thought-provoking panels/sessions and listening to Liz Lerman and Jawole Willa Jo Zollar talk about arts, activism and community engagement was a particular highlight. I found the plenary sessions incredibly invigorating this year.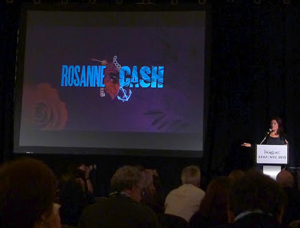 I walked away from the Reggie Watts/Jeff Leitner session challenging myself to be more creative in everyday life and Rosanne Cash's incredibly personal talk reminded all of us about the importance of integrity and sacrifice, role of community and the daily struggles we all face in our field, and everyday life. Winter JazzFest, Jazz Masters, GlobalFest, etc. allowed me stay in touch with the music I love.
I just wish I had more time to experience other showcases in and around the conference as there is so much stimulating work being created, presented and produced. I feel incredibly fortunate to be a part of this 'community' and look to the APAP conference as both a time to recharge/refresh but also spend time and learn from so many inspirational colleagues throughout the country."
For first-time attendee, Alisa Baum, Concert Director with Chicago's Old Town School of Folk Music, her conference visit was invaluable. Last year she was awarded with an APAP International Cultural Exchange Fund Grant and travelled to research Mali's Festival in the Desert.
"Traveling to Mali to see these artists in their home country gave me a much greater understanding of West African artists, the challenges they face, and how integral the music is to their culture. By showing my interest in their culture, I created very deep bonds with many artists. In sharing my experiences with people in Chicago, I have been able to spread awareness and increase interest in West African music. Now, I am very proud to be able to welcome many of these artists to Chicago and to reciprocate their hospitality. The general excitement that surrounds their performances has magnified due to our organization's greater knowledge of their culture and way of life. This grant provided a life-changing experience that will add value to our organization and (hopefully) to these artists' lives for years to come."
"Attending APAP for the first time was a wonderful experience. I was able to meet many people face to face that I had been working with for years over the phone and via email. That personal connection is so important to our business. Additionally, I met several presenters for the first time, which will be a valuable resource in the future. Having so many industry professionals in one place makes it easy and economical to create or deepen relationships. The performances gave me a chance to judge many bands' live performances and better determine their fit for my venue and/or festival. Overall, the conference was incredibly beneficial to my work as a presenter."
apap365.org/KNOWLEDGE/knowledge_products/Pages/InternationalCulturalExchange.aspx
apap365.org/KNOWLEDGE/knowledge_products/Pages/TripDetails.aspx?rt=search&gaid=a5815a5f-d6d6-4e82-ae7a-9fffc8722d43&sco=old%20town%20school&rpp=10&so=Alpha

Pre-Conference Forums:
Increasingly important each year, the well-organized, informative pre-conference forums are the beehives for colleagues in specialized fields. This year there were two major forums dealing with World Music and Jazz. Both were overflowing with hundreds of attendees, standing room only during some sessions. While impossible to attend both simultaneously, we stayed with the World Music group.
Dmitri Vietze, founder of the Indiana-based music publicity firm, Rock Paper Scissors (tag lined as "deeply eclectic"), organized a strong series of world music related panels with some of the brightest and most successful personalities in the music industry. The themes explored the "State of the Recording Industry," "World Music Infiltration and Cutting Edge Curation," "Performing Arts, Community Engagement, and International Diplomacy," and "Routing 2.0 and Market Development."
One of the most compelling sessions dealt with "Technology Tools for Artists, Labels and Concert Presenters." The growth of social media platforms and increasing revenues from digital download sales are significant forces in the music industry today. The panel was an impressive group of marketing specialists including: Tony van Veen (CD Baby), Jaclyn Ranere (The Orchard), Kristin Thomson (Consultant with the Future of Music Coalition and Pew Internet Research), John Hammond (Missing Piece Group), Kendel Ratley (Kickstarter), and Liv Buli (Next Big Sound).
For anyone with interest in the music industry and the critical role of technology today, it's well worth watching the entire session "Talking Technology Tools for the Music Biz" video-taped by Michal Shapiro at this link: APAP World Music Panel: Technology Tools for Artists, Labels, and Concert Presenters
Talking Technology Tools for the Music Biz from Michal Shapiro on Vimeo.
The "State of the Recording Industry" and "World Music Infiltration and Cutting Edge Curation" panels, also video-taped by Michal Shapiro, are available here:
Both panel discussions offer insights about the world music markets by some of the music industry's key movers and shakers.
Plenary Speakers and Awards Luncheon:
The plenary sessions featured some of the entertainment industry's most celebrated and diverse artists. Mario Garcia Durham stated: "This year's conference speakers and presenters are artists and creative professionals for whom innovation and entrepreneurship are a way of life. And what a line-up it was indeed.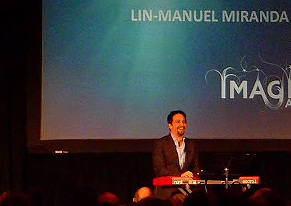 Lin-Manuel Miranda, the witty composer and lyricist for the Tony Award-winning Broadway hit In the Heights was the opening Friday evening plenary speaker who screened a documentary about his musical, and captivated the audience with his story of creativity from his Latino childhood through Wesleyan college years and break-through success.
With enormous audience appeal, the brilliant vocalist, beatboxer, musician and comedian Reggie Watts and Jeff Leitner, founder and dean of Insight Labs, led IMAGINE This! Sunday's interactive plenary.
Grammy Award-winning singer-songwriter Rosanne Cash, the closing plenary speaker on Tuesday morning, was immensely moving and more than a few colleagues left her speech in awe, determined to read her recent memoir, Composed. Ms. Cash had prepared a beautiful visual documentary about her life with poignant memories and images spliced with iconic photos of her father and a pantheon of other musicians. It was screened as she spoke about her early years, the poetic inspirations and spiritual insights that forged her artistry.
APAP's elegant annual Awards Luncheon in the main ballroom at the Hilton was a gala event. Among the many worthy awardees, stellar advocates of the performing arts, Judith Jameson, the legendary and glamorous dancer, choreographer, and director emerita of the Alvin Ailey American Dance Theater, received The Award of Merit for Achievement in Performing Arts. The Sidney R. Yates Award for Outstanding Advocacy on Behalf of the Performing Arts went to Philip Horn, of the Pennsylvania Council on the Arts. And the surprise recipient of the Fan Taylor Distinguished Service Award for Exemplary Service to the Field of Professional Presenting this year was Abel Lopez, Associate Producing Director of GALA Hispanic Theatre, First Latino Board Chair of Americans for the Arts, and NALAC Board member.
Chicago-based journalist and radio host with www.beatlatino.com – Catalina Maria Johnson noted during the exhaustive flurry of APAP events, "As a music journalist, attending APAP is of vital importance because it allows me to take "the pulse" of the industry. And just as importantly, as a Latina, I am delighted to witness how Latinos are changing the face of the arts in our country. Just a few examples: Mario Garcia Durham is the President of APAP; Lin-Manuel Miranda was one of the invited keynote speakers and of course Latino artists of every creative kind graced the stages at the showcases."

APAPNYC EXPO Halls:
No APAP attendee should ever miss visiting the EXPO Halls filled with hundreds of exhibit booths over 3 floors. The contrasts in diversity, passionate advocacies, and the scope of entrepreneurship are simply great. The enthusiasm among the agents and exhibitors is infectious and it's the best way to survey the strength of the performing arts industry nation-wide. And increasingly each year, there are more international exhibitors – (from Scandinavia/ Europe, Asia, Latin America), as well as major North American agents whose rosters include more and more world music artists.
With his ever gracious and ambassadorial bearing, Bill Smith, who runs the Eye For Talent agency in San Francisco, and attends music conferences all over the world regularly, commented: "For Eye for Talent, APAP is the main event. We do more business here than the other dozen conferences combined, which we attend. It is an opportunity to see old friends, but also to make new connections. There are always new faces and familiar ones, and that is probably the highlight of the conference. It can be a real treat to see the showcase of an artist whose art is far removed from that of the artists on our roster. APAP is grueling, but rewarding and even fun. Recently there have been increasing numbers of attendees from outside of North America and that is a very positive development in my opinion."
Mitch Greenhill, venerable founder of the famed Folklore Productions and his son Matt Greenhill, known for the firm's representation of great American traditions, and based in Santa Monica, California, established collaborative rapport with world music specialist Mel Puljic in 2011, and the agency now has a wonderful roster of global roots artists. According to Mr. Greenhill, they are doing very well with their international artists.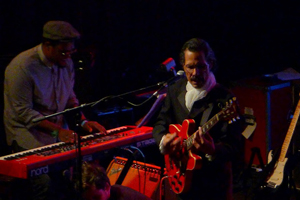 Todd Walker, one of the industry's favorite younger world music agents, has now joined forces with the Windish Agency. Mr. Walker was beaming with delight and pride as he greeted presenters and colleagues who lined up to congratulate him for a stunning APAP SummerStage/Santa Monica Twilight Pier Concert Series showcase with famed Shuggie Otis whom he represents (See Part II).
Among many friends and colleagues, we caught up briefly with the charming and brilliant Toronto-based super entrepreneur, and producer, Corey Ross, founder and president of Starvox Entertainment. We met about 6 years ago during his debut APAP presence as a notable conference sponsor with irrepressible panache. His exhibit with gigantic HD screens is always bustling with clients looking for the truly spectacular in global entertainment. It's wondrous to explore his imaginative world of stars including luminaries, Alicia Keys, Elton John, Angelique Kidjo, and several fascinating productions in theatre, dance, and music from the UK, Mexico, Canada, Israel, Poland, Venezuela, Georgia, the U.S., Korea, Russia, Hungary, Uganda and Kenya.
Part II: Global Showcases – SummerStage, Winter Jazzfest, and Globalfest
New York City presenters uncork magnum showcase events when APAP convenes, and while you might miss several hours of sleep, the following three are the major go-to events. Demand is getting bigger each year, and tickets are almost impossible to obtain.
SummerStage: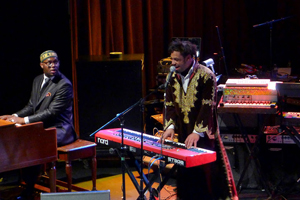 Central Park SummerStage held its second annual season's preview showcase at the Highline Ballroom, this year in partnership with west coast's Santa Monica Pier Twilight Concert Series. The opening act was the glorious vocalist, the "prince of kosher gospel," Joshua Nelson. Dressed in a resplendent baroque robe worthy of a cantor, Mr. Nelson blasted the rafters of the ballroom with his impassioned invention of the marriage of Jewish religious lyrics and meanings with the soulful sounds of American gospel music. His sound rolls with the fulsome soul of Mahalia Jackson and the searing punch of James Brown.
The Brooklyn indie rock band, People Get Ready, hit the stage next, and while their set was a bit long, the group will be just what SummerStage crowds like on a hot summer afternoon on Rumsey Playfield in Central Park. A much shorter set – a scant 15 minutes – followed, by the utterly mysterious "London Soul" singer Ofei. Seated on the darkened stage with not a single glimmer of lighting, he played a laptop keyboard, and belted out powerfully emotional "conscious" lyrics dealing with time, money, and faith. Ofei is London's emerging raw-wailing neo-soul singer, intriguing with only 2 songs released so far, "London" and "Fate."
SummerStage is known for presenting monumental musical greats. Good advance publicity promoted the return of the enigmatic Shuggie Otis, now beginning to ride the crest of a musical comeback. The room was packed and crowds surged the stage, eager to see the 70's R&B wunderkind. Backed by a tight, thoroughly charged band – drums, bass, and 2 keyboards, Mr. Otis stood center-stage – self-possessed, restrained, with the stage presence of a superstar. His brand of soul, funk, jazz-blues and electronica has earned fans all over the world. The quality of this performance showcase was superb with his masterful guitar ramps and the gentle, wistful singing. The release of his double album is imminent: a reissue of "Inspiration Information" and unreleased songs entitled "Wings of Love."
Winter Jazzfest:
Each year Winter Jazzfest expands and swells throughout multiple venues (6 this year), extending from west to east village on Friday and Saturday nights over the APAP conference weekend. Hundreds of fans form long lines outside venues and rooms overflow. Programming is excellent, ranging from straight ahead classic, to world jazz, to experimental and then, edgier creations. There's nothing like this enormously popular live jazz event in New York City.
On Friday night at Le Poisson Rouge, Kentyah Presents: Evolutionary Minded! – The Music of Gil-Scott Heron and Brian Jackson Re-Visioned that featured Dead Prez, Brian Jackson and The New Midnight Band. From Grand Performances in Los Angeles to Lincoln Center Outdoors last summer, the spirit of Gil-Scott Heron lives on in growing tributes.
Hearing through the grapevine that "a famous musician" would appear with the Corey King Band, we dashed to Sullivan Hall. As the band's set intensified with excellent horn work, we spotted Esperanza Spaulding on bass in the dark corner of stage right.
The coolest, "edgiest" showcase was the CHURCH project by tremendously talented Los Angeles-based Mark de Clive-Lowe (MdCL) at Sullivan Hall. MdCL really knows the history of jazz and he incorporates his knowledge so effortlessly in his innovative productions in such surprising ways. Leigh Ann Hahn, Director of Programming with Los Angeles' Grand Performance, was justifiably proud in urging us to catch at least one of the double set. What was this radically different sound, at once familiar yet totally hip?
MdCL in interview summed it up: "CHURCH is a celebration of music, dance and creativity. It's about uplifting spirits and loving life through sound. The event started in Santa Monica at a speakeasy called Angel's on the first Sunday of the month – that sealed the deal and we christened it CHURCH!"
"It's equal parts jazz club, dance party and live electronica remix experiment. Where other groups might incorporate a 'hip hop beat' or similar, I've grown up not only playing piano and acoustic music, but DJing, producing and remixing in the club world. CHURCH is a totally unique blend of all these things performed in a totally live presentation – no prepared backing tracks or preconceived outcomes. It really brings both the 'being in the moment' ethos of jazz and improvised music into the electronic realm and the sonics and tribal rhythms of club music into the jazz world."
MdCL featured special guest DJ Rich Medina, who was at the mixing board setting the mood. With MdCL on piano, keys, electronics, and effects, the first set was a magical swirl of sounds with Mark Kelley on bass, Nate Smith, drums, Jaleel Shaw, alto sax, and John Robinson, MC. We heard a surprising range of music, including Andalusian sax riffs, prompted by MdCL on piano, and echoes of "Sketches of Spain." There was also some punchy, hard-edged "toasting" by the MC. The beautiful vocalist Nia Andrews appeared later, although we had to leave to catch some sleep.
MdCL has just produced, composed (save the lone standard "Caravan" track) a splendid new album with the Rotterdam Jazz Orchestra, "Take The Space Trane" (samples here: https://soundcloud.com/mashibeats). Catch CHURCH whenever MdCL turns up in your town with members of his vast worldwide network of local musicians.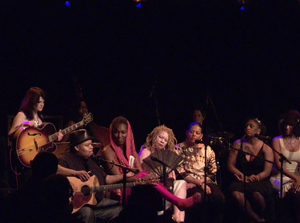 On Saturday evening we managed to catch exactly the last 11 minutes of what was certainly a magnificent total set with 13 singers, musicians, and a dancer at Le Poisson Rouge in the over-packed room: "Celebrate Great Women of Blues & Jazz with Toshi Reagon & Allison Miller + Friends." From the tail-end impact, we sensed a liberating and joyous showcase that had the momentum of timeless, uplifting moments. We did hear the soaring vocals by M, the MC, and Ms. Reagon's charismatic positive personality whose own work is a celebration of the paths created by sisters long ago. The performance is a grand tribute to black women singers from the 1890's on: Bessie Smith, Billie Holiday, Memphis Minnie, Sarah Vaughn, Sister Rosetta Tharpe, Koko Taylor, and more.
We squeezed into a corner at the Zinc Bar and marveled over 2 showcase projects, both with finessed musicians. Barcelona's bassist and composer, Alexis Cuadrado, presented his compositions from his upcoming CD, "A Lorca Soundscape." The project's musicians were among some of the finest and most gifted seen during Winter Jazzfest: Chile's Claudia Acuña, voice, Cuba's Yosvany Terry, tenor sax, Dan Tepfer, piano, Mark Ferber, drums, and Alexis Cuadrado, upright bass.
The great Spanish playwright and poet Federico Garcia Lorca lived in New York City for a few months, 1929-1930. His set of poems, "Poeta en Nueva York," reflected his loneliness and cultural shock at witnessing the economic inequalities and racial-social discrimination that are still part of the American reality today.
Ms. Acuña is known for her own protest songs and this tribute highlights her skills as an admirable interpreter of Lorca's lyrics as well as her capacity to collaborate so well with equally sensitive musicians. Mr. Cuadrado's compositions brim with chromatic harmonies, mournfully pensive passages, stretches of arcing emotions, and flamenco embellishments that suit the masterful, perfectly calibrated interplay between the instrumental musicians and Ms. Acuña's yearning voice. Watch for the album release this coming spring. Better yet, see them live.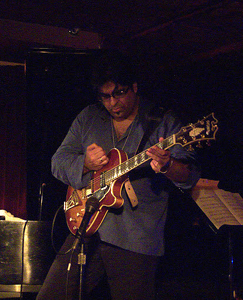 Later at the Zinc Bar, the Rez Abbasi Trio capped the night for us to great satisfaction; when you can sit back, enjoy, and savor a musician like Mr. Abbasi and his group, you blissfully forget about any comparatively heavy-handed imbalances occasionally encountered during the showcase run. What a pleasure to watch Mr. Abbasi's exceptional work as a "foremost guitarist" in the jazz world. With a fine reputation for his work as a producer, composer, arranger, and collaborator with a host of acclaimed musicians from South Asia and America, his own solo career as composer and guitarist takes center stage with his new album, "Continuous Beat."
He has noted, "I wanted to excite the listener with a new guitar trio experience. One that retains the warmth of the established trio sound but also employs electronics in order to expand the timbral palette, especially for the melodies. Ultimately, this approach not only gives clarity to the solos but also keeps the listener's aural sense stimulated." During passages in the trio performance, there was the slow burn of distant rock music.
The set featured music from the new album and reinterpretations of Monk's "Off Minor" and Jarrett's "The Cure" – also on "Continuous Beat." Both of the latter were fresh, surprising takes. His drummer, Satoshi Takeishi, was a wonder, adding brief, intense touches reminiscent of some precision Taiko drumming, and bassist Michael Formanek impressed particularly during the last song, "Back Skin," an earlier composition by Mr. Abbasi. Rez Abbasi may be following in the footsteps of Coltrane, Ellington, and Gillespie, but the contemporary jazz world on Saturday evening breathed with newer subtleties and depth through his trio's accomplishment.
Globalfest:
The final big showcase of the APAP conference weekend, Sunday night, was Globalfest's 10th Anniversary celebration. From its earliest edition originally supported by APAP, the event has become an internationally branded festival and now travels to SXSW, Bonnarroo, Paris' Festival d'Ile de France and the Joshua Light Show. National and international presenters seeking exciting, newer world music acts flock to it each year now, and of course, for the artists invited, Globalfest represents prestigious recognition. It was a happy evening, sold-out 5 days in advance. The following were the most appealing: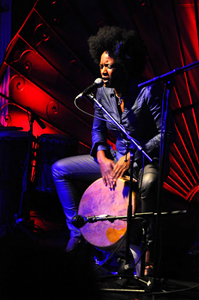 Christine Salem, a rare Maloya singer from the La Réunion Island in the Indian Ocean created an immediate buzz for those who saw her – and many stayed for the entire set, she was that sensational. >From Europe to the Indian Ocean, Ms. Salem has gained a reputation among critics as one of the most beautiful voices to be heard from the region. Prior to the reforms of 1981, French colonialists, the Catholic Church, and the police banned Maloya music, as its identity lay with creole culture and revolutionary anti-slavery sentiments.
Over the past 15 years, Ms. Salem has helped elevate Maloya music to high artistic professionalism from its origins as a spiritual music associated with Réunion's distinct creole "servis kabaré." The latter signifies the island's festive devotional ceremonies, founded on African and Madagascan cultures, featuring ancestral worship, dance and music, trance and "speaking in tongues." In interview, Ms. Salem mentioned her earliest and sometimes recurrent onstage moments when she falls into trance, completely startling her musicians with her intensity and invented language – a mixture of Creole, Malagasy, Comoran, Arabic, and Swahili.
With a deep velvet contralto she sang the Maloya bluesy laments and supplication to her ancestors – alternating with bouncy quicker-paced dance rhythms, as she shook the kayamb, a flat reed instrument filled with seeds, meshing layered polyphonies with her musicians on roulé (cylindrical drum), bongos and doum (African hand drum). The crowds were enthralled by the charismatic power of her voice.
With a stately, cheerful presence, Martha Redbone delivered a set of upbeat songs reflective of her Native American, Appalachian folk, and African-American combined heritage. Woven into her repertoire were Woody Guthrie's "This Train Is Bound For Glory," Olabelle Reed's "Undone In Sorrow," and the Civil Rights anthem "Eyes On The Prize."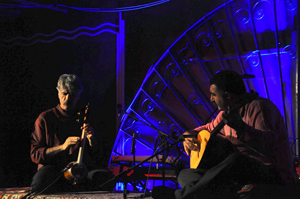 Yet her most beautiful renditions, "How Sweet I Roamed," and "I Rose Up At The Dawn of Day" with instrumental and vocal harmonies by her lively musicians on keys, banjo, mandolin, fiddle, bass, drums, from her recent and extraordinary "Roots Project," based on the poetry of William Blake, were transformed into thoroughly beguiling Appalachian gospel.
The shared improvisations by Iran's Kayhan Kalhor on kamanche fiddle and Turkey's Erdal Erzincan on the baglana lute were a mystical dream experience of ecstatic virtuosity. They stretched long suspended sequences of soulful yearning with glittering pizzicato and plucking embellishments. This is music to swoon over in mesmeric rhapsody. Globalfest has over the past decade presented some of the world's great traditions, and this memorable Near Eastern showcase ranked as one of high integrity, intricate complexity, and splendor.
Globalfest has also presented some of Africa's most wonderful stars, and this year's edition was no exception. Zimbabwe's Oliver Mtukudzi and Mali's Fatoumata Diawara represented two of the continent's countries, currently undergoing most difficult passages in time. The tall, forever youthful and beloved Oliver Mtukudzi, a real Afro-pop veteran and crowd-pleaser, two-stepped and twirled with his band members, as they transposed traditional twinkling thumb-piano mbira lines in his "Tuku" style – incorporating regional chimurenga, jit, and mbaqanga – to guitars. Rhythmic beats and textures from percussions and drums completed the joyousness that is so much a part of Mr. Mtukudzi's gently loping songs in Shona, spliced with a fierce prayer in English, "Hear Me Lord."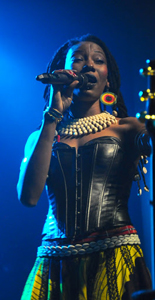 Mali's newest young international star, Fatoumata Diawara, who earned early kudos as a singer with the formidable Wassulou diva Oumou Sangare, edged herself into a stadium mode as she whirled, paced, and danced across the stage to a searing rock guitar. This was a bit of a surprise, as her debut album, "Fatou," is filled with such quietly lovely and mostly acoustic music. But her strength as a performer with that blazing smile is irresistible. We remain thrilled when African stars emerge from troubled times and carry forth banners of pride and prayers filled with love of country and culture. Above all, they give us hope that some of today's greatest musicians in African music are alive and thriving, despite war and painful economic hardships.
What's a festival without some madcap fun and whooped-up energies? The upstairs ballroom overflowed with adrenalin-charged Chicago's marching band, Mucca Pazza. Mucca Pazza is a riotous rah-rah band, with cheerleaders, brass and drums corps, and stage antics. Dressed up in mismatched kitsch-military uniforms, the contrast lay in the band's tuned and synchronized band music. The air was filled with balloons as cheerleaders tumbled, wiggled, and collapsed onstage and jumped down on the floor through the crowds. Mucca Pazza is razzle-dazzle carnival American-style.
The final act of the evening, A Tribe Called Red, hailing from Ottawa, Canada was the unusual Native American DJ collective. Theirs are echoing powwow chants in a Jamaican dub-toaster style, with added hip-hop loops, drumbeats, electronic squeaks and buzzing psychedelic effects all wrapped up in club ambience. Rhonda, a traditional dancer appeared wearing brilliantly colored Native American gear, spun several hoops at once with her arms, legs – and teeth to the amazement of all, as the over-packed downstairs studio room became a throbbing, sweaty sound box.
Globalfest Afterparty:
A quick walk down the road in the cold night air at midnight to the Globalfest afterparty at Joe's Pub blessed the night after the intensive showcase sessions. Happily for a few hundred globe-hopping dancing feet, Chicago's Brian Keigher aka DJ Warp, commandeered the turntables on the club's elegant stage for the second year in a row. Newly appointed Executive Director with the Kalapriya Center for Indian Performing Arts, Mr. Keigher enjoys a brilliant and award-winning career in the world music industry. His knowledge and vast experience as presenter, producer, and programmer, is not to be outdone by his popularity as one of the best world music DJ's, appearing at clubs, festivals, and events throughout the Midwest and the U.S. This year he invited two others to share the stage at the turntables.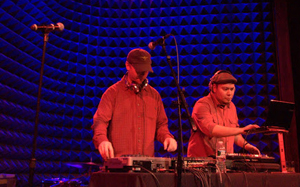 DJ Warp writes: "I had David Chavez come DJ with me this year since Bill Bragin (or Billmo) was not going to DJ. David Chavez also presents as Sound Culture in Chicago. He is the former talent buyer at the Hot House and now booking at Mayne Stage Theater and other venues and has been doing a great job as one of the few independent "world music" promoters for the last few years as Sound Culture. He is a longtime DJ as well. I also brought MC Zulu (Dominique Rowland) from Chicago, originally from Panama come and join me. I love Zulu and his vocal styling so I thought it would be a good way to showcase him and his 'madcapped' talents in front of a crowd who may actually want to book him for their summer outdoor events, or to have him host a stage or such and help fill between live bands sets and keep the crowd excited and engaged. When he came out with the top hat, the umbrella, and the mega phone I knew people would get a kick out of him."
An added surprise bonus on stage was the Toronto-based jazz and gospel singer Shakura S'Aida who added even more house soul to the celebration.
He notes that he "looks to use DJing as another form of musical expression in an effort to continue his life mission of turning people onto damn good music." With a keen ear for the latest in abstract dance music and unusual international music, DJ Warp had the entire dance floor packed. What did he play? He started his set with a track from Vieux Farka Toure recorded in India at the Amarrass Desert Music Festival, followed by new music by Palanke Soultribe, the new Double Moon Remixed 2, Si Begg, Lekan Babalola remixes, and recent music by recent music by Pearson Sound, Bonde do Rolê & Tony Allen, Atom TM, and Luke Vibert.
Further, "I think my style was a bit more African and even techno driven this year, though I did musically venture to the Balkans, Arab areas and a bit of the Afro-Cuban electronic sound mixed in. I think David's style is more on the Latin side of the spectrum, but he was also playing soca electronic music and more too."
No one wanted to leave the party the music was so good, and at one point we saw Joe's Pub Director and Globalfest Co-Producer Shanta Thake's fiancé swirling her around on the dance floor. As they danced together, romance was in the air and we knew that all was right with the world.