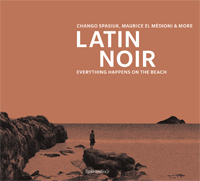 Various Artists
Latin Noir Everything Happens on the Beach (Piranha Musik, 2013)
In my college days I spent a good amount of time in the car traveling between Tennessee and New York. I considered it a true gift that I had an aunt that liked making mixed tapes for me to listen to on those endless car trips between home and college. The downside was she was forever tossing some unrelated piece of music into the mix – sort of as a joke she'd slip in while I was on the road. I'd be cruising Steppenwolf, Jimi Hendrix, Janis Joplin or the Rolling Stones before the whole mood of the tape gave way to something like Louden Wainwright's "Rufus Is a Tit Man." That's the thing about compilations that you don't cook up yourself, you're likely to get just about anything embedded in the mix.
Having said that, the compilation Latin Noir Everything Happens on the Beach out on the Piranha Musik label would most likely be a CD I would have passed on reviewing. Described as an invitation to listeners as "an emotional discovery of melancholic rarities from the modern and traditional world of Latin Music," Latin Noir might really be a misnomer because there are quite a few non-melancholic tracks on this CD.
Dipping into the wealth of Argentine, Cuban, Colombian and New York Latin music scenes, Latin Noir possesses some extraordinary tracks amidst some other tracks. Additionally, I'm not so sure the press material noting this recording "pays a gloomy homage to a new generation of the wretched of the earth and their Sisyphean journeys between shipwreck and redemption, despair and hope" is much of a selling point.
Now, let's get to the good stuff of Latin Noir. One of the not-to-be-missed tracks is the opening "Tierra Colorada" by the Argentine accordionist Chango Spasuik. This deliciously wonderful track is ripe with Mr. Spasuik's distinct accordion work in this quaintly folksy track and I think listeners will get a charge out of the brightly worked backing percussion.
Other goodies include Seguidores Del Son's hypnotic version of "Todo Eso," Ana Cristina Pozo & Omar Perez's heartfelt "Dejame Que Te Lleve" and Grupo El Organo Pinareno's stunning "La Negra Tomasa."
Perhaps my favorite track on Latin Noir is Sin Palabras featuring Tabor De Firmin's "Por Una Tigressa Que Mira Una Estrella." This track is an utterly hypnotic combination of Cuban traditions and Santeria rhythms and certainly goes into the not-to-be-missed category.
As to the other tracks on Latin Noir there are tracks by Eddie Bobe featuring Orlando "Puntilla" Rios, Estudiantina Invasora and Piquete Tipico, but I'm not convinced that these are the best versions of these songs. Again, compilations are a mixed bag.
I might have a few reservations about some of the selections, but Latin Noir remains a good selection of what's available out there for the new and old Latin music fan.
Buy Latin Noir Everything Happens on the Beach CD or MP3s
Author:
TJ Nelson
TJ Nelson is a regular CD reviewer and editor at World Music Central. She is also a fiction writer. Check out her latest book, Chasing Athena's Shadow.
Set in Pineboro, North Carolina, Chasing Athena's Shadow follows the adventures of Grace, an adult literacy teacher, as she seeks to solve a long forgotten family mystery. Her charmingly dysfunctional family is of little help in her quest. Along with her best friends, an attractive Mexican teacher and an amiable gay chef, Grace must find the one fading memory that holds the key to why Grace's great-grandmother, Athena, shot her husband on the courthouse steps in 1931.
Traversing the line between the Old South and New South, Grace will have to dig into the past to uncover Athena's true crime.