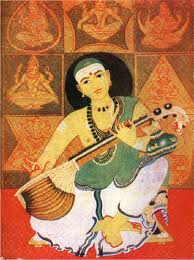 Indira Gandhi National Centre for Arts is organizing a grand Guruguha Music Festival with an inaugural talk on the eminent Carnatic music composer Muthuswami Dikshitar by Prof. TR Subramaniam. This is aptly followed by a concert on the compositions of Muthuswami Dikshitar by acclaimed musician Neyveli R. Santhanagopalan.
Guruguha Music Festival takes place 30 September 2012 at Auditorium C V Mess Building, Janpath in New Delhi.

About the Artists:
Muthuswami Dikshitar (March 24, 1775 – October 21, 1835) is a South Indian poet and composer and is one of the Musical Trinity of Carnatic music. His compositions, of which around 500 are commonly known, are noted for their contemplative nature and for capturing the essence of the raga forms through the vainika (veena) style that emphasises gamakas. They are typically in a slower speed (chowka kala). He is also known by his signature name of Guruguha. His compositions are widely sung and played in classical concerts of Carnatic music.
T. R. Subramanyam (b. 20 September 1929)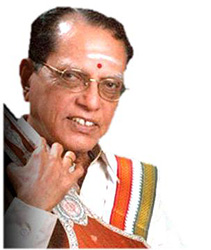 T. R. Subramanyam, or TRS as he is more popularly known amongst most music loving rasikas is a vidwan with uncommon traits. He is unconventional in the sense, that he is a daredevil willing to explore new avenues, regardless of whether his new ideas are accepted or not. He may not start his concert with a traditional varnam or a kriti on Ganesha. On one occasion, the opening item of his concert was a javali in Kapi ragam!
TRS is scholarly and original in his approach to learning new kritis. Though TRS is a multilinguist, until he is confident of the meaning of song- whether the kriti is in Telugu, Kannada, Sanskrit or Tamil, he will not attempt to sing it. Before presenting a new kriti at a concert he pays particular attention to learn the correct words of the sahitya and the correct pronunciation of each word. When TRS renders a kriti, each sangati is rendered with clarity allowing the listener to pick up the words of the song. He has discovered and popularized exquisite compositions of contemporary composers like late Mrs. Kalyani Varadarajan, Ambujam Krishna, Balamurali Krishna etc. to name a few.
TRS as a teacher is unmatched for his enormous patience and understanding. He quickly becomes aware of the limitations of each of his students. He modifies his teaching technique to each individual student in such a way that the student is easily able to comprehend the nuances of the raga bhavam and develop an understanding of the different sangatis in a particular sahityam. It is always a pleasure to listen to his expositions as much in his concerts.
Neyveli R.Santhanagopalan: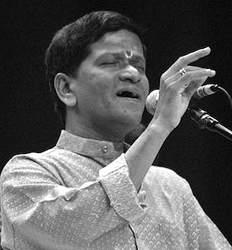 Neyveli R.Santhanagopalan is a versatile musician who breathes, walks and sings music. To him music is his lifeblood and it is more than just a profession. It is a way of life to him. In an age where achieving name and fame is becoming more than an objective, the self-effacing persona in him makes him distinctively unique artist.
He is a musician steeped in tradition and yet highly creative and innovative. His music is deeply evolved around "bhakthi' and "bhava" and also attractive and entertaining. His music is couched in traditional classicism and yet most popular and mass appealing. He is an effective bridge between the traditional convention and the present day environment.
Details:
Guruguha Music Festival 30 September 2012.
Venue: Auditorium C V Mess Building, Janpath, New Delhi 110001
0500 PM. Illustrative Lecture by Prof. T R Subramaniam
0600 PM Music Concert: Neyveli R. Santhanagopalan – Vocal
PV Ajay Namboodiri – Vocal Support
M A Sundareswaran – Violin
K V Prasad – Mridangam
Vaikom R Gopalakrishnan – Ghatom
All are welcome. Free Entry and seating on first come first serve basis.
RSVP: 011 23388341 email igncakaladarsana@gmail.com
Author:
Dr. Saroja Raman
Dr. Saroja Raman is a vocalist who has been pursuing Carnatic music from the age of 7. She has a Doctorate PhD in Music from the Delhi University, India