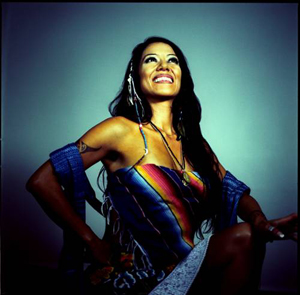 From September 15 through October 15, the United States of America celebrates Hispanic Heritage Month. Americans celebrate the culture and traditions of those who trace their roots to Mexico, Puerto Rico, Spain, and all the other Spanish-speaking nations of Central America, South America and the Caribbean.
World Music Central joins this celebration with some of the best contemporary artists, music albums and videos rooted in traditional music that represent the rich Hispanic cultures. We begin this series first with Mexico
With an estimated population of nearly 115 million inhabitants, Mexico is the largest Spanish-speaking nation in the world. Mexico's culture is the product of its mestizo heritage, a mix of Amerindian and Spanish peoples.
Music Fusionists
For a taste of modern Mexican roots music, eclectic Mexican American singer Lila Downs has released captivating contemporary albums that draw from traditional Mexican and indigenous music. Recommended albums: La Sandunga (Narada 1999), Tree of Life – Yutu tata (Narada 2000), Border – La Línea (Narada 2001), One Blood – Una sangre (Narada 2004), La Cantina (Narada 2006), Shake Away – Ojo de Culebra (Manhattan Records 2008), Lila Downs y La Misteriosa en Paris – Live a FIP (Global Village), Pecados y Milagros (columbia, 2011).
An artist that has had some international success in the world music field is Tonana. She is known for her fusion of Mexican roots music and modern elements with innovative arrangements. She's researched black, indigenous and mestizo music of Mexico. Some of her songs have appeared in well-known Putumayo, Windham Hill Records and EMI compilations. Recommended albums: Xquenda (1997), Tonana (2000), Lazos (2004), The Mystery of Mayan Chant (2006), and Agüita de Tequila (2010).
Los de Abajo, from Mexico City, was originally a Latin ska band. In recent years, they have expanded their scope and include rock, salsa, reggae, ska, cumbia, son jarocho and banda sinaloense. Recommended albums: Los de Abajo (Luaka Bop, 1998), Cybertropic Chilango Power (Luaka Bop, 2002), Complete & Live '04 (Kufala, 2004), LDA v The Lunatics (RealWorld Records, 2005), Actitud Calle (2010)
Rodrigo y Gabriela is a Mexican guitar duo that has had tremendous success worldwide with their fast and percussive acoustic guitar pyrotechnics. Recommended albums: Foc (2001), re-Foc (2002), Live: Manchester and Dublin (2004), Rodrigo y Gabriela (2006), 11:11 (2009), Area 52 (2012).
Paté de Fuá, formed in 2005 and based in Mexico, includes musicians from Argentina and Mexico that combine Dixieland, traditional jazz, tango, pasodoble and mussette. They use an unconventional mix of instruments, such as accordion, bandoneon, cavaquinho, banjo, cornet, alto horn, guitar, vibraphone, marimba, double bass, drums and voice. Recommended albums: Musica moderna (2007), El tren de la alegria (2009), Yo estuve ahí (2010), Boquita pintada (2011)
One of Mexico's new sensations is Nuriya, who was born in Mexico although she has Sephardic roots from the Middle East. Tanita (Musical Almaya, 2011) is her most recent recording, where she combines Mexican, Sephardic and other world sounds. Recommended album: Tanita.
Ranchera classics
The recently departed Chavela Vargas was a living legend in the area of rancheras and boleros. Thanks to the support of Spanish movie director Almodovar she had much success late in her career with her recent albums: Chavela Vargas (2004), En Carnegie Hall (2004), La llorona (2004), ¡Por mi culpa! (2010) and Luna Grande (2012).
If you like classic ranchera (ranch) songs, charro-clad Vicente Fernandez is the king of rancheras and has been stirring the ladies' passions for decades. His discography is quite extensive. To get a taste, try these anthologies Historia De Un Idolo 1 and Historia De Un Idolo 2.
Son Jarocho
Son jarocho, the traditional music of the state Veracruz which is located on the Gulf of Mexico has experienced substantial growth in recent years. Son jarocho is rooted in Huastecan (indigenous Mexican), Spanish, and African music. Lyrics include humorous verses and have themes of love, the sea, and cattle breeding.
Los Utrera (the Utrera family) of El Hato in Veracruz have maintained the ancient tradition of son jarocho and fandango. Their most recent album is Para curar el dolor (To Cure Pain).
Chuchumbé is no longer active, but they were known as son jarocho innovators. Another essential son jarocho is Los Vega. Other well known acts include: Son de Madera, La Negra Graciana. Recommended albums: ¡Caramba Niño!, Son De Madera, Son De Mi Tierra, Las Orquestas Del Día, Sones Jarochos
Regional Folk Music
A popular band from Mexico's Tierra Caliente (Guerrero and Michoacán in southwestern Mexico) is the violin-fueled sound of Los Carácuaros de Serafín Ibarra. They play sones, gustos, polkas and pasodoble on violin, tololoche, vihuela and guitar. Recommended albums: Sones calentanos del sur de Michoacan and Música de Tierra Caliente.
Los Folkloristas was founded in 1966 to preserve and record the traditional music of Mexico and Latin America. They have recorded more than 30 albums worldwide and contributed to the soundtrack for the award-winning films "El Norte" and "My Family." Recommended albums: ¡Mexico!, Michoacan, Mexico: Horizonte Musical, Veracruz.
Norteño
Norteño (also known as norteña and conjunto), the music of northern Mexico and the Texas borderlands, is popular with many Mexican music fans and the Mexican immigrant community in the United States. The norteño sound is characterized by the accordion, bajo sexto, acoustic or electric bass and drums. Song styles include corridos, rancheras, baladas, huapangos norteños, polkas, redovas and chotis.
The best known international act is Los Tigres del Norte, who have toured North America and Europe extensively. Other popular norteño artists include Ramón Ayala, (David Pimentel) Los Cadetes de Linares, Los Huracanes del Norte, Los Tucanes de Tijuana, and Los Invasores de Nuevo Leon. Recommended albums: Leyenda y Tradicion: Los Mejores Corridos, Jefes De Jefes, Raices, Antologia De Un Rey, Los Tucanes De Tijuana Coleccion De Oro, En Vivo Desde Monterrey.
Nueva Canción and Nueva Trova
The late Amparo Ochoa (María Amparo Ochoa Castaños) was a well-known Mexican singer-songwriter from Sinaloa, part of the new folk music genre known as Nueva canción (new song). Recommended albums: Trova Yucateca, Cancionero Popular Mexicano, and Corridos y Canciones De La Revolucion Mexicana.
Óscar Chávez is a singer-songwriter and actor. He was the main performer of the Nueva Trova in Mexico. He has an extensive discography of folk recordings. Anthologies: La Mas Completa Coleccion and Lo Basico De Oscar Chavez.
Jazz
Eugenio Toussaint Uhtohff, who passed away last year, was a leading Mexican composer, arranger, educator and jazz/classical musician. He recorded various solo albums in Mexico and the United States. He founded the Mexican band Sacbé, one of the most significant Mexican jazz bands. Recommended recording: Todo Sacbe boxed set.
Renaissance man Alain Derbez, born in Veracruz is a writer, musician, music critic, concert presenter, teacher and radio producer. He's written books about jazz and Mexican jazz including El jazz en México, El Jazz según Don Juan y otras silbables ráfagas (lo que quiere decir: otros poemas), Unas Letras, 2006.; and Todo se escucha en el silencio (el blues y el jazz en la literatura).
Magos Herrera is a well-known Mexican jazz singer who sings in English, Spanish, and Portuguese. Some consider her Mexico's best jazz vocalist. Recommended albums: Mexico Azul, Distancia, Orquideas Susurrantes, Pais Maravilla.
Electric band Los Dorados fuses jazz, funk, contemporary classical and some folk elements.
Iraida Noriega from Mexico City blends jazz and folk.
Electronica
For a taste of electronica meets Mexican roots, Nortec Collective and its spin offs has been releasing albums for years, fusing electronic beats with Mexican cumbia and northern Mexican traditional music. Recommended albums: The Tijuana Sessions Vol. 1, Tijuana Sessions Vol. 3, Bulevar 2000, Tijuana Sound Machine, Corridos Urbanos.
Experimental Music
Ariel Guzik experiments with sound and builds fascinating new musical instruments. He has collaborated with Kronos Quartet and is also an innovative graphic artist. Album: Nuevo.
Early Music
Virtuoso flute and recorder player Horacio Franco is one of the most successful and recognized Mexican musicians and artists around the world. His extensive repertoire that includes medieval, Renaissance, Baroque and contemporary works.
Compilations
Author:
Angel Romero
Angel Romero y Ruiz has been writing about world music music for many years. He founded the websites worldmusiccentral.org and musicasdelmundo.com. Angel produced several TV specials for Metropolis (TVE) and co-produced "Musica NA", a music show for Televisión Española (TVE) in Spain that featured an eclectic mix of world music, fusion, electronica, new age and contemporary classical music. Angel also produced and remastered world music albums, compilations and boxed sets for Alula Records, Ellipsis Arts, Music of the World.