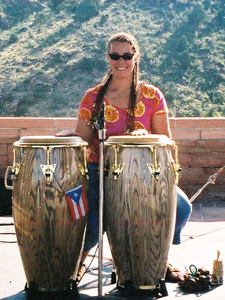 Women in Latin music have taken a recent big turnaround. Long ago, there were was La Lupe, a gracious fiery singer, and Graciela, whose graceful voice could make you dance mambo all night with the Machito Big Band.
In today's circuit you can hear Denver's Janine Santana and her famous Latin Jazz Band that performs with great artists such as Richie Cole and famed mambo legend Joe Madera on timbales. Janine is a conguera (conga drummer), Latin jazz band leader, producer, composer, artist (drawing), actress, and DJ.
If you wandered into the beautiful Mission District in San Francisco, California, you would find Maria Medina Serafin, a renowned Latin Jazz and salsa singer, artist, rumbera, MC for large community Latin events, Latin Jazz and salsa orchestra leader, poet, composer and actress in community theatre. She has a fabulous voice and humorous personality. Maria is a dear friend of mine.
In Los Angeles, California you will find a violin virtuoso that had to be a reincarnation of a Cuban violinist, Susie Hansen. She is a violinist, composer and Latin Jazz band leader from the legendary Francisco Aguabella Band. I met her and sat in with the band one night at Miami Spice, a former Latin Jazz Club on Venice Beach in Los Angeles.
In San Leandro, northern California, we have Carolyn Brandy, a legendary conguera (conga drummer), who specializes in community drum workshops amongst other things and a famed female conga drummer and instructor.
And then there is Melena, a famed Latin percussionist and orchestra leader, who has gone beyond the normal realms of drumming and has been influenced by folkloric Afro-Cuban drumming, which deepens the scope of possibilities within the drums.
Author:
Les Moncada
Les Moncada is a Latin Jazz orchestra leader and conguero for over 40 years. He was born in Oakland, California and currently resides in Sacramento, California.
Les Moncada is a student of conga and batá master Francisco Aguabella, a friend of the late promoter Bill Graham, vibraphonist Cal Tjader, Latin Jazz band leader Pete Escovedo, conguero Mongo Santamaria and many, many more.
He has been writing for many years for World Music Central.
Les has several Facebook sites: Timbales and Congas Bongo Bata & bells; Conguero, Professional Conguero & their Instrument; Bongocero, Professional Bongocero their Instrument; Alambres Dulces, Tres, Cuatro & Laud