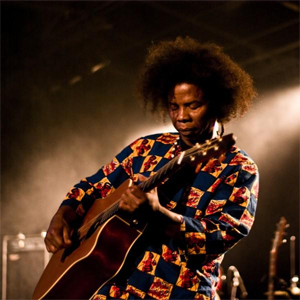 Damily is an irresistibly creative band from Madagascar with a 20-year track record, and will be performing at the Forde Festival of Traditional and World Music in Forde, Norway, July 5-8. Their joyous style of music is called Tsapiky, and the musicians are from Tulear in the southwest of Madagascar. Their music has been hailed as "the perfect marriage of lyricism and groove."
The lineup includes Damily on guitar and vocals, Gany-gany on langoro, Alexis on vocals, Naivo on drums, and Rakapo on bass guitar. Damily joins us in this exclusive interview on formation of the band, the uniqueness of music for the human spirit, and the importance of music education and mentoring.

What was the vision behind the founding of your music group?
I had no vision, because I was only 13 years old when I get playing with friends of my village! I just loved music and though that it was the most amazing thing that I ever knew. There was nothing to do, and we often lacked food, so time was very long. Music cut it short!
What is your message to your audiences?
There are several messages about daily life, relations between wives and husbands, Malagasy traditions, and so on — but this is not essential for me when I think about my music. It is above all a question of harmony, instead of message. My music is made to be connect with the body, to converse with it.
It is a specificity of the south west culture of Madagascar. We say that there is a pain in each human body, that needs music to keep it quiet. In sad times such as funeral ceremonies, we have to get grief, sadness, out of people's bodies. With music, that is the only medication. This is our job. And the medication works in Europe too, I see! So, the message is: listen and get your grief out!
Who would you say are the leading influences in your musical career?
My musicians and I have all grown in the deep country, in Malagasy traditional music. It is the main influence in our music, but we have also heard music from other countries such as Kenya and Congo. But we were in a little world where only Tsapiky was working!
What can we expect to hear at your upcoming performance?
There will be old tracks, with new arrangements because of the change of male singer. And also, very new tracks. We also have tracks with only the trio (bass-drums-guitar), that is new.
Tell us about the more unusual instruments you have in your ensemble.
We bring in Forde some traditional guitars called "Mandaliny" in our country. They are hand made instruments, in a special wood that gives a unique sound. We will play it for the parade.
Do you blend different musical influences and genres?
I do not do this. I do listen to others musicians, others genres, but I do not blend it to Tsapiky. The spirit of what I heard perhaps gives me concentration for playing guitar, and this is a big help for me. But the music I like is the one that comes from me.
What is the profile of some of the artistes you perform with?
We all come from the same area, the same culture, and we met for a very long time ago. In a way, we all have the same profile: from the deep country, we have been musicians from very early on, and found a real place in our society thanks to music. The drummer has been playing with me since 1990; the bassist is my little brother and we started music together in 1986; the female singer joined us in 1992. As you see, it is an old story! The new male singer has lived in the same culture and area, but with other musicians. We did not play together until this year.
How would you describe your musical journey?
I think that I am a musician who has followed a personal way in a specific cultural identity. My albums (7 in Madagasikara and 2 in Europe) are the reflection of my work in the guitar.
What is your vision of what music can do in this age of political and economical turmoil?
How?!! I decided a long time ago that I will not talk about this. I risk to get too hungry if I talk about that! 🙂
Do you also teach workshops for students and musicians?
In Madagascar, I always bring students with me. As we some times played for three days non stop during ceremonies, I had to have a "substitute". I taught them basic techniques of Tsapiky guitar, but also the way of making getting people into a trance. If you do not satisfy people in Madagascar, they get you off the stage, they do not have time to lose with music that does not touch their heart. It is a very hard school!
Here in Europe, it is another thing. I just begin to understand how deep is the intellectualisation of music, and create a new way of teaching. I am not able to read a partition!
What new album or video are you working on now?
The next album will be recorded in Madagascar, next year. After two albums in Europe, I would like to give another sound, and show the diversity of the south west music. In my Malagasy career (15 years of concerts around Tulear), I have known and played with a lot of Tsapiky musicians. Some are dead, some were my students, some are new to me. The project is to bring together these musicians, and make a very nice thing to hear!!
Buy Ela Lia
Author:
Madanmohan Rao
Madanmohan Rao is an author and media consultant from Bangalore, and global correspondent for world music and jazz for World Music Central and Jazzuality. He has written over 15 books on media, management and culture, and is research director for YourStory Media. Madan was formerly World Music Editor at Rave magazine and RJ at WorldSpace, and can be followed on Twitter at @MadanRao.