The Beloved Sacred Arts & Music Festival 2012 will be held at the edge of Oregon's Coastal Range during August 10 -13, 2012. Renowned world music artists like Bombino, Aurelio Martinez, Everyone Orchestra, and other musical acts will join festival goers from across the globe at the Siuslaw National Forest. This outdoor festival will also feature beautiful camping, yoga, and healing lectures.
Beloved also includes kirtan chanting sessions, with call and response, and Sanskrit sounds to draw participants into states of reflection. Along with participatory performances, the Festival's extensive educational programming offers fans a chance to explore a wide range of approaches to spiritual practice and self-care. Mythic storytelling and healing rituals, yoga sessions and massage workshops—along with jubilant participatory musical performances and all-night dancing.
Along with well-known artists and engaging teachers, festival goers might catch a champion throat singer, African hand drummer, and an ecstatic crowd making spontaneous music together offstage. Or they might see underground DJs entranced by Sufi devotional music.
"We like to play with cultural collision and make it fun," says Rasenick. The Portland-based promoter got the idea for Beloved when he realized the audiences at the electronica events and kirtans (yoga-related chanting sessions popular in India) he organized had a great deal in common. "There were these two different audiences, doing same thing and wanting the same thing," explains Elliot Rasenick, founder and organizer of the Beloved Sacred Art & Music Festival. "The two communities had a lot to learn from one another, but never got together."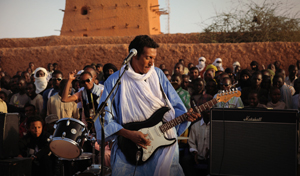 Rasenick resolved to remedy that, and launched an open-air festival. Unlike many festivals, Beloved has only one stage, increasing the focus and encouraging people of different tastes, backgrounds, and faiths to listen intently to one another. "Most music festivals keep you flitting from place to place, which can be pleasant," says Rasenick. "We want to help participants learn to fully engage every single moment."
The single-stage focus leads to deep dialog between festival fans and musicians, between people from radically divergent backgrounds, between the natural and sonic environment. The site demands respect, and the festival strives to minimize its ecological impact, from offering (non-bottled) water at no charge to selecting food and art vendors based on their green commitment.
More about the festival: www.belovedfestival.com
Author:
World Music Central News Department
World music news from the editors at World Music Central